A daring trend has caught the attention of a model who risked a wardrobe malfunction by donning an upside-down bikini
Recently, snaps shared on the Nova Swim page featured a blonde model showcasing the Cabo Confessions 2 Piece Bikini by Fashion Nova, embracing the daring upside-down style. The bikini, currently priced at £15 on the website, is available in multiple colors including chocolate, yellow, and red.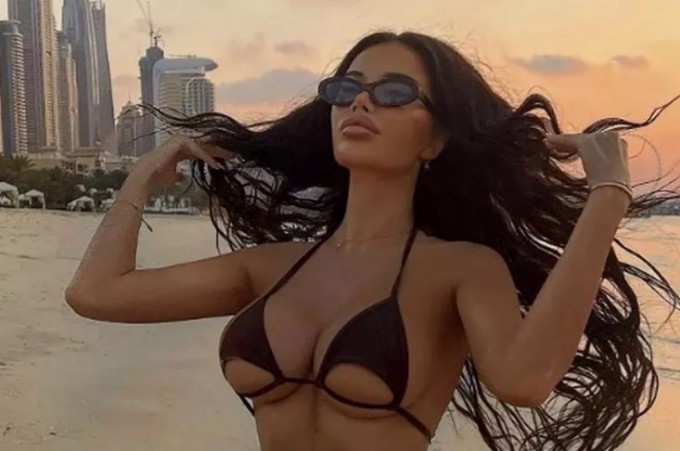 The unique design of the bikini top creates the illusion of a push-up effect without the need for padding, giving it an unconventional look. With minimal coverage and peekaboo cut-out sections, the daring ensemble adds an extra touch of sauciness.
In the photos, the model confidently flaunted her beach-ready physique, pairing the outfit with a bandana and accessorizing with bracelets. The upside-down trend allowed her to showcase a hint of side and underboob, adding a raunchy appeal to the overall look. The super-slinky bottoms accentuated her curves, providing a peachy display.
With softly waved hair and natural makeup, the model effortlessly exuded glamour as she walked across the sand, capturing attention and turning heads.
The post featuring these daring snaps was accompanied by a cheeky caption: "Careful, babe. Staring too long can cause you to get heatstroke." The post has garnered over 1,000 likes so far, with many expressing their obsession with the look.
Fashion Nova shoppers have also shown their appreciation for the swimwear, giving it an average rating of 3.6/5 in the review section. One customer praised the suit, stating, "It's small in all the right places! Super sexy suit. Love it!" Another noted the top's minimal coverage, while a third described the swimsuit as sexy and daring, suggesting that it may not be suitable for those seeking a more conservative style.
The upside-down bikini trend continues to make waves in the swimwear fashion scene, with its unique and eye-catching appeal attracting those who are bold enough to embrace it.