Amanda Holden Embraces Casual Cooking Style
The 50-year-old star recently disclosed that she undertook the task of preparing a roast dinner while in the nude, citing a time crunch as the reason behind her unconventional choice. Holden revealed that her family, including her children, have grown accustomed to her casual approach to nudity within their household.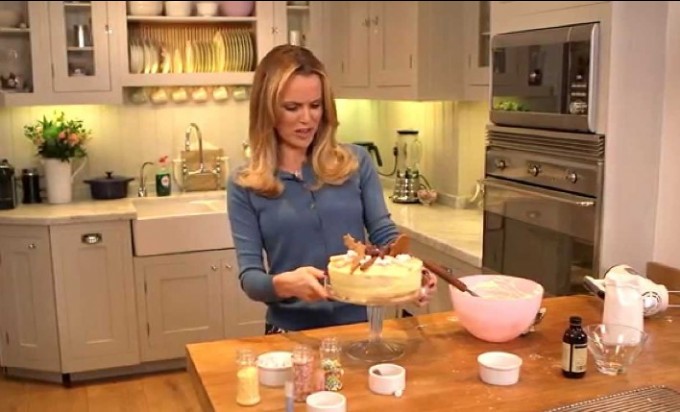 Cooking Au Naturel: In a candid revelation to You magazine, Amanda Holden humorously recounted her recent culinary escapade. The talented judge, known for her vivacious personality, disclosed that her impromptu nude cooking session was a result of being pressed for time. She recounted how, after stepping out of the shower and realizing her tight schedule, she decided to forgo getting dressed. Instead, she hastened downstairs, simultaneously handling multiple culinary tasks.
From Shower to Kitchen: Holden playfully referred to herself as the "Naked Chef," evoking a playful connection to the culinary world. In her haste, she managed to get the potatoes sizzling, set the meat in the oven, and prepare a vegetarian option, all without the formality of clothing. The unconventional scenario added an element of excitement and spontaneity to the cooking process, a far cry from traditional kitchen experiences.
Familiar Territory for the Family: Amanda Holden's casual attitude towards nudity is no surprise to her family, especially her children, Hollie, aged nine, and Alexa, aged 15, whom she shares with her husband Chris Hughes. Amanda highlighted that her household is no stranger to her free-spirited approach to clothing, stating, "Oh, no one noticed. It's absolutely par for the course for me to be walking around with no clothes on in our house." She also mentioned that even as her daughter Lexi grows older, her eye-rolling reactions are a testament to their shared familiarity with Amanda's unique style.
Embracing Bold Fashion and Choices: Amanda Holden's uninhibited nature extends beyond her home, as she often garners attention for her bold fashion choices. From daring photo shoots that celebrate the human form to her iconic low-cut dresses on "Britain's Got Talent," Amanda consistently embraces her individuality. Despite receiving admiration for her style, she also occasionally encounters controversy. Last year, a dress choice sparked numerous complaints to TV regulatory authority Ofcom due to perceived visibility of her nipples. Similarly, her work attire at Heart Radio has included eye-catching ensembles, with recent skintight trousers and a crop top making waves.
Amanda Holden's revelation of cooking a roast dinner in the nude underscores her down-to-earth approach to life and her comfort with her own skin. As an accomplished television personality and devoted mother, Amanda's willingness to share such anecdotes highlights her relatability and authenticity. In a world often governed by societal norms, Amanda's carefree attitude serves as a reminder of the importance of embracing one's true self, even in the most unexpected moments.