Bikini-Clad Woman Launches Racially Charged Rant at Family in Colorado Apartment Complex Pool
The incident, captured on video and shared on TikTok, showed the unidentified woman directing derogatory comments at the family, referring to them as "trash" and berating them for having a pool party around the Fourth of July.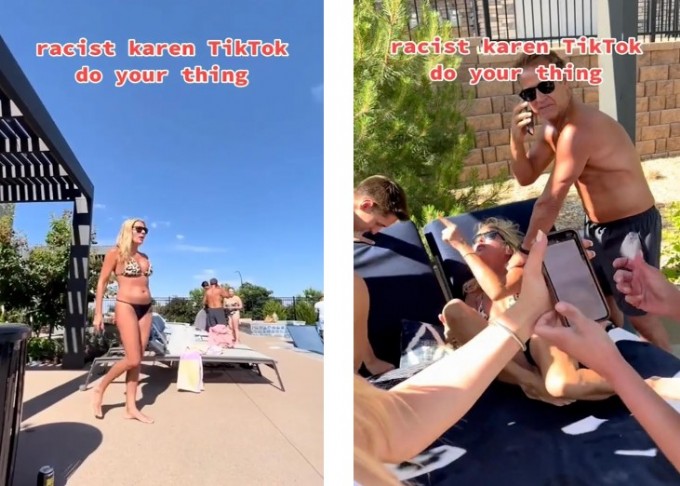 In the video, the woman, wearing sunglasses and a leopard print swimsuit, can be seen becoming increasingly agitated as she hurls racial slurs at the family. She noticed that she was being recorded and attempted to grab the phone from the family member filming the incident, declaring that she couldn't be recorded. She aggressively approached the camera and slapped the phone out of their hand.
The video then shows the woman continuing her tirade while seated on a lounge chair, with a man standing nearby and keeping her at a distance. She directs insults at the family, calling them "nasty" and making derogatory comments about their appearance.
As the situation escalates, the woman is physically restrained by the man to prevent her from further engaging with the family. She shouts expletives and demands that someone off-camera leaves the pool, telling them to "go back down to Denver." Denver has a significant Hispanic and Latino population, while Lakewood is predominantly white, according to the US Census Bureau.
The exact cause of the altercation between the woman and the family remains unclear. The family involved in the incident was reportedly enjoying a BBQ with children present, as mentioned in the original TikTok post, which garnered over 150,000 views.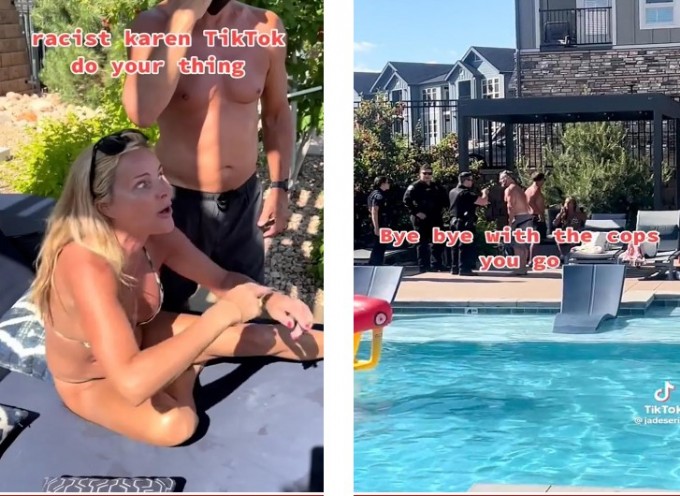 The Lakewood Police Department confirmed that no criminal charges were filed in relation to the incident. Three police officers can be seen in the video speaking with the woman and the man involved before the video ends. The incident took place at the Alta Green Mountain apartment complex, located approximately 11 miles west of Denver. The building management has not yet provided a comment regarding the incident.
The incident serves as a stark reminder of the importance of addressing and confronting racial discrimination and hatred in society.