Daniil Medvedev brings an end to Novak Djokovic's Unbeaten Run In Dubai
Daniil Medvedev moved to within one win of capturing his third consecutive tour-level title Friday when he ended Novak Djokovic's perfect start to the season at the Dubai Duty Free Tennis Championships.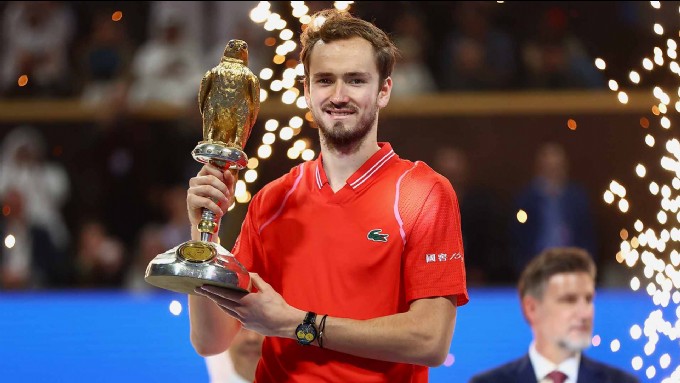 In the 14th chapter of their rivalry, Medvedev was locked in from ball one, triumphing 6-4, 6-4 to extend his winning streak to 13 matches. The third seed stood deep behind the baseline to soak up Djokovic's ball-striking. Medvedev committed just 12 unforced errors compared to 38 from Djokovic and he was rapid around the court, chasing down a number of dropp shots to advance after one hour and 35 minutes.
"When you play against Novak you just have to play your best," Medvedev said. "Kind of hope he doesn't play his best on the day because when he plays his best, well he has 22 Grand Slams, so even if you play your best, it is going to be tough, not sure you win.
"I managed to play a higher level than him today. In the second set I didn't face one break point, but there were so many 30/30 games. But I managed to stay composed and I am happy to be in the final tomorrow."
The 27-year-old lifted tour-level titles in Rotterdam and Doha in February. He will aim to clinch his 18th tour-level crown and 17th on hard courts when he faces andrey Rubley in the championship match on Saturday.
Djokovic struggled to find consistent rhythm against Medvedev. He served-and-volleyed in the first set to pressurise Medvedev's deep court return position, but struggled to successfully execute the play. He then threw everything at Medvedev on return in the second set, striking with aggression and depth. However, he was unable to hit through the third seed, who acted like a brick wall.