Instagram Sensation most beautiful lawyer turns heads on Busy Road
The social media sensation, who often pushes boundaries on Instagram, recently took one of her riskiest actions yet, leaving drivers and onlookers stunned.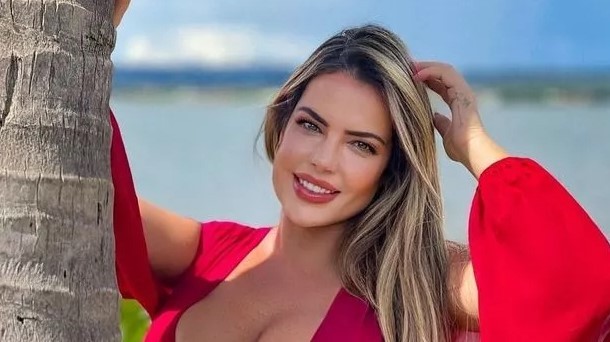 Rocha, renowned for her steamy Instagram content, stepped out onto the streets in a daring display, wearing only a tiny G-string that accentuated her curves. The eye-catching snapshots captured her donning a trench coat and striking knee-high red boots.
In a dramatic move, Rocha shed the coat and faced the passing cars with her breasts exposed, capturing the attention of all around her. The revealing photographs showcased her confidence as she flaunted her assets while her choice of attire left only her underwear.
Addressing the moment on Instagram, Rocha shared her thoughts, saying, "A mixture of excitement, adrenaline, and adventure. This time, I decided to do a challenging rehearsal in the middle of the main and busiest avenue of Brasilia, located in the heart of Brazil's capital."
Praising her bold act, followers lauded Rocha's audacity. Comments flooded in, with many expressing awe at her daring choice. Rocha's stunning appearance, paired with her heels and straight, flowing blonde locks, left an indelible impression.
Amid her provocative photos, Rocha showcased a soft glam makeup look and her cheeky tattoos, adding to the allure of the scene. The post garnered over 50,000 likes and hundreds of comments within a short span.
Critics and admirers alike acknowledged the attention-grabbing act. One commenter expressed concern over the potential traffic disruption, writing, "This will distract drivers." Another playfully inquired about the extent of congestion caused, stating, "How many kilometers of congestion did you cause in this traffic???"
In the midst of the online chatter, one individual playfully claimed Rocha's unique charm, saying, "The only woman in the world I would give the moon to."
Beyond her Instagram stardom, Rocha has embarked on a journey of knowledge acquisition. While currently a muse on OnlyFans, she has decided to delve into the world of education. Rocha recently revealed her enrollment in a sexology course in Brasilia, Brazil, expressing her desire to contribute to destigmatizing conversations surrounding this topic.
"I've always liked dedicating myself to a new experience and this theme, unfortunately, still involves many taboos," Rocha explained. "We need to change that. I want to understand better to be part of this change too."
As Denise Rocha continues to captivate online audiences with her audacious exploits, she's also determined to channel her influence into promoting positive conversations and transformation in society.