Meet Amber O'Donnell, stunning model fighting Emily Brooke who was blasted by neighbour for 'always having t**s out'
Along with becoming the latest celebrity to sign up for the highly-anticipated Kingpyn boxing tournament, the star has also made headlines for less pleasant reasons.
Amber, from South Yorkshire, was involved in a shoving match with Elle Brooke's sister Emily earlier this week as her Kingpyn involvement was announced.
And earlier this year she was berated by a neighbour for being too loud and "always having her t**s" out on TikTok.
Drama simply appears to follow 24-year-old Amber around and boxing fans can expect to see much more of her in the coming months.
Influencer entering "crossover" boxing is a growing industry, with Floyd Mayweather's fight with Aaron Chalmers last month directly preceded by a bizerre clash between two female reality Tv rivals.
Kingpyn's High Stakes matches could push the trend even further and it has been dubbed the "biggest influencer boxing tournament" ever.
The Brooke sisters and Amber are among 16 influencer fighters taking part in three separate events.
And although the fighting does not officially begin until the first round at the OVO Arena on April 22, Emily and Amber almost came to blows at the quarter-final draw earlier this week.
After being pitted together the pair met on stage and it quickly became feisty.
Emily leaned her forehead into Amber and the OnlyFans star responded with a push.
The two had to be separated but then began exchanging verbals.
But Emily's insults would be nothing compared to the incredible onslaught that Amber faced when she annoyed her neighbour "Sharon".
The model was making a TikTok in her car and discussing pancakes when she received a knock on her window from her neighbour.
Sharon did not hold back as she said: "You need to stop now. You're being really loud. I just got home from work and all I can hear is you."
Amber said she was only making the videos as part of her job, but Sharon was not having it and eft Amber totally stunned as she went off on a rant.
She said: "I've just come from my actual job and I really don't want to hear it. You're in your windows with your t*ts out and I've had enough. It's not just me who thinks it, it's the rest of the neighbors as well. They're clear, it's all I can see is you, every f**king day!"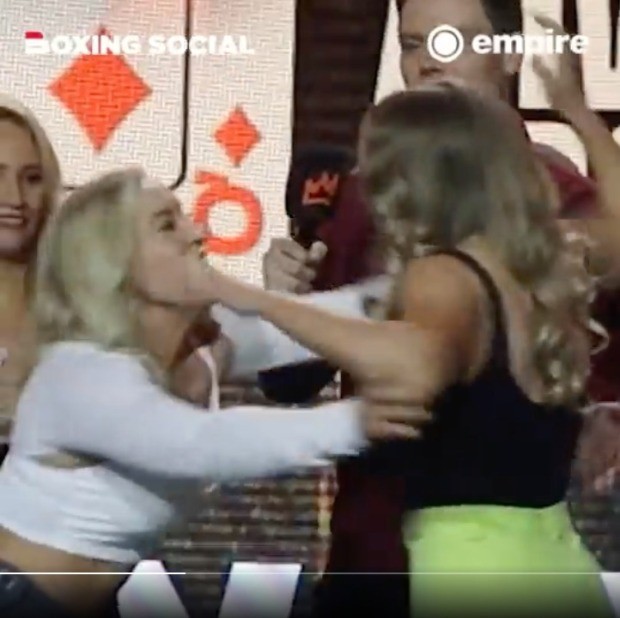 Amber will be looking to create more noise and stir up more controversy when she launches her boxing career next month.