Netflix's Selling Sunset Season 7 Unveils Explosive Face-Offs and Surprising Revelations
The agents of The Oppenheim Group are back, reviving old rivalries and sparking new conflicts.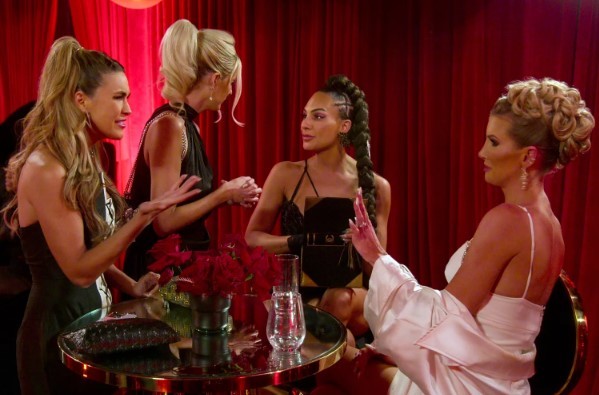 Nicole Young's Ongoing Feud: The ongoing feud between Nicole Young and Chrishell Stause continues to be a major point of contention in the new season. The two realtors clashed once again, with sparks flying. Furthermore, Young engaged in a heated argument with Emma Hernan, creating more tension within the group.
Bre Tiesi's Revelations: Bre Tiesi, a member of the cast, shocked her fellow agents by revealing an unexpected fling with a certain A-list actor. This revelation took her castmates by surprise, and it added another layer of intrigue to the season.
Strained Relationships: Throughout the season, various relationships within the cast experience strains and conflicts. Stause and Amanza Smith, in particular, face a falling out following a tense dinner during their trip to Cabo San Lucas. The tension between the agents is palpable and leads to confrontations that will undoubtedly keep viewers on the edge of their seats.
Mary Bonnet's Emotional Loss: Mary Bonnet, one of the show's stars, experienced a significant emotional and physical loss during the season, despite taking precautions. This turn of events takes an emotional toll on her and adds depth to the show's narrative.
Chrishell Stause's Journey: In an unexpected twist, Chrishell Stause announces her marriage to G Flip in Las Vegas, officiated by an Elvis impersonator. Although the ceremony was not legally binding, Stause and her partner emphasize the significance of their union. They also express their plans to adopt in the future, further adding to the season's storyline.
Amanza Smith's Falling Out: Tensions come to a head during the trip to Cabo San Lucas when Amanza Smith and Chrishell Stause don't attend a dinner, leading to a heated confrontation. The fallout from this event has repercussions within the group and sets the stage for an intense storyline.
New Agent Drama: The introduction of a new agent, Cassandra Dawn, brings additional drama to the season. Her interactions with Bre Tiesi are particularly contentious, with a significant clash during a party celebrating The O Group's renovated offices.
Bre Tiesi's Dilemma: Bre Tiesi faces a challenging decision regarding her future with The O Group. Her dissatisfaction with the commission split she receives and her differences with fellow agents put her in a difficult position. Tiesi contemplates whether she should remain with the brokerage or seek new opportunities elsewhere.
The seventh season of Selling Sunset promises to be a rollercoaster ride of emotions, conflicts, and surprising revelations. As the agents of The Oppenheim Group navigate their personal and professional lives, viewers can expect a gripping and entertaining experience.
Selling Sunset Season 7 is now available for streaming on Netflix, offering fans a fresh dose of real estate drama and personal dynamics among the agents.
Why is Heather no longer on Selling Sunset?
Heather Rae El Moussa has not been confirmed to be returning to Selling Sunset for season 7. She was on maternity leave during filming, and she has not been seen in any of the promotional materials for the new season.
There are a few possible reasons why Heather may not be returning to the show. One possibility is that she simply wants to focus on her family and her new business ventures. She recently launched a new real estate brokerage, and she is also a co-founder of a luxury home staging company.
Another possibility is that Heather had a falling out with the producers of Selling Sunset. There have been rumors of tension between her and some of the other cast members, and she has been critical of the show in the past.
Whatever the reason, it is clear that Heather Rae El Moussa is no longer a part of the Selling Sunset family. It remains to be seen if she will ever return to the show.
Is Selling Sunset Mary pregnant?
There is no confirmation that Mary Fitzgerald is pregnant as of November 2023. She has not spoken publicly about being pregnant, and there are no photos or videos of her with a baby bump.
However, there have been some rumors that Mary may be pregnant. One of her co-stars, Emma Hernan, hinted at Mary's pregnancy during a recent interview. She said that Mary is "very happy" and that she has "some exciting news" to share soon.
It is possible that Mary is pregnant and that she is simply waiting to announce it to the public on her own terms. It is also possible that the rumors are not true and that Mary is not pregnant. Only time will tell.
Is season 7 The Last of Selling Sunset?
It has not been confirmed whether or not season 7 of Selling Sunset will be the last season. However, there have been some rumors that the show may be ending.
One of the reasons for these rumors is the fact that several of the cast members have left the show in recent seasons. Christine Quinn, Davina Potratz, and Maya Vander have all left the show in the past two years.
Another reason for the rumors is the fact that the show has been losing viewers. The ratings for season 6 were significantly lower than the ratings for previous seasons.
It is possible that Netflix will decide to cancel Selling Sunset after season 7. However, it is also possible that the show will be renewed for another season. Only time will tell.
When did Selling Sunset season 7 come out?
Season 7 of Selling Sunset premiered on Netflix on June 2, 2023. The season has 10 episodes.