Selena Gomez And Zayn Malik's Might Have Started Their Romance Earlier Than Thought
Garcia shared screenshots from a WhatsApp conversation she had with a pal who works as hostess at the restaurant after she claimed she saw the singers holding hands and packing on the PDA at their table. (They seemingly didn't care if anyone noticed their flirtations.)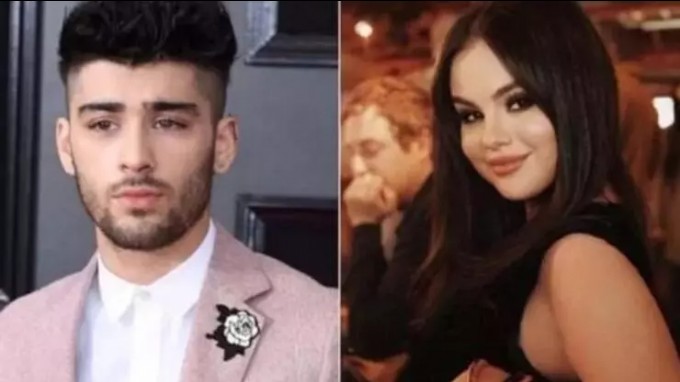 But has Gomez really gone from breaking the hearts of Beliebers to making Directioners despair? Well, it wouldn't be the first time the pair has interacted with each other in a public way. According to Pop Base, Malik started following Gomez on Instagram in early March and she soon returned the favor. Malik's sister, Safaa, also showed Gomez some love on her Instagram Story after those dating rumors started spreading like wildfire. She further fueled them by reposting a bikini pic Gomez shared on her page.
Malik's most high-profile past relationships were with Little Mix member Perrie Edwards and supermodel Gigi Hadid, with whom he shares his daughter Khai. Gomez, meanwhile, famously dated Justin Bieber, and if she and Malik are, indeed, an item, it wouldn't be the first time she was romantically linked to a Hadid ex — Gomez and Bella Hadid both dated The Weeknd. According to some sources, it also wouldn't be the first time Gomez hooked up with Malik.
What Selena Gomez and Zayn Malik said about snogging each other
After the story about Selena Gomez and Zayn Malik's dinner date went viral, Page Six spoke to an insider who claimed that the two singers actually had a fling circa 2012. At the time, they could have gone on double dates with another pop power couple: Gomez's pal Taylor Swift and Malik's ex-bandmate Harry Styles. "They had a thing years ago," said the source. "It doesn't surprise me at all that they're potentially together [today]."
While Gomez and Malik were apparently able to fly under the radar at the time, they didn't try to hide their mutual attraction for one another. Before One Direction's breakup, the topic of Gomez came up in a 2013 interview at the NRJ Music Awards. Malik said of the "Only Murders in the Building" star, "I would definitely kiss her." Extra later informed a shocked Gomez that every member of the group had said that they would love to lock lips with her. And when she was asked which guy she'd prefer to make-out with (since she had her pick), she didn't hesitate very long before choosing Malik. According to the Evening Standard, two years later, Gomez told Key 103 FM she was interested in connecting with Malik after his 1D exit. "I know Zayn, so it's almost like if he would ever want to reach out, he knows that he could," she said.