World's sexiest ice hockey star Mikayla Demaiter flaunts curves in denim shorts and tight top
THE WORLD'S sexiest ice hockey player Mikayla Demaiter has wowed her legion of followers again with her latest photo drop.
The 23-year-old from Ontario was in line for a pro career in ice hockey as a teenager.
Mikayla was goaltender for the Bluewater Hawks in Canada's Provincial Women's Hockey League.
But it's thought knee surgery helped persuade her to switch to modelling full-time aged 19.
That decision seemed final as she posted in June 2020 it was "time to say goodbye to ice hockey".
And the responses to her photos on social media certainly prove that she has become a huge success as an influencer.
The Canadian's 2.1 million Instagram followers were blown away earlier this week by a series of daring photos she posted.
They jumped into Mikayla's comments to call the snaps of her in a black mini-dress "perfect" and "illegal" - with one enthusiast "speechless".
And now she has done it again after she showed off her curves in denim shorts and a tight top to celebrate her 23rd birthday.
She captioned one of the photos with this message: "In the wise words of Betty White, 'the older you get the wiser you get, unless you are a banana.'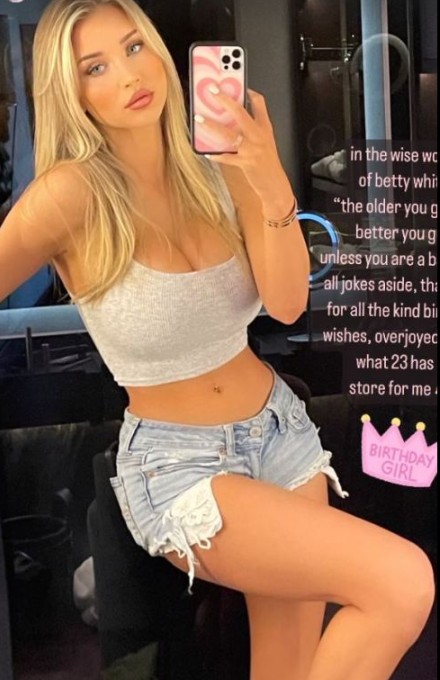 "All jokes aside, thank you for all the kind birthday wishes, overjoyed to see what 23 has in store for me."
And it looks like the birthday celebrations will not be ending there.
Her huge following will be keeping their eyes peeled for her next set of photos after she shared a clip of herself looking out of an airplane window as she appears to be jetting off on holiday.
And it does not look like she will be losing her title of ''the world's sexiest ice hockey player''