Abbey Clancy and Peter Crouch's Sizzling Beach PDA Grabs Spotlight During Romantic Getaway
The couple indulged in some public displays of affection, capturing the moments on Instagram for their fans.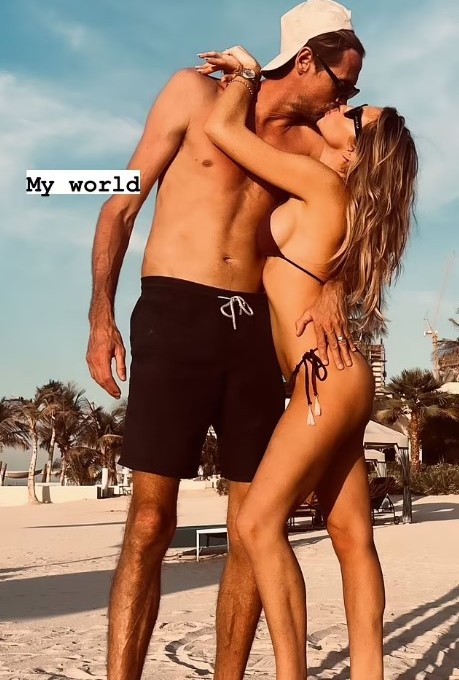 Abbey, flaunting her jaw-dropping figure, adorned a burgundy bikini that left little to the imagination. The skimpy two-piece featured a triangle top and tie-side bottoms, perfectly complementing the beach setting. Shielding herself from the sun, the mother-of-four sported chic black sunglasses, and her long blonde tresses cascaded down in effortless beach waves.
Meanwhile, Peter opted for black swimming shorts, exuding beach vibes. A white baseball cap backward on his head and dark sunglasses completed his casual yet stylish look. The couple shared a sweet kiss on the beach, with Abbey wrapping her arms around her shirtless husband's neck. The caption, "My world," accompanied the Instagram post, giving fans a glimpse into their romantic escape.
Later in the evening, the lovebirds continued their affectionate display during a romantic dinner on the beach. As the sun dipped below the horizon, Abbey looked stunning in a white lace ensemble, while Peter sported a white linen shirt with rolled-up sleeves. The couple locked lips in front of a picturesque sunset, showcasing their enduring love.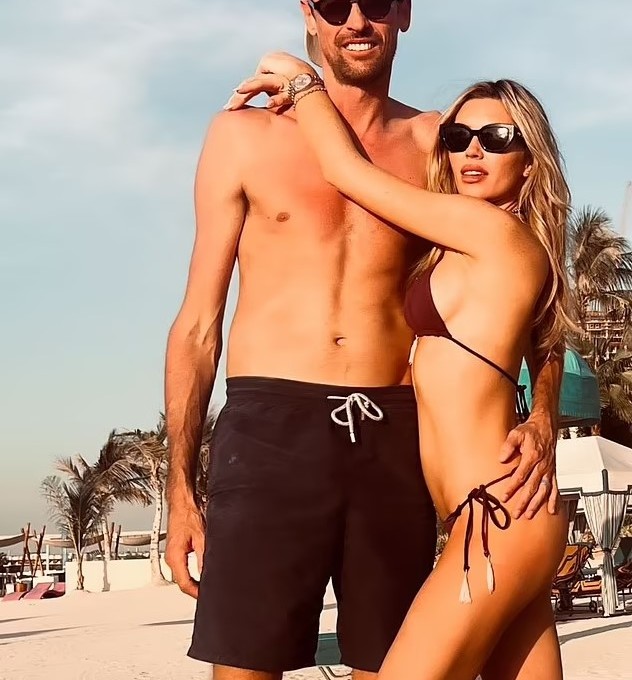 The Clancy-Crouch duo shares a beautiful family with daughters Sophia and Liberty and sons Johnny and Jack. Despite their celebrity status, the couple exuded genuine love and warmth in their public moments, endearing them to fans worldwide.
This beachside escapade follows the couple's recent appearance on Capital Breakfast with Roman Kemp, where they played a revealing game of 'Home Truths.' Abbey confessed to finding Pete's heavy breathing during their podcast sessions cringe-worthy. In return, Peter playfully revealed his tactic of avoiding an antique fair by faking a work commitment, opting for a round of golf instead.
The banter continued with Abbey playfully disclosing her knowledge of a secret holiday destination Peter had planned, while Peter admitted to purposely leaving Abbey locked out of the house for an hour and a half, finding it hilariously entertaining.
The couple's openness and playful dynamic showcased a glimpse of the real and relatable side of their relationship, endearing them to fans beyond their glamorous appearances.
As the buzz around Abbey Clancy and Peter Crouch's romantic getaway continues, fans eagerly await more glimpses into their love story, both on and off the screen. The couple's ability to balance celebrity life with genuine moments of connection reinforces their status as one of the most beloved pairs in the public eye.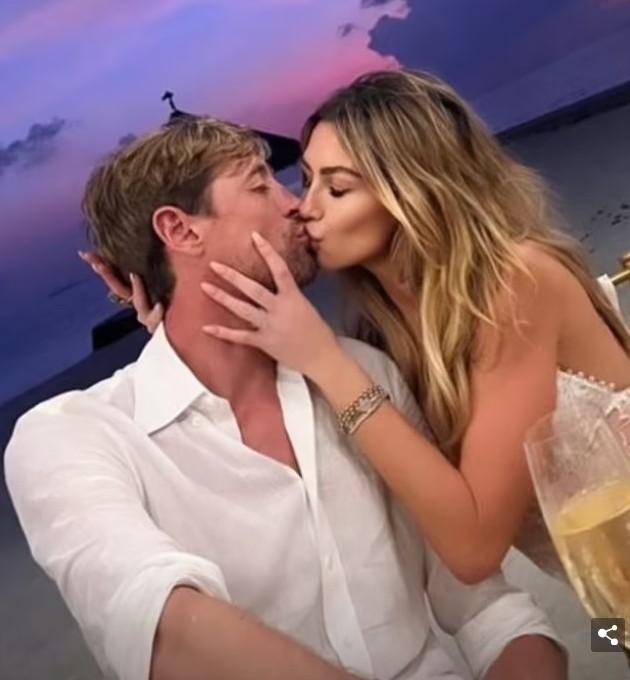 What is Abbey Clancy doing now?
Abbey Clancy is a model, presenter, and businesswoman. She is currently working on a variety of projects, including her own clothing line, Abbey Clancy for Lipsy, and her podcast, The Therapy Crouch, with her husband, Peter Crouch. She is also a brand ambassador for a number of companies, including L'Oréal Paris, Elnett, and Lipsy.
How long have Abbey Clancy and Peter Crouch been together?
Abbey Clancy and Peter Crouch have been together since 2010. They met at a bar in Liverpool, and they got engaged in 2011. They married in 2013, and they have four children together: Sophia Ruby Crouch (born 2011), Liberty Rose Crouch (born 2015), Johnny Crouch (born 2018), and Jack Crouch (born 2020).
What does Abbey Clancy eat?
Abbey Clancy is a healthy eater, but she also enjoys indulgences in moderation. She typically eats a balanced diet of fruits, vegetables, whole grains, and lean protein. She also enjoys cooking and trying new recipes.
Where do Peter and Abbey Clancy live?
Peter and Abbey Clancy live in a £3.5 million mansion in Cheshire, England. The house has seven bedrooms, seven bathrooms, a swimming pool, a tennis court, and a gym..
Abbey Clancy Age
Abbey Clancy was born on January 10, 1986. As of today, October 5, 2023, she is 37 years old.
Abbey Clancy Net Worth
Abbey Clancy's estimated net worth is around £5 million (approximately $6 million USD). She has earned her wealth through her successful career as a model, presenter, and businesswoman.
Abbey Clancy Children
Abbey Clancy has four children with her husband, former England footballer Peter Crouch: Sophia Ruby Crouch (born 2011), Liberty Rose Crouch (born 2015), Johnny Crouch (born 2018), and Jack Crouch (born 2020).
Abbey Clancy Height and Weight
Abbey Clancy is 5 feet 10 inches (1.78 meters) tall and weighs approximately 120 pounds (54 kilograms).
Abbey Clancy Instagram
Abbey Clancy has over 885,000 followers on Instagram. Her Instagram handle is @abbeyclancy.