Actress Sharon Farrell Passes Away at 82: A Fond Remembrance of Her Distinguished Career
The world of entertainment was recently struck by the sad news of Sharon Farrell's passing, a talented actress who left an indelible mark on both the big and small screens. Her relatives shared the news on social media, which brought to light her departure from this world. Despite the news, the exact cause of her death remains shrouded in uncertainty, leaving fans and peers alike in somber reflection.

Throughout her illustrious career, Sharon Farrell graced the stage and screen with her exceptional talent, captivating audiences and critics alike with her unforgettable performances. One of her most iconic roles was in the cult classic film "It's Alive," where she portrayed the mother of a malevolent deformed infant. This role not only showcased her acting prowess but also solidified her place in cinematic history. However, her talents were not confined to a single genre or role; she displayed her versatility through a range of characters and performances.
In addition to her memorable role in "It's Alive," Farrell's filmography boasts an array of noteworthy titles. She left an impression in films such as "The Stunt Man," "Lone Wolf McQuade," "Marlowe," and "The Reivers," where she shared the screen with the legendary Steve McQueen. Her performances were marked by a genuine dedication to her craft and an ability to embody her characters, making each role a memorable experience for audiences.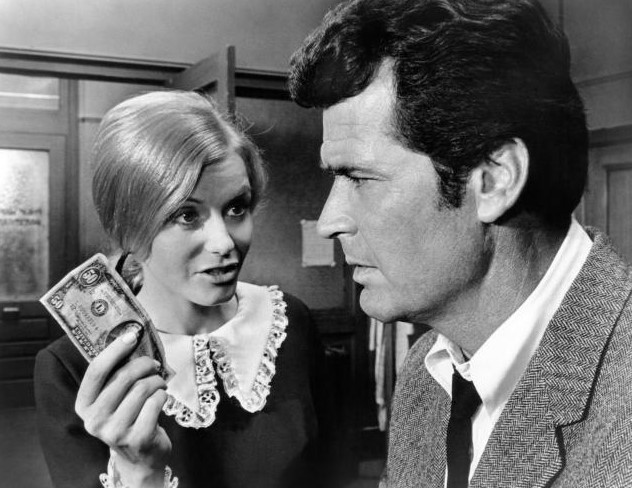 Television also played a significant role in Farrell's career. She made a lasting impact as Detective Lori Wilson in the final season of the original "Hawaii Five-O." Her portrayal of this determined character left an impression on viewers, contributing to the show's legacy. Additionally, her time on the popular CBS soap opera "The Young and the Restless" as Florence Webster from 1991 to 1997 showcased her ability to connect with audiences on a deeply emotional level.

Sharon Farrell's journey to the world of entertainment began on a snowy Christmas Eve in 1940, when she was born as Sharon Forsmoe in Sioux City, Iowa. Her passion for acting and modeling led her to the bustling streets of New York City, where she embarked on a career that would leave an enduring impact. Her cinematic debut in 1959 with "Kiss Her Goodbye" marked the beginning of a remarkable journey, followed by her captivating dance performances on Broadway that left audiences enthralled.

The 1960s saw Farrell's star continue to rise as she took on diverse roles across different media. She starred in the NBC newspaper drama "Saints and Sinners" in 1962, showcasing her ability to portray complex characters in dynamic settings. Her presence was also felt in the comedy film "40 Pounds of Trouble," where she shared the screen with luminaries like Tony Curtis and Suzanne Pleshette.

Throughout her career, Farrell made guest appearances on various television shows that spanned a range of genres. Her mark can be found on beloved series such as "My Favorite Martian," "Wagon Train," "Gunsmoke," and "The Beverly Hillbillies," where she consistently demonstrated her versatility and knack for leaving a lasting impression.

Her filmography is a testament to her dedication to her craft. From the gripping drama "A Lovely Way to Die" to the comedic "Not With My Wife, You Don't!" and the introspective "The Love Machine," Farrell's roles showcased her ability to tackle diverse narratives with finesse. "Night of the Comet" further demonstrated her commitment to delivering compelling performances that resonated with audiences.

As she bids farewell to this world, Sharon Farrell leaves behind a legacy of love and family. She is survived by her son, Chance, her grandson Wayde, and daughter-in-law Mandi. Beyond her personal connections, Farrell's impact on the entertainment industry is immeasurable. Her talent, dedication, and contributions will forever be cherished by her fans, peers, and all those who had the privilege of witnessing her on-screen magic.

The news of Sharon Farrell's passing has cast a solemn shadow over the entertainment community. Yet, as the industry mourns the loss of a remarkable talent, it also celebrates the enduring memories she gifted us through her exceptional performances. Sharon Farrell's name will continue to resonate as a symbol of excellence in acting, reminding us all of the power of storytelling and the lasting impact of a true artist.