Adriana Lima Stuns in Gold at Maestro Premiere in Venice
The 42-year-old Brazilian beauty turned heads in an elegant gold halter neck gown, captivating the audience with her stunning appearance.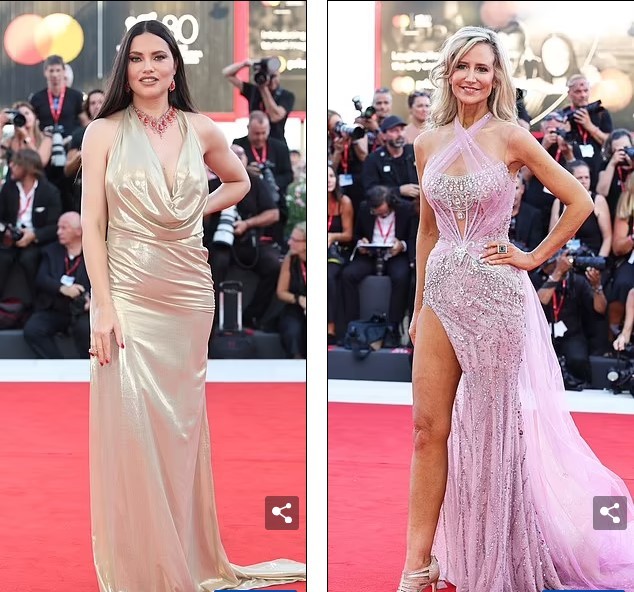 Lima's choice of attire was nothing short of spectacular, as she confidently flaunted her figure in the figure-hugging gold ensemble. The outfit was further accentuated by an eye-catching diamond red necklace, matching droplet earrings, and a large red ring, adding an extra layer of sophistication to her look.

Notably absent from the star-studded event was Bradley Cooper, who plays the role of composer Leonard Bernstein in the film. Hollywood has witnessed a decline in celebrity appearances on the red carpet due to ongoing strike action by the Writers Guild of America (WGA) and the Screen Actors Guild-American Federation of Television and Radio Artists (SAG-AFTRA).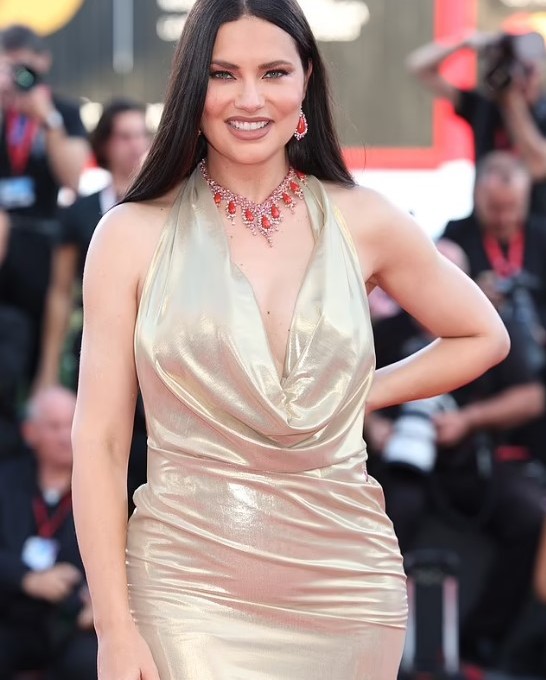 Joining Lima at the event was Lady Victoria Hervey, who made a grand entrance in a figure-hugging purple gown that left little to the imagination. Her striking dress featured a corset-style bust adorned with dazzling diamonds and a flowing sheer purple train. Her tanned and toned legs were on full display, further accentuated by strappy diamond stiletto heels.

Also gracing the red carpet was French actress Isabelle Huppert, who showcased her unique style in a silver fringed gown. Huppert, known for her exceptional talent, added a touch of elegance to the event with her avant-garde choice of attire.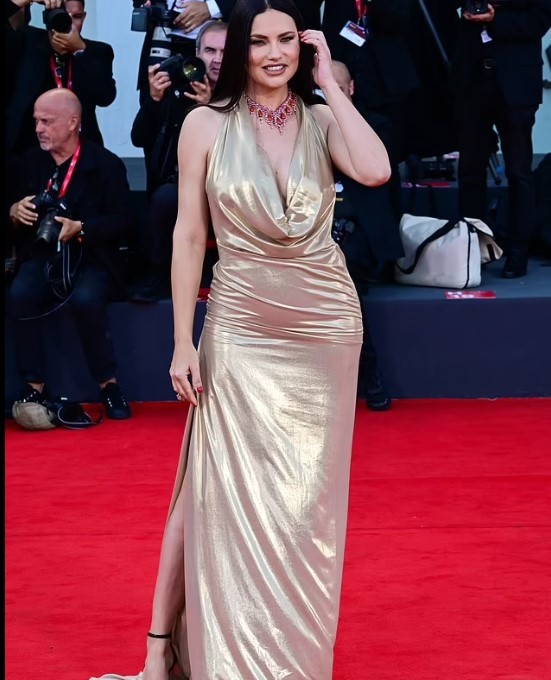 "Maestro" stars Bradley Cooper as the legendary musical conductor Leonard Bernstein, with Carey Mulligan portraying his wife, Felicia Montealegre. The film delves into their complex relationship, offering audiences a captivating cinematic experience. "Maestro" is one of this year's most anticipated releases and marks Bradley Cooper's directorial return since the critically acclaimed "A Star is Born."

While the film garnered significant attention with its trailer and publicity stills, it also faced criticism for Bradley Cooper's use of a prosthetic nose in his portrayal of Leonard Bernstein. Several members of the Jewish community accused Cooper of engaging in 'Jewface,' a controversial practice. However, Bernstein's eldest daughter, Jamie, defended the decision, emphasizing that it was a distraction from the film's true essence.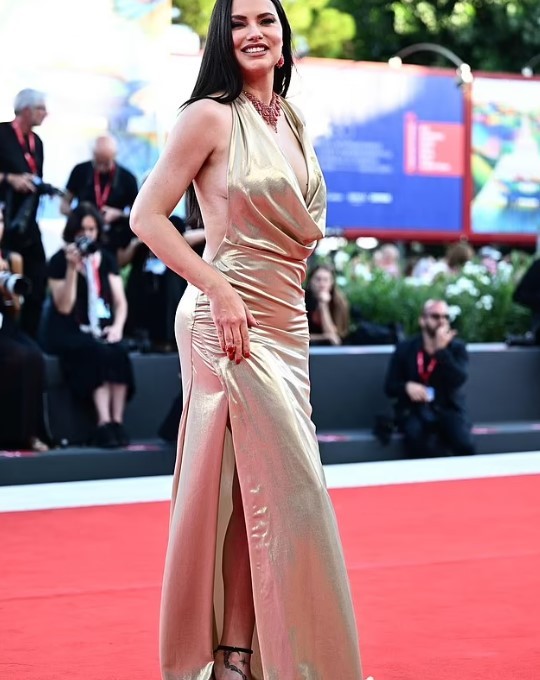 In addition to the premiere, the Venice Film Festival witnessed a flash mob on the red carpet in support of the "Woman, Life, Freedom" protests in Iran. The flash mob included approximately 100 filmmakers, artists, and pro-democracy activists who rallied for change. Their cause centered around 22-year-old Mahsa Amini, whose tragic death in police custody last September sparked the protests. The protesters also demanded the release of director Roustayi, sentenced to six months in prison for 'anti-regime propaganda activity.' These events marked a powerful moment in the ongoing fight for democracy in Iran.

As the Venice Film Festival continues, attendees and viewers eagerly anticipate more memorable moments, including Giorgio Armani's 'One Night Only' haute-couture celebration and the glamorous amFAR Venezia gala, promising to be a showstopper of an evening.

Adriana Lima's radiant presence at the "Maestro" premiere only added to the allure of this prestigious film festival, making it an unforgettable event for all in attendance.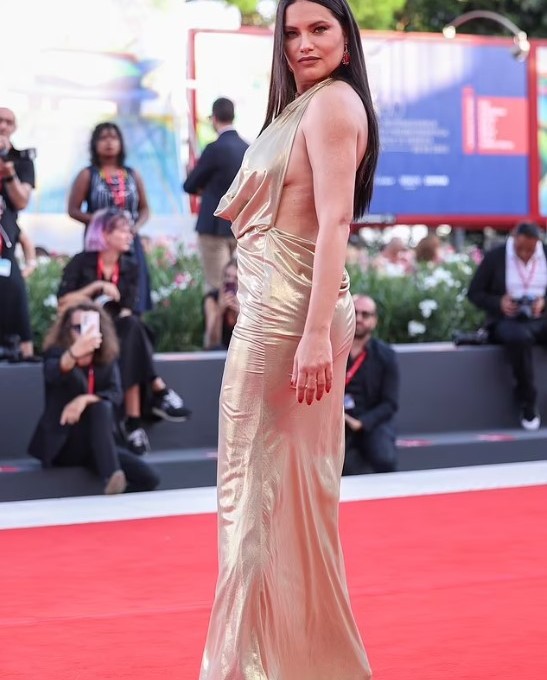 At What Age Did Adriana Lima Retire From Modeling?

Adriana Lima retired from modeling at the age of 37 after a 19-year career with Victoria's Secret. She made her runway debut in 1999 at the age of 18 and went on to walk in 19 shows, wear three Fantasy Bras, and become one of the most iconic Angels in the brand's history.

Lima's decision to retire was a personal one. She said that she wanted to focus on her family and other projects that are important to her, such as female empowerment. She is also the founder of the non-profit organization, The Giving Keys, which helps to provide jobs and housing for people in need.

Lima is a true supermodel and her legacy will continue to inspire women around the world for years to come.

Was Adriana Lima Going to Be a Nun?

When she was younger, Adriana Lima didn't see herself being destined for the runway. Her goals were a little more divine. She actually wanted to be a nun, and, to this day, she still brings a bible to read backstage before shows.

Lima has said that she was drawn to the idea of becoming a nun because she wanted to help others and make a difference in the world. However, she eventually realized that modeling was her calling and she decided to pursue it full-time.

Why Did Adriana Lima Stop Modeling?

There are a few reasons why Adriana Lima decided to retire from modeling. First, she wanted to focus on her family. She is a mother of two young children and she wanted to be more present in their lives. Second, she wanted to pursue other projects that are important to her, such as female empowerment. Third, she felt that it was time to move on from modeling and start a new chapter in her life.

Is Adriana Lima a Millionaire?

Yes, Adriana Lima is a millionaire. She has an estimated net worth of $95 million. She has earned her wealth through her modeling career, as well as through endorsement deals and business ventures.

Lima is one of the most successful models in the world and her legacy will continue to inspire women around the world for years to come.