Adriana Lima, the iconic former Victoria's Secret Angel, has recently graced the Los Angeles premiere of "The Hunger Games
The 42-year-old supermodel made a striking entrance on the red carpet, donning a black, long-sleeved skater dress adorned with vibrant red accents. Her appearance, as she posed for the photographers, left no one indifferent. However, the discerning eyes of internet users quickly picked up on subtle alterations to Lima's facial features, setting off a storm of online discussions and inquiries.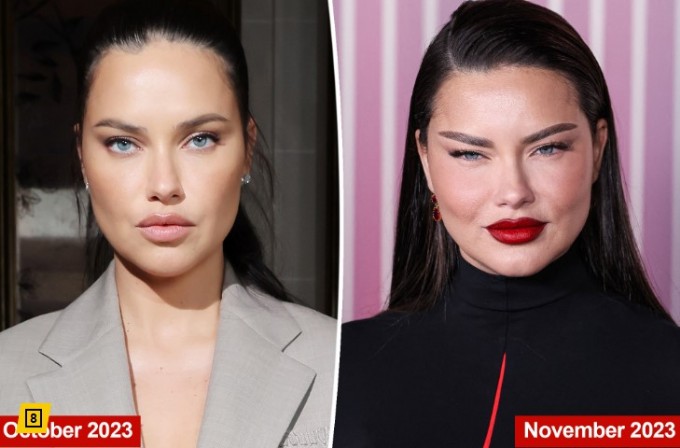 Fans took to various social media platforms, expressing a mix of surprise and curiosity about the renowned model's transformation. Speculations ran rampant, with theories ranging from the possibility of a recent facelift, observed swelling in specific facial areas, to conjectures about the transformative power of makeup. Some enthusiasts even entertained the idea that Lima might be expecting, given that she welcomed her third child, a son named Cyan, in August 2022.
The online chatter included comments about the potential use of Botox, with references to distinctive eyebrow arching, playfully termed "spock brows." Observers not only noted changes in Lima's eyes but also ventured into speculations about a potential nose job.
Amidst the digital discourse, some argued that makeup techniques might be influencing Lima's appearance, emphasizing the transformative power of cosmetics in enhancing or altering features. However, the debate over whether Lima's changes were due to weight gain prompted defenders to stress the importance of refraining from judgment and acknowledging the natural evolution of the human body.
Supportive voices within the online community pointed out the potentially hurtful nature of the commentary, urging empathy and understanding. Some defenders emphasized Lima's right to evolve personally and physically, highlighting that, like everyone else, she is subject to the normal aging process and lifestyle changes.
In the midst of the frenzy, fans condemned what they perceived as cruel commentary, reminding others that Lima, as a public figure, is entitled to personal growth without unwarranted scrutiny. Defenders also noted that underlying health conditions could be contributing to Lima's appearance, emphasizing the need for sensitivity and restraint in online discussions.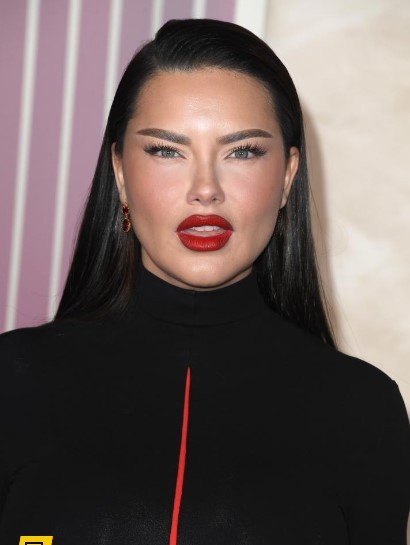 The speculation around Adriana Lima's appearance extended to the broader societal conversation about beauty standards and body image. Critics of the online discourse argued that scrutinizing and commenting on a person's physical changes can perpetuate unrealistic expectations and contribute to the culture of body shaming.
Celebrities, including those like Lima, often face intense scrutiny and public commentary on their appearances. Some argued that this scrutiny is part and parcel of their chosen profession, while others advocated for a more compassionate and understanding approach, recognizing that celebrities, too, are individuals with personal journeys and experiences.
In the midst of this digital storm, supporters rallied behind Lima, celebrating her enduring beauty, accomplishments, and the joy she has brought to countless fans throughout her illustrious career. The broader conversation prompted reflection on the societal norms and expectations placed on individuals, particularly women, in the public eye.
As fans continue to speculate about Adriana Lima's new look, the overarching message emerging from this online discourse is a call for kindness, empathy, and a reevaluation of the societal pressures that contribute to the hyper-scrutiny of individuals' appearances, particularly those in the public eye. Lima's evolving look, whether influenced by personal choices, lifestyle changes, or the natural aging process, remains a testament to the fluidity and subjectivity of beauty, challenging preconceived notions and encouraging a more inclusive and accepting narrative in the digital age.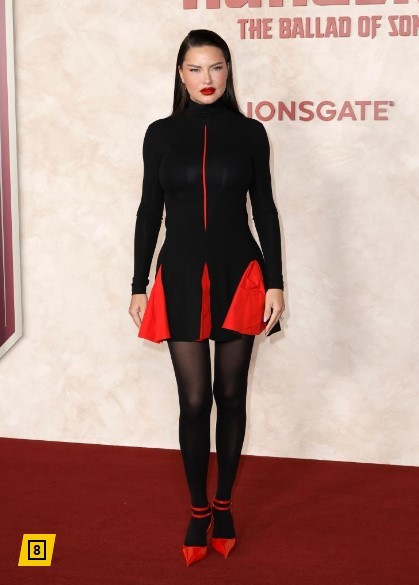 At what age did Adriana Lima stop modeling?
Adriana Lima announced her retirement from Victoria's Secret in 2018 at the age of 37. She had been walking in the Victoria's Secret Fashion Show since 1999. However, she has not completely retired from modeling and continues to do work for other brands.
How old was Adriana Lima when she had her first child?
Adriana Lima was 27 years old when she had her first child, Valentina, in 2009. She had Valentina with her then-partner, Serbian basketball player Marko Jarić.
Is Adriana Lima still modeling?
Yes, Adriana Lima is still modeling. She has been featured in campaigns for brands such as Dior, Puma, and Moschino. She has also walked in runway shows for designers such as Prada, Versace, and Alexander Wang.
Adriana Lima was born on June 12, 1981. As of today, November 15, 2023, she is 42 years old.
Adriana Lima Instagram
Adriana Lima has over 150 million followers on Instagram. Her Instagram handle is @adrianalima.
Here are some additional details about Adriana Lima:
She is a Brazilian model, actress, and businesswoman.
She is best known for her work as a Victoria's Secret Angel.
She has appeared on the cover of over 1,200 magazines.
She is the mother of three daughters.