Amanda Holden, 52, Flaunts Age-Defying Physique in Sizzling Black Bikini Shower Snap
The 52-year-old star showcased her jaw-dropping figure in a stunning black two-piece during a sun-kissed holiday. In a coquettish pose, she mesmerized fans as she enjoyed an al fresco shower. With a hint of sideboob and her perky bottom taking the center stage, Amanda left her followers in awe. Let's take a glimpse of her luxurious getaway with husband Chris Hughes, as she continues to dazzle her fans with captivating vacation snapshots.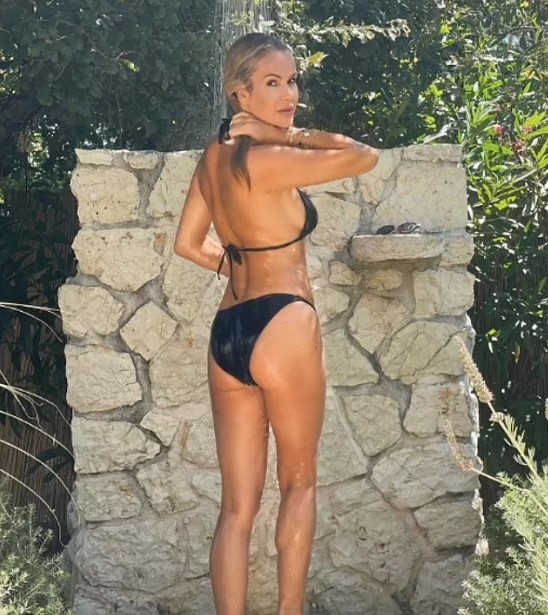 Amanda Holden, the epitome of age-defying beauty, has been captivating her social media followers during her dreamy holiday with husband Chris Hughes. The 52-year-old television personality flaunted her timeless physique in a mesmerizing black bikini shower snap that quickly became an internet sensation.
The sultry image captured Amanda peering over her shoulder with a playful charm while indulging in a refreshing outdoor shower. Her choice of a tiny black two-piece accentuated every inch of her enviable figure, leaving fans in awe of her stunning sideboob glimpse and her perfectly toned bottom.
This, however, is not the first time Amanda has dazzled her audience with her jaw-dropping vacation photos. Merely two days before, the British star shared another bikini-clad snapshot, this time wearing a skimpy blue two-piece as she lounged on the back of a boat, gazing at picturesque sea views.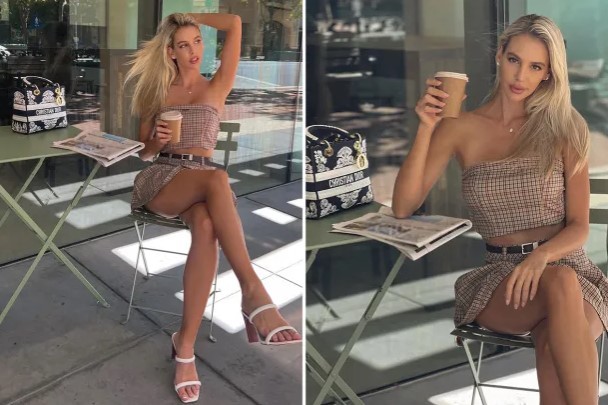 Married since 2008, Amanda and her music producer husband, Chris Hughes, have been basking in the sun and enjoying precious moments together. The couple shares two beautiful daughters, Lexi, 17, and Hollie, 11, making their family vacation even more special.
The holiday snaps come after Amanda's ex-husband, Les Dennis, shared an intriguing anecdote about their lives intersecting with Chris Hughes' family years ago. Les, a TV legend, revealed that Chris' father, Mike Hughes, was his manager during his early career days. Les fondly recalled witnessing a young Chris being swung around by his father, never imagining the unusual connection their lives would have in the future.
Les Dennis, married to Amanda from 1995 to 2003, has since moved on and found happiness with his current wife, Claire Nicholson, with whom he shares two children. Recently, Les expressed his forgiveness towards Amanda for the infidelity that led to the end of their marriage. He mentioned being content that she's found happiness in her life.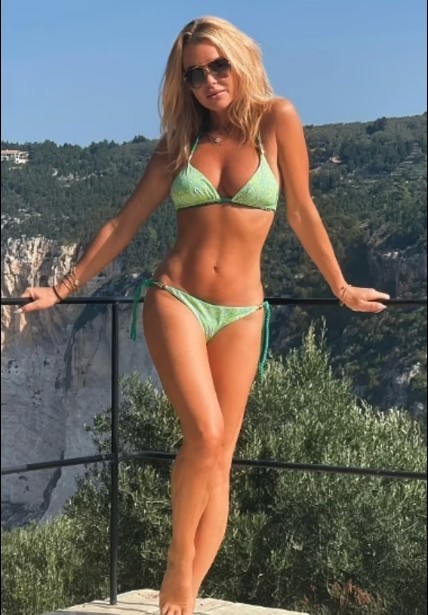 Amanda Holden continues to capture hearts with her age-defying beauty and breathtaking holiday snaps. Her latest sizzling black bikini shower photo has left fans in awe of her timeless allure. As she soaks up the sun and cherishes moments with husband Chris Hughes and their lovely daughters, Amanda's radiant spirit shines through every image she shares. Despite the past, her ex-husband Les Dennis has embraced forgiveness and wishes her nothing but happiness. As Amanda remains an inspiration to many, her captivating holiday snapshots continue to light up social media feeds worldwide.