Amanda Holden and Lookalike Daughter Make a Stylish Entrance at Wimbledon's Opening Day
Amanda Holden and her 17-year-old daughter Lexi turned heads as they graced the first day of Wimbledon with their impeccable style. The 52-year-old TV personality stunned onlookers in a white form-fitting maxi dress, featuring a daring thigh-high split that accentuated her enviable figure.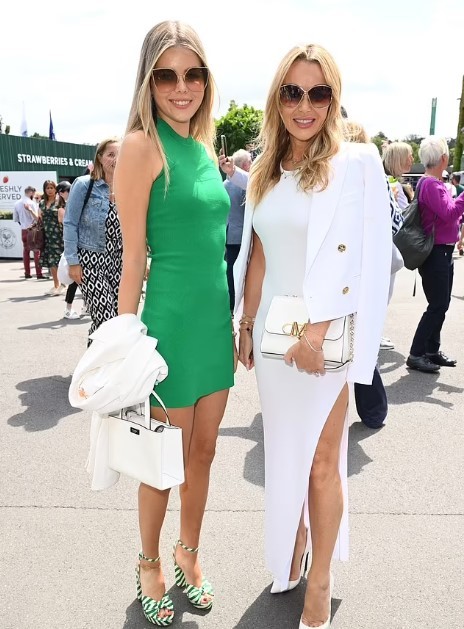 Completing her elegant ensemble, Holden paired the dress with stilettos and a matching cropped blazer, exuding an air of sophistication. Oversized sunglasses shielded her eyes, and her golden locks cascaded in loose curls, complementing her bronzed makeup look.
Lexi, who bears a striking resemblance to her mother, showcased her own impeccable fashion sense in a green Victoria Beckham dress, perfectly complemented by matching LK Bennett heels. Joining them was Ashley Roberts, who opted for an 80s-inspired look with a short polka dot mini dress and white heels.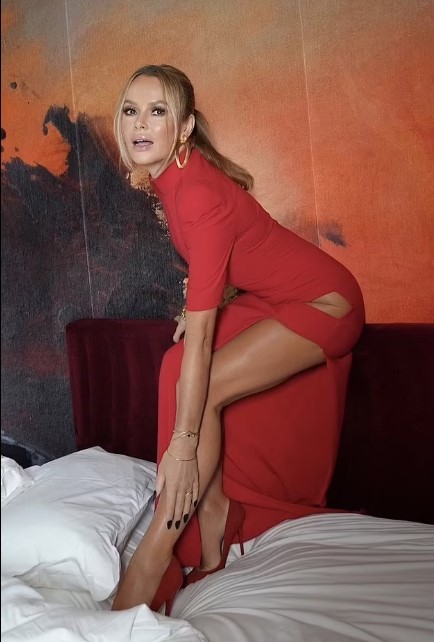 The glamorous trio was joined by Simon Cowell's partner, Lauren Silverman, who commanded attention in a plunging polka dot dress, striking a pose alongside Amanda, Ashley, and Lexi.
Before the day's matches began, tennis sensation Emma Raducanu delighted fans by posing for selfies. Thousands of tennis enthusiasts had camped overnight, eagerly awaiting the start of the championships. Raducanu, the 2021 US Open winner, was unfortunately unable to compete at this year's Wimbledon due to an injury, but she happily obliged fans by allowing them to take pictures.
As the gates opened, over 6,200 non-ticket holders flocked to the Wimbledon queue, hoping to catch a glimpse of the tennis action. The highly anticipated clash between Serbia's Novak Djokovic, defending champion, and Argentina's Pedro Cachin, ranked 67th, was a major attraction.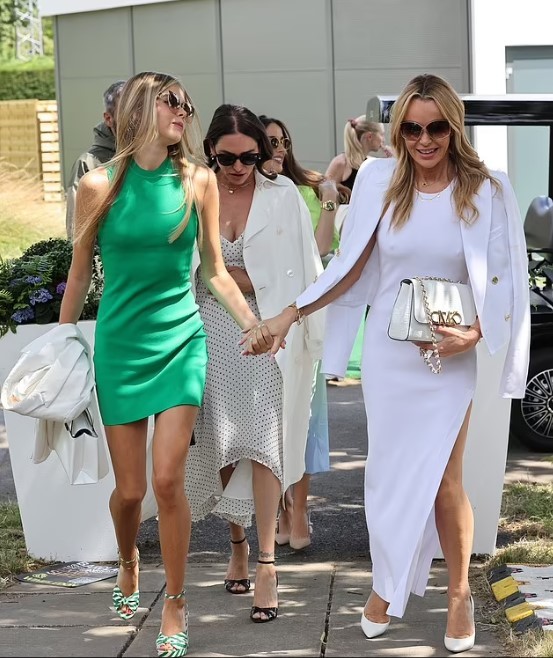 Despite the excitement, the Met Office advised fans to come prepared with rain jackets and umbrellas, as scattered showers were expected during the first week of the tournament. While some rain was predicted for South West London on the opening day, the weather was anticipated to improve on Thursday and Friday.
Recently, Amanda Holden made headlines by revealing that she has set certain boundaries for her daughter Lexi when it comes to skimpy outfits, although she occasionally wears them herself. Known for her impeccable fashion sense on Britain's Got Talent and at Heart FM, Amanda confessed to confiscating some of Lexi's clothes, ensuring her daughter's outfits are age-appropriate.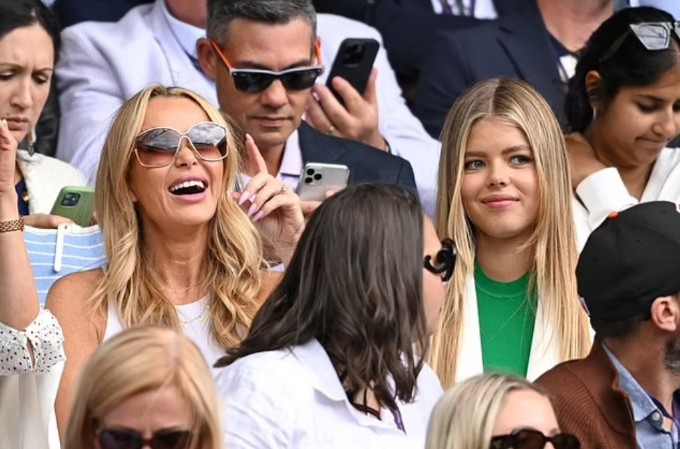 Lexi, an exceptional student, has signed with Storm modeling agency, following in her mother's showbiz footsteps. However, Amanda emphasized that Lexi's education remains a priority, and she wants her daughter to complete her studies before fully pursuing her modeling career.
Amanda's endorsement of Revive Collagen for the second consecutive year was cause for celebration. The luxury liquid collagen supplement brand, co-founded by Samantha Faiers, appointed Amanda as its Brand Ambassador in 2021, attributing the product to her youthful appearance and well-being at 52. Amanda revealed that Lexi also incorporates collagen into her skincare routine as she prepares for her own modeling journey.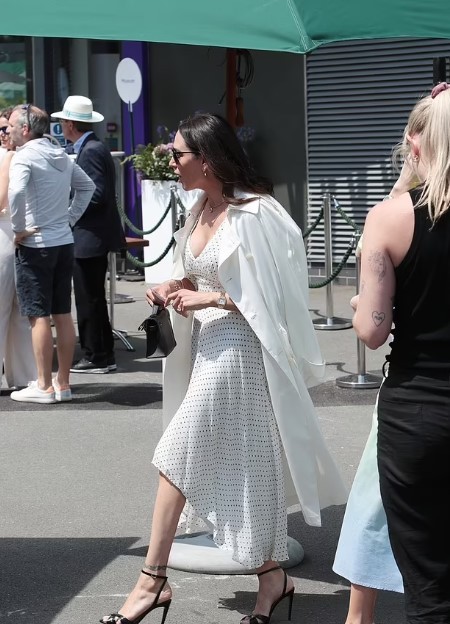 With Wimbledon's opening day off to a stylish start, Amanda Holden, accompanied by her lookalike daughter Lexi and fellow celebrities, graced the event with their undeniable charm and fashion flair. As the tournament progresses, fans eagerly anticipate more fashion moments and thrilling matches on the iconic Centre Court.