Amanda Holden Flaunts Sculpted Abs in Bikini During Greek Getaway as She Enjoys Sea Splash
Accompanied by her husband Chris Hughes and daughters Lexi, 15, and Hollie, 9, Amanda Holden has been making the most of her well-deserved break by sharing stunning snapshots of her beachside adventures on her Instagram.

Amidst the picturesque backdropp of the Greek coast, Amanda Holden has been soaking up the sun and reveling in the crystal-clear waters. The television personality showcased her impeccably toned abs as she frolicked in the sea, sporting a striking floral bikini that perfectly complemented her beach-ready look. In one particularly captivating photo, Amanda posed next to a sizable rock, gazing out at the sea with her hair slicked back and donning oversized sunglasses.

Amanda's post was accompanied by a playful caption, "My #rock," accompanied by a laughter emoji. Enthusiastic fans flocked to the comment section, showering her with compliments and adoration. One admirer gushed, "Wow, absolutely stunning Amanda ❤️❤️," while another chimed in, "Such a beautiful lady ❤️❤️❤️." The accolades continued with comments like, "That is perfection right there, folks" and the succinct "Wowza!"

This breathtaking image follows Amanda's heartwarming moment when she united with her rarely-seen mother, Judith, and her daughters for a family portrait that she shared on her journey. The snapshot radiated love and warmth, and fans couldn't help but share their appreciation. "What a beautiful family picture," remarked one, while another added, "Four beauties."

Notably, Amanda Holden has also embraced the allure of the open sea during her holiday. Mirroring the iconic pose of Marilyn Monroe, she channeled timeless elegance in a plunging kaftan while aboard a yacht. The wind playfully lifted her white dress, prompting her to hold it gracefully while gazing out at the sun setting over the vast ocean.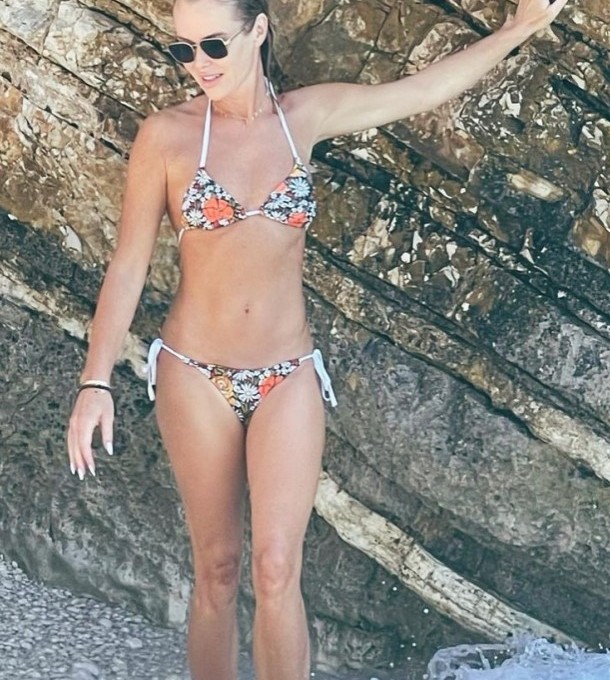 Earlier in her vacation, Amanda showcased her svelte figure in a white two-piece ensemble, draping herself over the yacht's bow in yet another captivating snapshot. Fans couldn't contain their excitement, expressing their admiration in effusive terms. "Perfection, just wow," wrote one, while another playfully called her a "bloody siren." The nautical theme continued as a follower praised, "Beautiful anchor on that boat."

Amanda Holden's Greek holiday has not only provided her with a much-needed respite but has also offered a visual treat for her dedicated fans. Her radiant spirit and captivating photos continue to inspire admiration and awe, making her vacation an unforgettable experience shared with her online community.

The serene beauty of the Greek coast serves as a breathtaking backdropp for Amanda Holden's well-deserved vacation. Accompanied by her husband Chris Hughes and daughters Lexi, 15, and Hollie, 9, Amanda has been graciously sharing glimpses of her idyllic beachside adventures with her Instagram followers.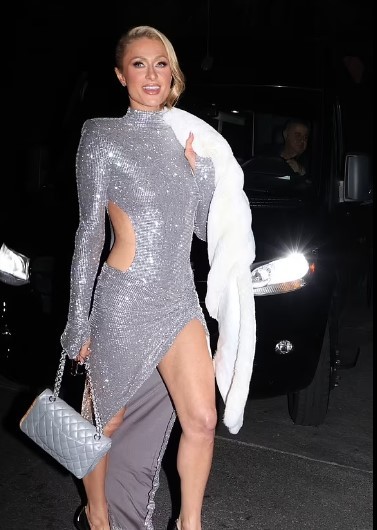 Amanda's radiant presence shines through as she basks in the golden sunlight and enjoys the pristine waters. Her perfectly toned abs take center stage as she playfully engages with the sea, donning a vibrant floral bikini that complements her beach attire exquisitely. Among the captivating collection of photos, one stands out where Amanda strikes a pose next to a weathered rock, her gaze lost in the vastness of the sea. With her sleek hair pulled back and chic oversized sunglasses, she epitomizes seaside sophistication.

Adding a touch of whimsy to her posts, Amanda accompanies her photos with endearing captions. "My #rock," she quips, accompanied by a hearty laughter emoji. Enthusiastic fans inundate the comments section with a cascade of compliments and adoration. Words like "stunning," "beautiful," and "perfection" pepper the comments as her followers express their admiration. Each comment is a testament to the adoration she commands.

The excursion takes a heartwarming turn as Amanda shares a rare moment with her mother, Judith, and her daughters. The family portrait emanates warmth and affection, a true celebration of love. Fans respond with heartfelt appreciation, acknowledging the beauty of the bond they share.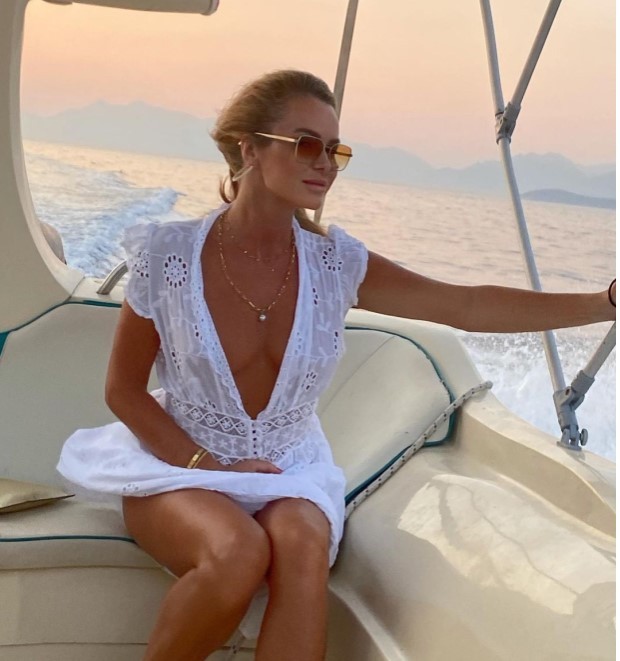 Amanda's embrace of the open sea is another highlight of her holiday. Drawing inspiration from the iconic Marilyn Monroe, she exudes timeless elegance while aboard a yacht. Her plunging kaftan billows gently in the sea breeze, a vision of grace as she gazes at the sun's descent over the endless horizon.

Amanda's choice of attire remains impeccable. A white two-piece ensemble accentuates her enviable figure as she leans against the yacht's bow, the expanse of the sea behind her. Fans react with unrestrained enthusiasm, celebrating her beauty with fervent awe. Comments like "perfection" and "wow" underscore their admiration, while a playful remark likens her to a captivating siren.

In every snapshot, the nautical essence is palpable. Even her followers get swept up in the theme, with one likening her presence to a "beautiful anchor on that boat." Amanda Holden's Greek getaway not only offers her a well-earned escape but also treats her dedicated online community to a visual feast.

Her vacation becomes an opportunity for fans to witness her in her element, exuding joy and contentment. The allure of the Greek coast, Amanda's magnetic charm, and the artistic composition of each photograph culminate in an unforgettable experience for everyone who follows her journey.