Amanda Holden is presented with a cake modelled from her OWN cleavage as she parties with showbiz pals
The renowned TV personality enjoyed a belated birthday celebration with her closest showbiz pals at Isabel, a chic venue in London's Mayfair district. Amanda's birthday revelry was marked by laughter, glamorous attire, and a truly one-of-a-kind cake that left everyone talking.
Amanda, always known for her stylish and elegant fashion choices, looked absolutely stunning in a sparkling black suit paired with a matching bralet. The outfit exuded sophistication and glamor, befitting her status as one of the UK's most beloved television personalities. Her choice of attire for the evening set the stage for an unforgettable night of celebration.

In attendance at Amanda's birthday bash were some of her dearest showbiz friends, including fellow radio presenter Ashley Roberts. The guest list was a who's who of the entertainment industry, promising a night filled with laughter and camaraderie.

Throughout the evening, Amanda made sure to document the festivities on her Instagram account. She shared a series of snapshots, giving her fans and followers an insider's look at the joyous occasion. From candid shots with friends to playful moments, Amanda's Instagram posts captured the spirit of the evening.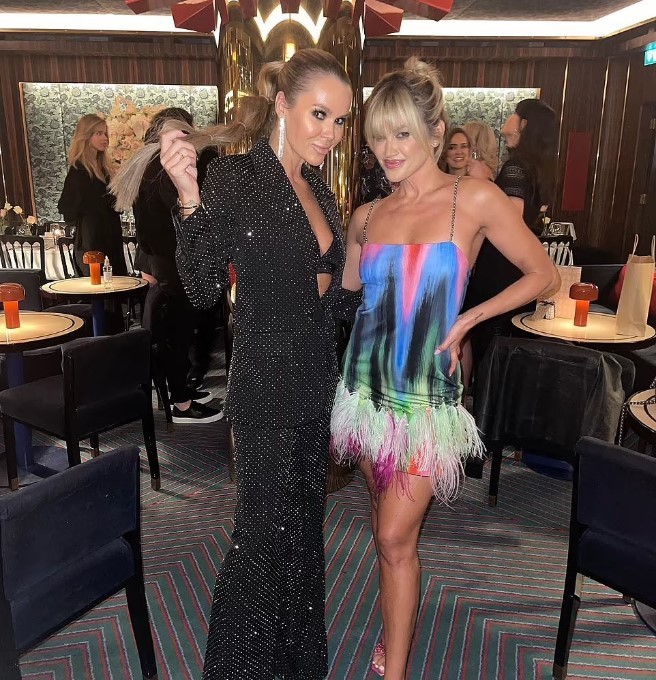 But the evening's highlight, one that left everyone talking and chuckling, was the birthday cake. A cake is a staple at any birthday celebration, but Amanda's cake was far from ordinary. It was a work of art, meticulously crafted to resemble a torso adorned with a cleavage-flashing black bra. The attention to detail was impeccable, and the cake's resemblance to Amanda's own physique was uncanny.

When Amanda was presented with the cake, her reaction was nothing short of priceless. With a gleeful "oh my God!" she couldn't contain her surprise and amusement. What followed was an endearing and humorous moment as Amanda humorously compared her assets to the cake's cleavage. Her friends joined in on the fun, playfully pointing out the similarities.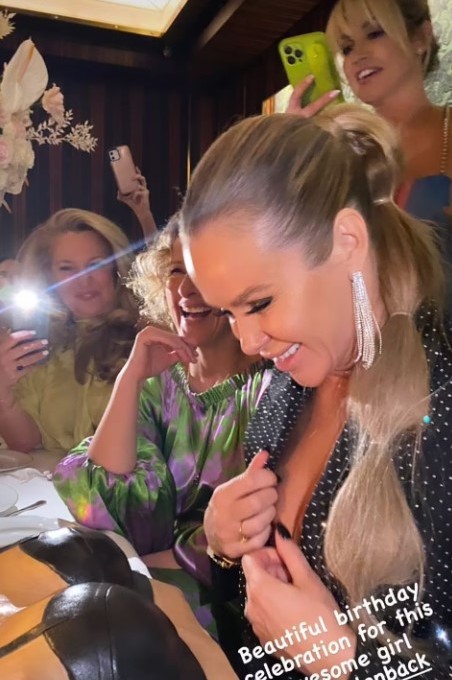 The evening continued in high spirits as Amanda mingled with her friends, enjoying laughter and camaraderie. Among her guests were Tracy-Ann Oberman, Nicola Stephenson, Siân Welby, Kelly Hoppen, and Melissa Odabash. The photos captured the genuine joy and connection among this group of showbiz professionals.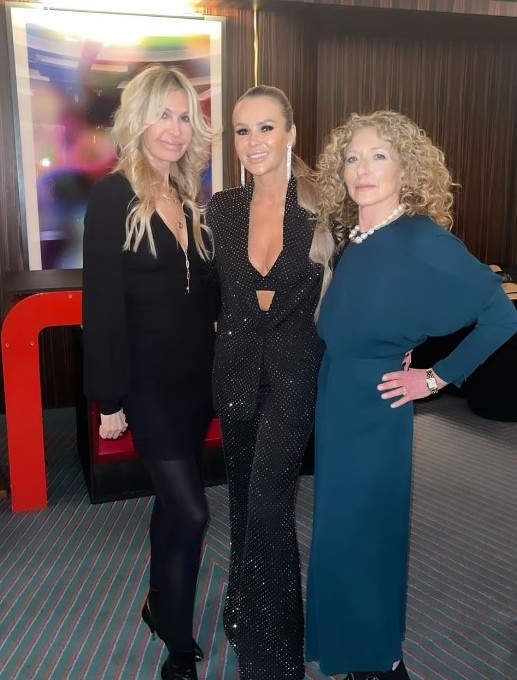 The celebrations weren't limited to the evening alone. Amanda had been on a family holiday in Dubai to mark her 52st birthday before the belated birthday bash. She shared heartwarming family photos from the Dubai trip, including precious moments with her two daughters. The break in Dubai allowed Amanda to unwind and create beautiful memories with her loved ones.

On the beach in Dubai, Amanda showcased her fit and fabulous figure in a two-piece swimsuit. Her radiant smile and carefree demeanor painted a picture of pure happiness as she soaked up the sun and celebrated another year of life.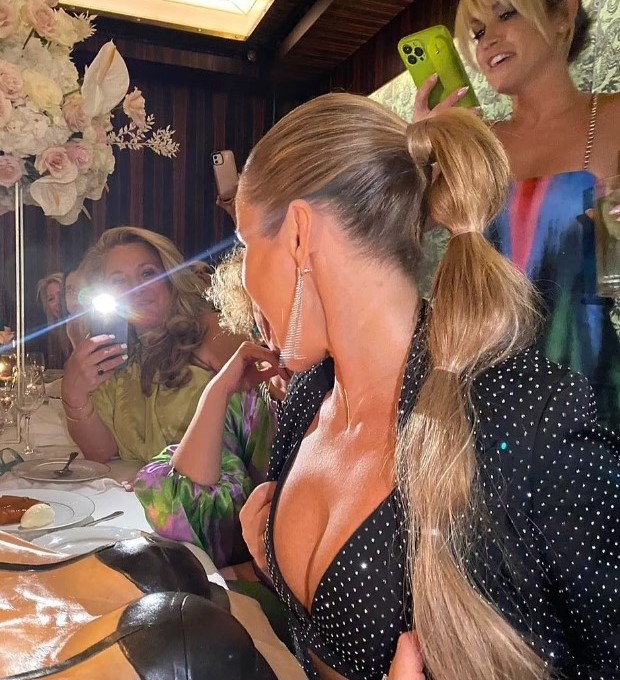 Upon returning to the UK, Amanda continued her birthday celebrations with balloons and cake. The fun and festivities were far from over, as she enjoyed more cherished moments with her family and friends.

Despite the whirlwind of birthday excitement, Amanda's schedule remains packed. Auditions for the upcoming season of "Britain's Got Talent" are already underway, with the show set to return later this year. Amanda shares the judges' panel with other notable talents such as Alesha Dixon, Simon Cowell, and David Walliams.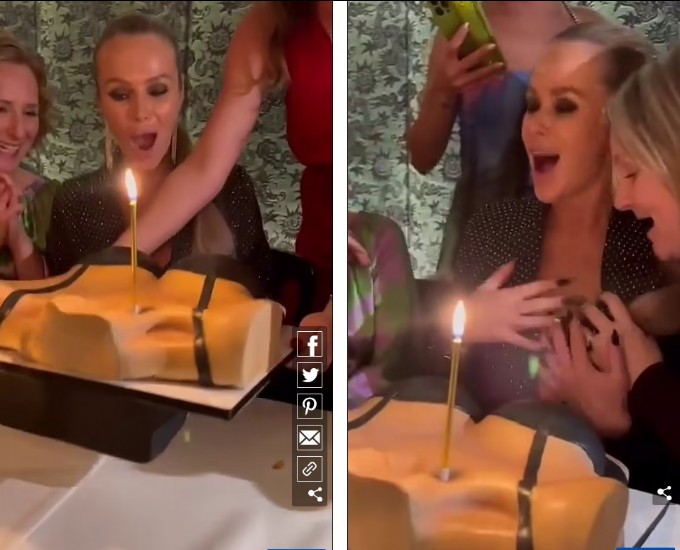 For Amanda, "Britain's Got Talent" holds a special place in her heart, and she has openly expressed her joy at being back on the show. After a two-year absence, her return to the judging panel brought tears of happiness. Amanda's infectious enthusiasm and passion for discovering and nurturing talent continue to shine through on the beloved television program.

As Amanda Holden continues to grace our screens and celebrate life's milestones, she remains an icon of grace, talent, and timeless beauty. Her birthday celebration was a testament to the cherished friendships she's cultivated in the entertainment industry and the joy she brings to those around her.
Is Ashley Roberts in a Relationship with Jamie: I do not have information about Ashley Roberts being in a relationship with someone named Jamie as of my last update. Relationship statuses can change, so it's advisable to check the latest news or her social media profiles for any updates on her personal life.
Ashley Roberts Instagram: Ashley Roberts is active on Instagram, where she shares updates about her life, career, and various interests. Her Instagram account is a great way to stay updated on her activities and posts.
Who Is the Father of Ashley Roberts' Child: There is no publicly known information regarding Ashley Roberts having a child or revealing the identity of a child's father.
Ashley Roberts Son: As of my last knowledge update, Ashley Roberts did not have a son. Any recent developments regarding her family would require up-to-date information from a reliable source.
Ashley Roberts Wikipedia: Ashley Roberts has a Wikipedia page that provides comprehensive information about her life, career, and achievements. You can visit her Wikipedia page for in-depth details.
Ashley Roberts Net Worth: Ashley Roberts has amassed a significant net worth through her career in the entertainment industry. While the exact figure may vary over time, her estimated net worth is in the millions of dollars, primarily from her work as a member of the pop group The Pussycat Dolls, television appearances, and other ventures.
Ashley Roberts Children: Ashley Roberts does not have any publicly known children as of my last update. If there have been any developments regarding her family status, I do not have that information.