'Amanda Holden Looks Stunning in Cut-Out Jumpsuit After Emotional Moment Over Daughter's School Transition'
The braless star showcased her impeccable style in the all-black ensemble, which featured a trendy keyhole cut-out and wide-legged trousers.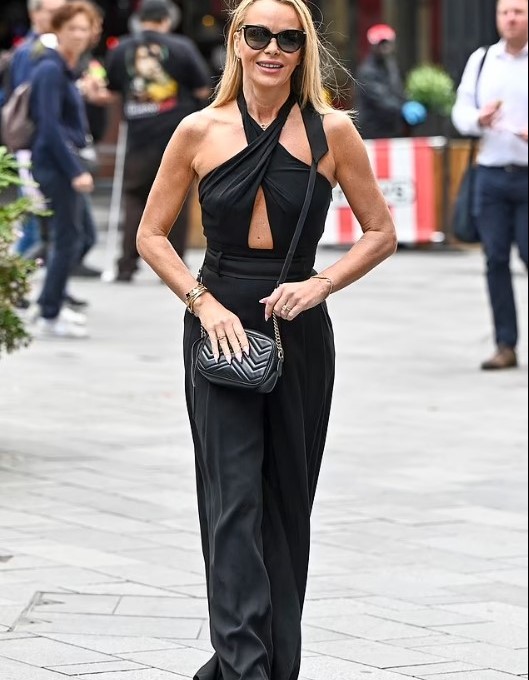 Despite recently breaking down in tears on her radio show while discussing her youngest daughter's transition from prep school, Amanda flashed a radiant smile as she departed. Completing her chic look, she opted for flat sandals and accessorized with a quilted Gucci crossbody handbag. With her blonde hair styled sleek and straight, she added a touch of glamour with oversized cat-eye sunglasses.
Meanwhile, Amanda's co-host Ashley Roberts also made a fashionable statement in a lilac denim coordinate, consisting of an oversized jacket and jeans. The 41-year-old singer flaunted her toned abs in a white crop top and elevated her height with stylish stiletto heels. Completing her ensemble, she sported a unique pair of reflective sunglasses and styled her blonde locks in a trendy messy updo.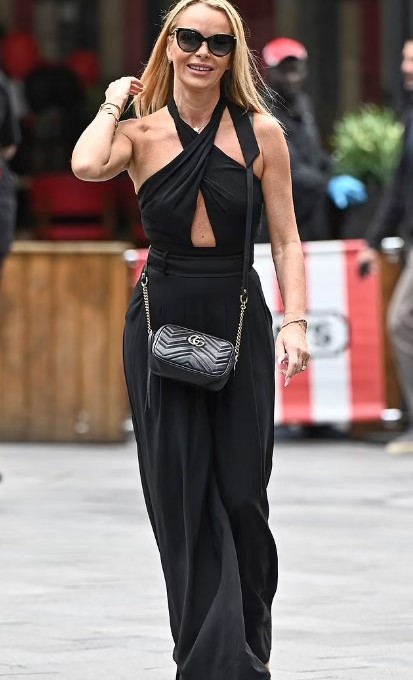 Earlier in the day, Amanda became emotional during her Heart FM radio show when discussing her youngest daughter, Hollie, leaving prep school. Expressing her feelings to co-host Jamie Theakston, she revealed, "I'm not gonna lie. I feel a bit depressed today." The presenter described the scene at the school gates as her daughter and her friends bid farewell, leaving her in tears.
Reflecting on the moment, Amanda shared, "I gave one of my favorite teachers a hug because she's been an exemplary teacher and got Hollie through so much. And I gave her a cuddle, and then I started crying." The transition marked the end of an era for Amanda, who acknowledged the challenges of seeing her children grow up.
In a lighthearted exchange, Jamie playfully teased Amanda, suggesting it was just the end of the term, not the end of an era. Amanda, however, expressed her sadness at the thought of her daughter entering a new phase of education where communication becomes more challenging.
Despite the emotional moment, Amanda shared that she and her close-knit group of school moms gathered for their traditional end-of-year picnic celebration, where they reminisced and enjoyed each other's company. With a touch of humor, she mentioned their "liquid picnic" that extended from noon until 7 p.m.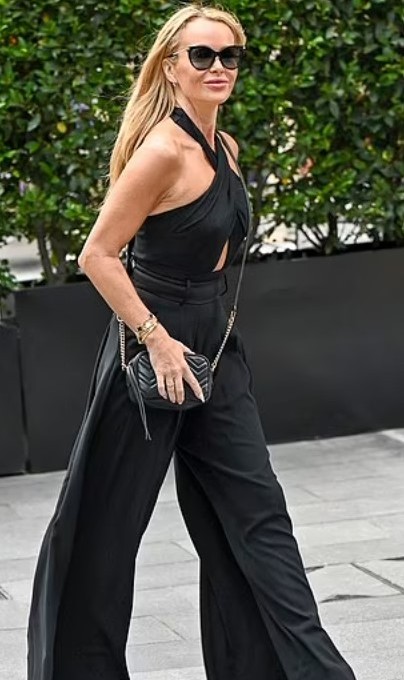 Amanda is a devoted mother to two daughters, Hollie and Lexi, aged 11 and 17, respectively, whom she shares with her husband, Chris Hughes. The presenter continues to captivate audiences with her on-air charisma and impeccable fashion choices, proving that she effortlessly balances her personal and professional life.