Amanda Holden Looks Glam as Playfully Refers to Herself as a French Teacher
On Thursday (June 22), while hosting the Heart Breakfast show with Jamie Theakston at the Heart FM studios, she playfully joked that she had arrived dressed as a "French teacher."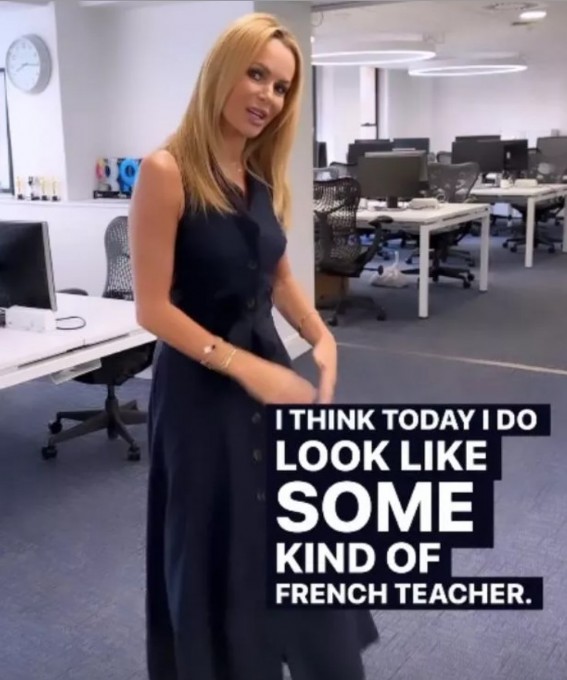 Amanda looked absolutely gorgeous in a shoulderless navy gown from Reiss, one of her favorite fashion brands. The dress featured buttons and a cut-out section on the back, revealing just a hint of skin and accentuating her killer figure. Demonstrating her playful side, Amanda took to Instagram to showcase her outfit while also showing off her impressive French accent.

In the Instagram clip, she greeted her fans with a cheerful "Bonjour le class" and proceeded to describe her dress. Amanda shared, "It's like a heavy linen but it's not one that creases. It's from Reiss. It's navy blue." She turned away from the camera to reveal the cute cut-out design, saying, "It's got this cute little sort of cut-out at the back which makes it less formal, I think, and buttons if you choose to get a knee out. Should you wish."

Before bidding her fans farewell, Amanda wished them a sunny day and expressed her hopes that they were all doing well.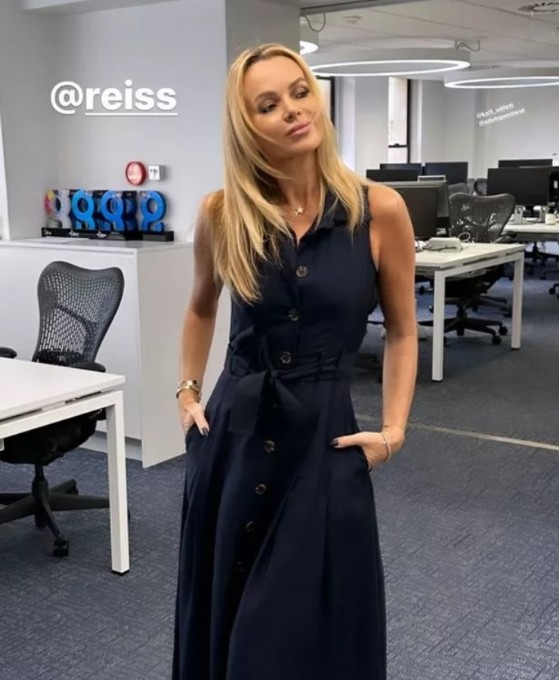 This fun fashion moment follows Amanda's recent appearance at the prestigious Ascot event. At Ascot, she wowed everyone in a clingy purple dress designed by Victoria Beckham, showcasing her sensational figure. In true Ascot fashion, Amanda also wore a matching purple headpiece, and her honey-blonde locks were styled straight and sleek underneath. She shared a glimpse of her ensemble on Instagram, reuniting with her close friend Alan Carr for a photo.

Amanda Holden continues to captivate audiences not only with her talent as a judge but also with her impeccable style and playful personality.

She captioned the photo: "@chattyman with his favourite Nag #RoyalAscot #racingwithpride @itv @itvxofficial."