Amanda Holden Reveals Intimate Facelift and Playfully Claims to Look Like a '12-Year-Old
She shared that she had undergone a non-surgical facelift to tighten her face and smooth out wrinkles, playfully stating that the treatment would make her look like a "12-year-old."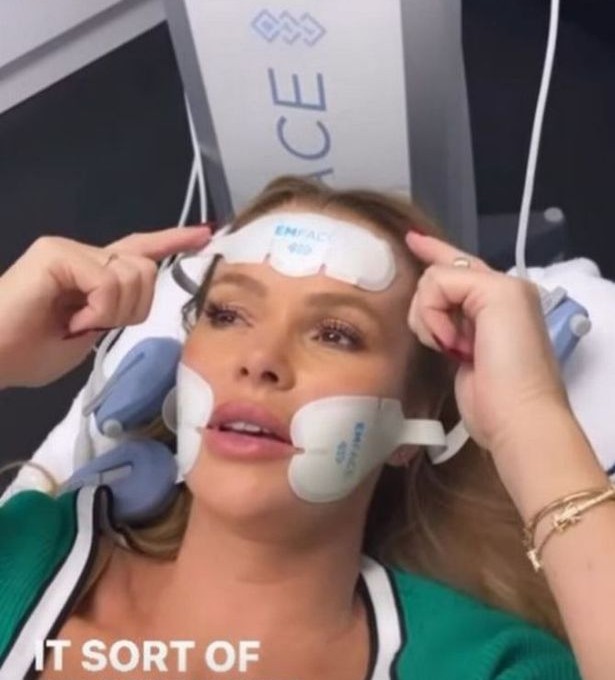 Taking to her Instagram story, the Britain's Got Talent judge shared a clip showcasing the treatment she received. In the video, a contraption can be seen on her face, designed to reduce wrinkles and improve skin texture.

Amanda opted for the Emface treatment, which focuses on toning the facial muscles and tightening the skin. Sharing her experience, she mentioned, "It sort of feels tickly here, and I actually think if I left it on all night, I'd wake up like a 12-year-old."

The beautician who performed the treatment added a caption to the clip, explaining the procedure's mechanism. They described the Emface treatment as toning the lifting muscles of the face while using radiofrequency (RF) energy to tighten the skin. The procedure is pain-free, takes only 20 minutes, and requires no downtime. It is recommended to undergo a course of 4-6 sessions, with maintenance every 6-12 months.
While Amanda's non-surgical facelift has garnered attention, there have also been recent developments in her personal life. Reports suggest that her husband, Chris Hughes, has resigned as a director from the talent agency that represents Amanda, Simon Cowell, and former presenter Phillip Schofield. The agency, YMU, reportedly terminated Schofield's contract following his confession about having an affair with a younger colleague. YMU is said to have brought in advisors to explore financial restructuring as the company faces net liabilities of £74.7 million.

Amanda and Phillip have had a publicized strained relationship in the past. Despite previously working together on This Morning, it appears that their professional collaboration did not lead to a friendship. Since news of Phillip's affair came to light, Amanda has been vocal about her opinions on the matter.

As Amanda Holden openly shares her journey with non-surgical facelift treatments, her fans continue to admire her youthful appearance and eagerly await updates on her latest endeavors.