Amanda Holden's Unintended Marilyn Monroe Moment: Wardrobe Malfunction in White Dress
The 50-year-old star had an unexpected Marilyn Monroe-esque moment as she gracefully twirled in a flowy white dress. The incident, captured in a slow-motion video shared on Amanda's Instagram page, unveiled more than she had anticipated.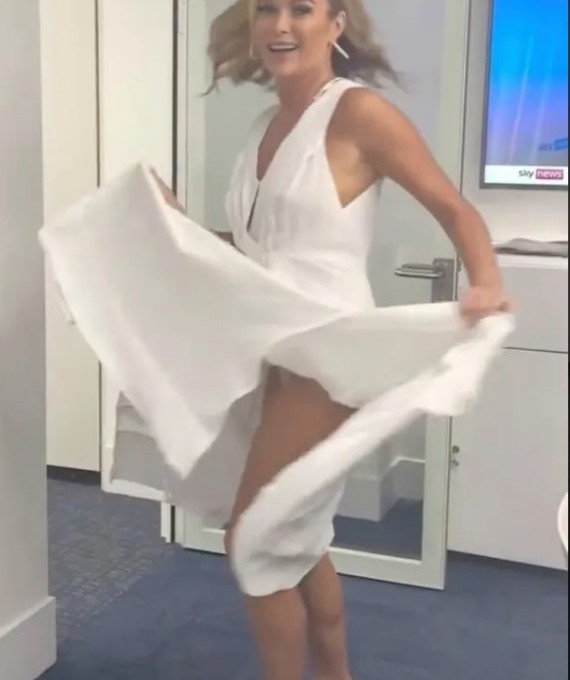 A Nostalgic Nod to Hollywood Glamour: Holden's reminiscent nod to the glamorous era of Hollywood harkened back to one of cinema's most legendary scenes. Marilyn Monroe herself had made history in the Hollywood classic "The Seven Year Itch" when she famously stood over a subway grate, her white gown billowing in the updraft from New York's Subway railway. Holden's twirl in the elegant dress from the upscale high street store Reiss paid homage to this iconic image.
Unexpected Wardrobe Malfunction: As Amanda Holden elegantly spun around in her white cocktail dress, she inadvertently recreated a moment of unexpected exposure. The slow-motion video revealed a glimpse of her white undergarments, catching the attention of her fans and followers. The unintentional wardrobe malfunction quickly became a talking point, prompting conversations across social media platforms.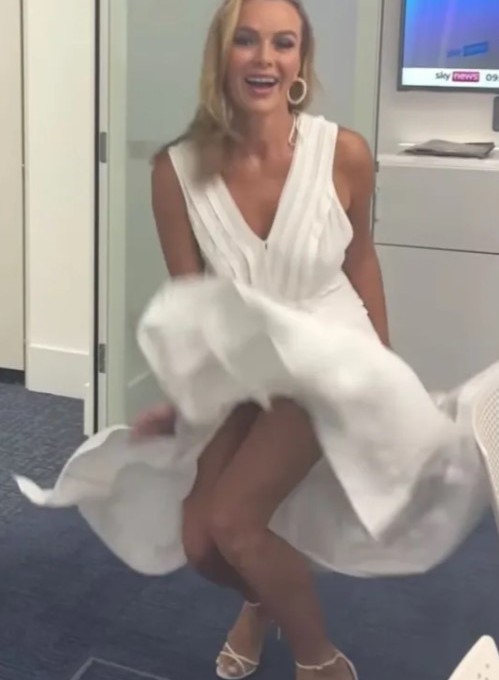 Amanda Holden's Impeccable Style: Known for her impeccable fashion choices and frequently touted as one of the best-dressed personalities in the entertainment industry, Amanda Holden has often stunned the public with her glamorous ensembles. Even while hosting Heart's breakfast show alongside Jamie Theakston, Amanda continues to make fashion statements that captivate her audience.
Beyond the Glitz: Amanda's Health Revelation: Amid the glamour and excitement, Amanda Holden recently opened up about a personal health challenge she has been facing. Following emergency surgery to remove all four wisdom teeth, Amanda experienced an unforeseen and lingering complication. The star revealed that for the past 18 months, she has been unable to feel the left side of her bottom lip and a portion of her jaw. Medical scans indicated that the nerve was not damaged, leaving a possibility of sensation returning over time. Despite the unsettling situation, Amanda maintains a positive outlook, adapting to the unusual circumstance.
Adjusting to the Unforeseen: In an interview with the Mirror, Amanda shared her perspective on the unique situation she has been coping with. Expressing both her surprise and acceptance, she mentioned, "I've had scans of it and they showed that the nerve wasn't damaged, so they think the feeling may return. But it has been over 18 months now, so I'm not sure it will to be honest. It's bizarre but you get used to it."
Conclusion: Amanda Holden's unintentional tribute to Marilyn Monroe in her flowing white dress became a viral sensation, drawing parallels between the modern celebrity and the timeless Hollywood icon. As Amanda gracefully navigates both fashion and unforeseen health challenges, her ability to maintain poise and humor in the face of adversity sets an inspiring example for her multitude of fans worldwide.