Amanda Holden Sizzles in Age-Defying Bathrobe Photoshoot for Sam Faiers' Revive Collagen Brand
At 52, Amanda showcased her incredible figure in a sultry bathrobe, capturing the essence of timeless beauty. The photoshoot was in collaboration with Sam Faiers' Revive Collagen brand.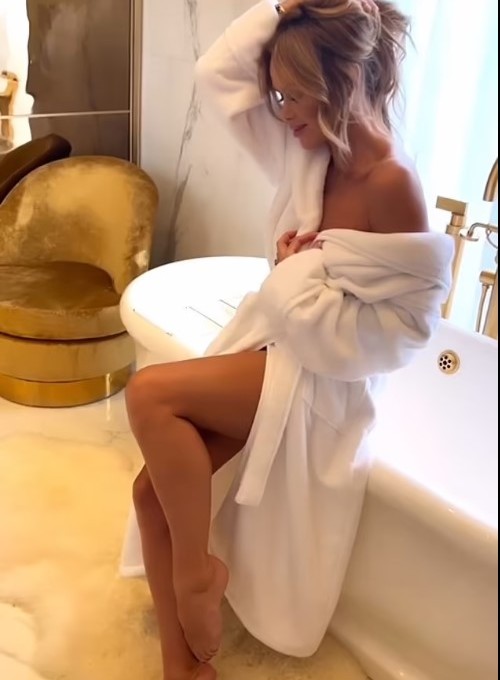 Amanda didn't hold back her excitement about the shoot, sharing a short clip of herself perched on the edge of a bathtub. She expressed, 'So good to be back with @revivecollagen.'
In the snapshots, Amanda radiated with a golden tan, flaunting a fresh pedicure while her luscious blonde locks cascaded over her shoulders in beautifully tousled curls. She confidently displayed her toned legs in the bathrobe and sensually revealed a bare shoulder, adding a touch of allure to the photos.
The shoot also featured Sam Faiers, who shared a delightful image of herself alongside Amanda during the shoot in the vibrant neighborhood of Notting Hill. In her caption, Sam expressed her excitement for another year with their British Ambassador, Amanda.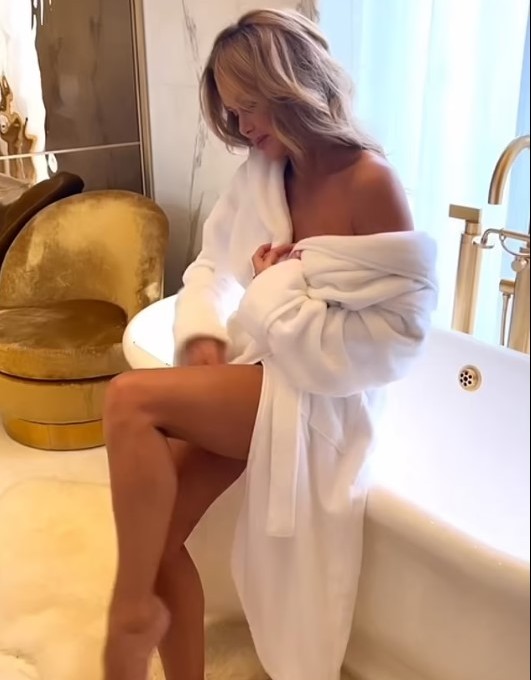 Sam herself exuded elegance in leather-look trousers paired with a black singlet and a metallic blazer.
Prior to this glamorous photoshoot, Amanda Holden enjoyed a luxurious vacation in Mauritius, where she relished her stay at a lavish beachside resort, costing a staggering £1,700 per night. Throughout her trip, the TV personality kept her followers entertained with snapshots that showcased her in various stylish bikinis.
Her chosen haven was the opulent LUX Grand Baie, a five-star resort nestled along the northern shoreline of Mauritius. Designed with the creative input of the renowned former Dragon's Den star, Kelly Hoppen, the hotel's suites and villas are carefully crafted to offer the ambiance of private apartments, providing an exquisite experience for the discerning traveler.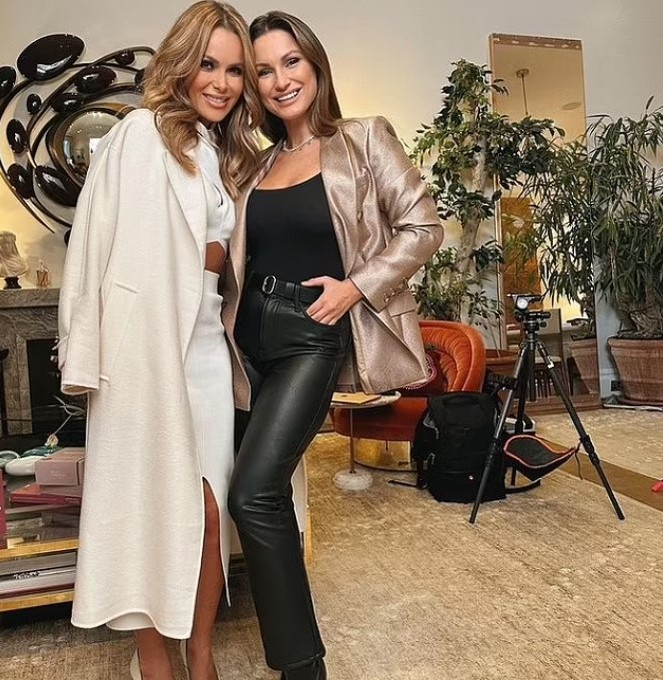 Early Life and Career: Amanda Holden began her career in acting and gained recognition for her roles in various television series and films. She made her debut in the television series "In Suspicious Circumstances" in 1991. Her breakthrough came when she appeared in the ITV drama series "Wild at Heart."
Television Career: Amanda Holden is widely known for her role as a judge on the popular talent show "Britain's Got Talent," which she joined in 2007. Her witty commentary, style, and contributions to the show have made her a beloved figure on British television. She has also appeared on shows like "The Grimleys," "Kiss Me Kate," and "The Worst Witch."
Radio Hosting: In addition to her television career, Amanda Holden is a radio host. She has been a part of the Heart FM radio team, co-hosting the morning show. Her radio presence has gained her a considerable following.
Other Endeavors: Amanda Holden is also known for her fashion sense and has been featured in various style and fashion-related publications. Her collaboration with Sam Faiers' Revive Collagen brand showcases her influence in the fashion and beauty industry.
Personal Life: Amanda Holden's personal life includes her husband, Chris Hughes, and their two daughters, Alexa Louise Florence Hughes and Hollie Rose Hughes. She has shared aspects of her family life on social media and in interviews.
Social Media: Amanda Holden is active on social media platforms like Instagram and Twitter, where she engages with her fans, shares insights into her life, and promotes her various projects and endorsements.
Achievements: Over the years, Amanda Holden has received recognition for her contributions to the entertainment industry and her impact as a television personality. Her role as a judge on "Britain's Got Talent" and her radio hosting career have solidified her status as a prominent figure in the UK media landscape.
Charity Work: Amanda Holden has also been involved in various charitable activities, supporting causes related to children, health, and animal welfare.
Awards and Nominations: Amanda Holden's work has earned her several award nominations and accolades, making her a respected figure in the Britis