Amanda Holden turns heads as he puts on a VERY leggy display in a pink satin robe as she celebrates being reappointed as the face of Revive Collagen
The TV personality, 52, put on a very leggy display in a pink satin robe as she posed for a stunning photoshoot.
She then slipped into a pair of white satin pyjamas as she lay on the bed with her collagen sachets and magazines.
Amanda opted for a glam makeup look, with a bronzed base and a swipe of glossy nude lipstick.
Her blonde locks were styled in bouncy curls as she was pictured having her makeup done while sucking on a collagen sachet.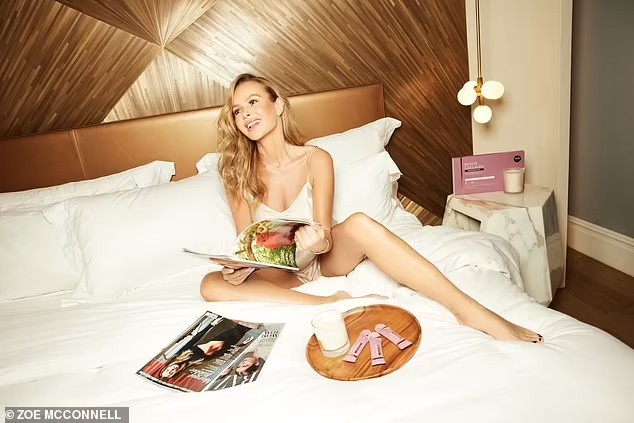 In one snap, the mother-of-two donned a white robe while perched on the edge of a bathtub.
The luxury liquid collagen supplement brand, co-founded by Samantha Faiers, brought on Amanda as Brand Ambassador in late 2021 for their sell-out Enhanced Plus collagen.
Amanda swears by the product and credits it for looking and feeling better than ever at 52.
It also suits Amanda's busy lifestyle as in-between hosting the Heart Breakfast show, sitting on the judging panel of Britain's Got Talent, Amanda is also a mum of two daughters and her time is limited.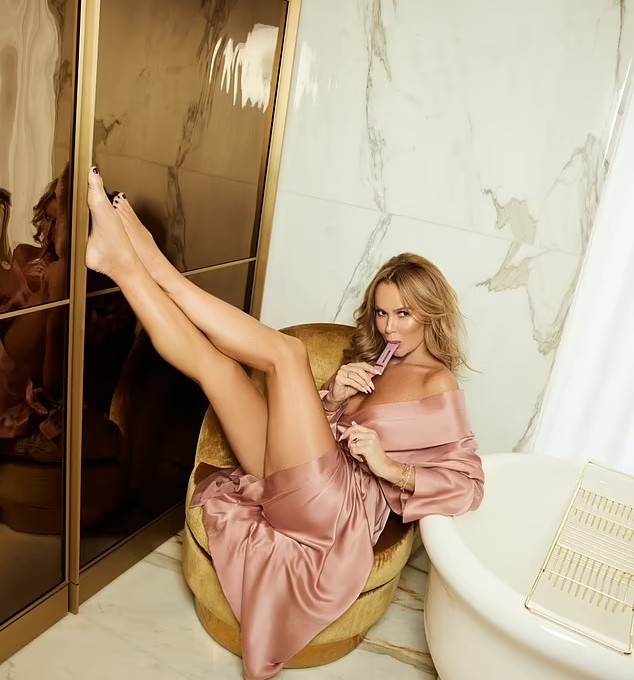 Speaking to MailOnline, Amanda said: 'I believe in this product. It works. I'm a really honest person, sometimes too much but I do really believe in it.
'It has made my skin better, my hair healthier and my nails are stronger. I've got friends whose hair is growing back. For me it's for every age and everyone, star when you're younger.
'I take it first thing in the morning, take one in my handbag and keep one in my Heart FM locker in case I need another dose. I think you are supposed to take one a day but I take more to keep pepped up.'
She added: 'We spend so much time and effort trying to make ourselves look good on the surface, but the best way to start is by feeding the inside.
'It's never too early to start taking Collagen. It interrupts ageing and supports your body. I've always looked after my skin and it's still looking alright till this age!'
The stunning snaps were captured by renowned fashion and celebrity photographer Zoe McConnell whose recent campaigns include Gucci and Stella McCartney.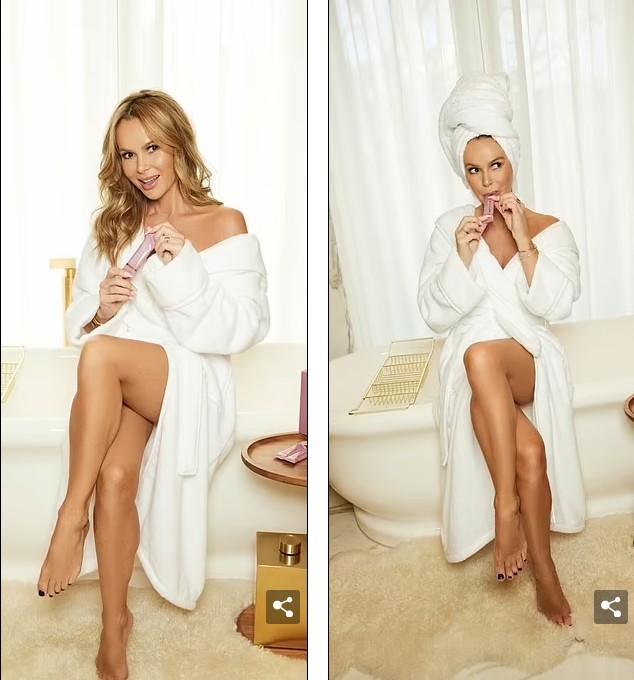 It comes after Amanda made a very cheeky comment while attempting the viral TikTok 'pickle' trend during her Heart Breakfast Show on Wednesday morning.
The Britain's Got Talent judge hilariously took part in the viral challenge on her morning show alongside her amused co-host Ashley Roberts.
The Pickle Trend is where people try ginormous packaged pickles as a snack and Amanda tucked into the Van Holten's Hot Pickle on-air on Wednesday morning.
Amanda appeared to be enjoying the challenge as she made a very cheeky comment while trying the pickle as she joked that she was 'used to bigger'.
Ahead of trying the snack, s he said: 'It smells amazing… I'm gonna drink the pickle juice. Tastes a bit like the sea but with chilli pepper in it. Now let's have a look at this baby.'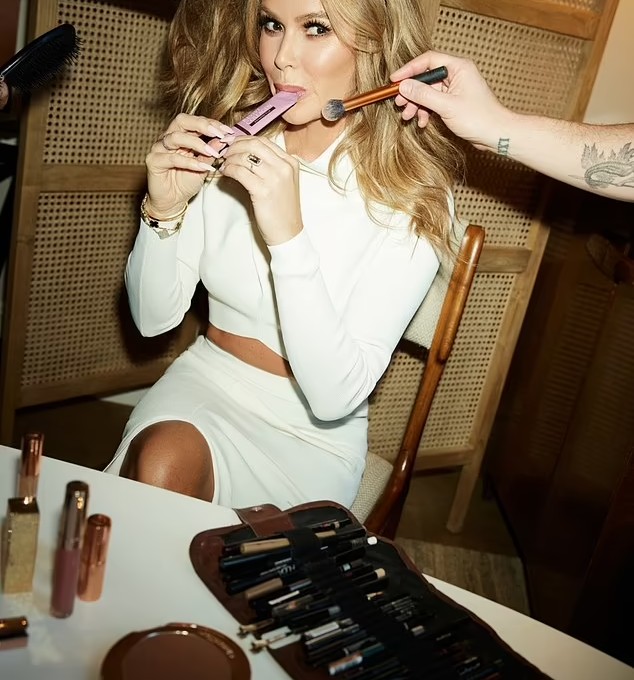 To which Ashley responded: 'Woah! That is a big papa pickle! Oh em gee honey, that's large'.
And Amanda replied: 'I'm used to bigger, I'm going to say... Oh my god it's gorgeous. I really like it.'
The Pussycat Doll singer added: 'I feel like you're quite enjoying this Amanda.'