Amanda Holden Unveils Her Stunning Kitchen and Lifestyle in £5M Surrey Home
This impressive property, initially acquired for £3.5 million back in 2015, has undergone a remarkable transformation under Amanda's creative touch, and she hopes to secure a £1.5 million profit from its sale.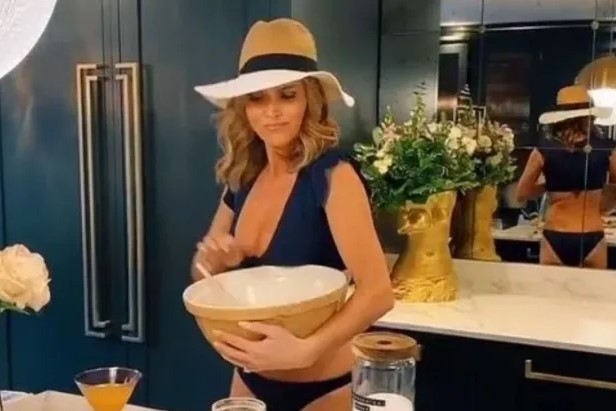 As Amanda endeavors to find a buyer for her dream home, she graciously invites us into her newly-renovated kitchen, showcasing its modern elegance. The kitchen boasts a pristine white marble breakfast bar, floor-to-ceiling grey cupboards, and a chic dining area.

In a striking photograph, Amanda flaunts her bikini body as she effortlessly cooks in her revamped kitchen, a project she undertook during the lockdown. Beneath a wide-brimmed straw hat, her golden locks frame her features, enhanced with a glamorous makeup palette. Amanda displays her culinary prowess, stirring ingredients in a bowl while profiteroles grace her breakfast bar.

The kitchen also provides a glimpse of her fully stocked fridge, offering insight into her cooking routine. Eggs, oranges, vegetables, milk, bottles of wine, and delectable spreads fill the built-in fridge to the brim.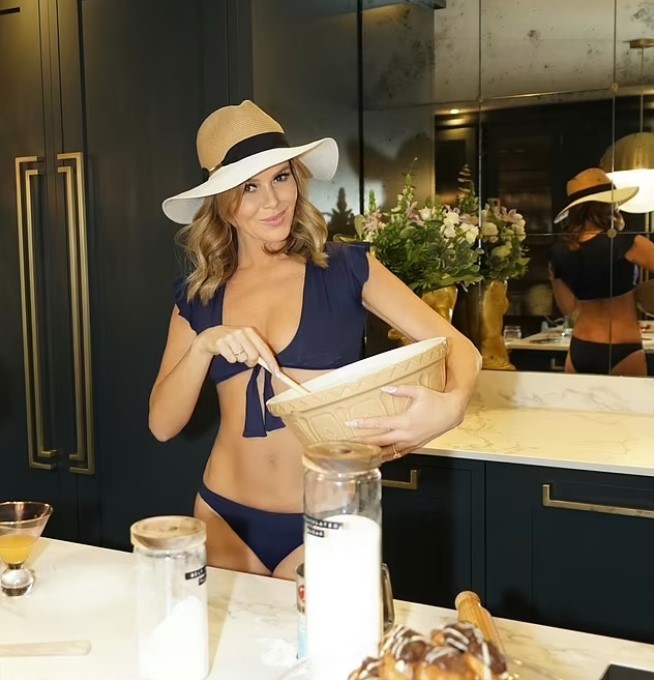 Amanda's kitchen is equipped with modern ovens, seamlessly integrated into her stylish grey cabinets. The sleek white breakfast bar, adorned with golden stools and white cushions, accommodates at least four people, providing a delightful space for meals.

The adjacent dining area features a grey round table with a view of the expansive garden through massive double doors, allowing natural light to flood the room. Amanda has added her personal touch to the space with an array of gold light fixtures, complementing the metallic accents throughout the kitchen. Three disco ball-style lights, each worth £850, hang over the breakfast bar, serving as stunning additions during the kitchen's renovation by Wilson Fink.

Amanda's love for food extends beyond her kitchen's confines; her garden boasts a teal garden table and a drinks cart next to a daybed, creating an inviting outdoor dining experience.

This is not the first time Amanda has proudly showcased her remarkable home renovations to her fans. However, despite its undeniable appeal, the property has lingered on the market since May 2022, undergoing a temporary delisting in August 2022 before reappearing in March 2023.
Beyond its stunning kitchen, Amanda's mansion offers an enticing blend of luxury and unique touches. With five bedrooms, three bathrooms, a study, and a 30ft by 27ft living room, the property also features a hot tub, an outhouse, and distinctive elements such as a palm tree planted in honor of Sir Captain Tom Moore and a £30,000 drawing by the Connor Brothers.

The outdoor space boasts a modern garden with a decked area, an expansive lawn, boxwoods, and ornamental grasses, contributing to the property's overall grandeur.

Inside, Amanda has fearlessly incorporated vibrant colors and bold designs. Antique-framed photographs adorn the walls of one of the three bathrooms, while the living room exudes elegance with its steel blue tones, geometric print rug, gold accents, and a playful abundance of pineapple-themed decor.

Tucked behind two sets of private gates, the mansion sits on a private road, ensuring privacy and exclusivity. Amanda, along with her husband Chris and two daughters Lexi, 17, and Hollie, 11, proudly call this estate their home, regularly sharing glimpses of it on social media.

Reflecting on her home, Amanda shared with House Beautiful her desire for it to be a welcoming space for her family, emphasizing the absence of a "show home" atmosphere. She also revealed her ingenious solution to their extensive wardrobe collection, transforming a room into a walk-in closet inspired by her favorite TV show, Sex and the City.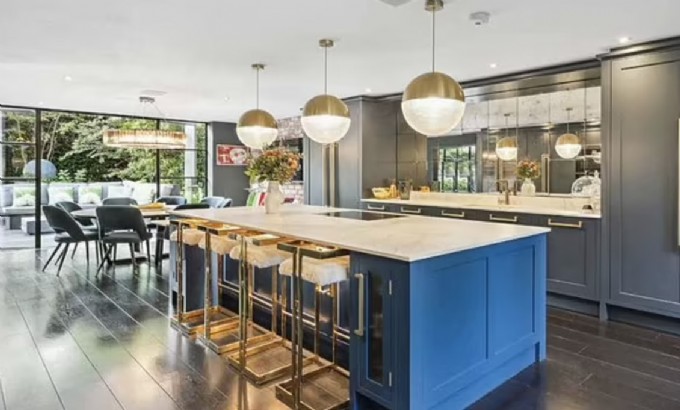 Known for her immaculate standards of cleanliness, Amanda expressed her practicality in choosing washable and wipeable materials throughout the house. She believes that her passion for interior design could eventually become a day job, envisioning it as her legacy.

As Amanda's Surrey mansion remains on the market, the beloved TV personality and style icon continues to captivate fans with her flair for design and her vibrant, creative spirit.
Amanda Holden: Net Worth, First Husband, Daughter, and True Mother
Amanda Holden is an English actress, singer, and television personality who has a net worth of $13 million. She is best known for her roles in the soap operas "EastEnders" and "Wild at Heart", as well as her hosting duties on the talent show "Britain's Got Talent".
Holden was born in London in 1971. She began her career as a model and actress, appearing in commercials and television shows. In 1994, she landed the role of Mandy Salter in the soap opera "EastEnders". She played the role for four years, and it was during this time that she met her first husband, Les Dennis.
Dennis was also an actor and comedian. The couple married in 1995 and had a daughter, Lexie, in 2000. However, their marriage ended in divorce in 2003.
After her divorce, Holden continued to pursue her career in show business. She hosted the talent show "Britain's Got Talent" from 2007 to 2010, and she has also appeared in films such as "St Trinian's" and "The Full Monty".
In 2008, Holden met her second husband, Chris Hughes. The couple married in 2009 and have two daughters together, Hollie and Lexi.
Holden is a popular figure in the UK and is known for her sense of humor and her outspoken personality. She is also a successful businesswoman, with her own clothing line and a range of fragrances.
Amanda Holden's True Mother
Amanda Holden's true mother is Fay Hallam. Fay was a single mother who raised Amanda and her sister Debbie on her own. She was a strong and independent woman who instilled in her daughters a love of life and a sense of determination.
Fay died in 2012 after a battle with cancer. Amanda was devastated by her mother's death, but she has said that she will always cherish the memories they shared.
Amanda Holden is a talented and successful woman who has overcome many challenges in her life. She is a role model for many people, and her story is an inspiration to us all.