Amber Heard Celebrates Halloween with Daughter Oonagh in Spain, Hip Injury on the Mend
Despite suffering a hip injury during her New York City marathon training, Heard was seen without a walking stick, appearing to be on the mend.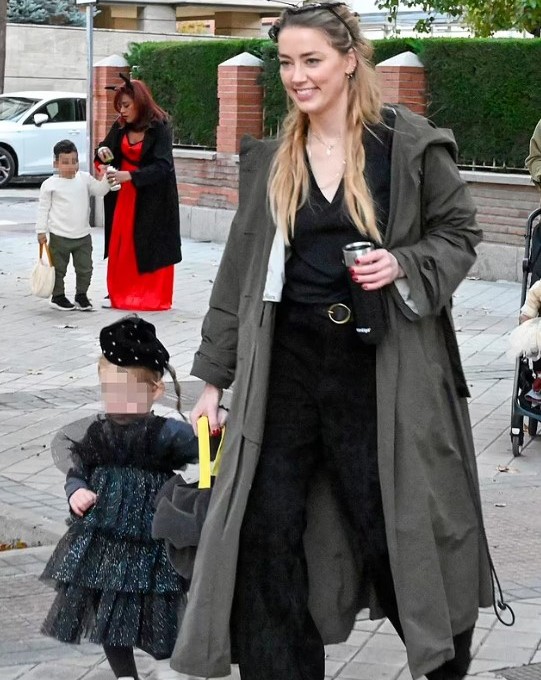 Heard and her little one donned costumes for trick-or-treating and some park fun. The actress, dressed in all black with a gray trench coat, complemented Oonagh's sparkly witch costume.

This outing marked a significant improvement from nearly two weeks prior when Heard relied on a walking stick for support.

Amber Heard sported an ensemble consisting of a wrap blouse, wide-leg velvet pants, a black belt with a gold buckle, and patent leather pointed-toe booties. She accessorized with layers of delicate pendant necklaces, a feathered headpiece, and dainty gold hoop earrings. Her strawberry blonde hair was styled in a half-up, half-down fashion.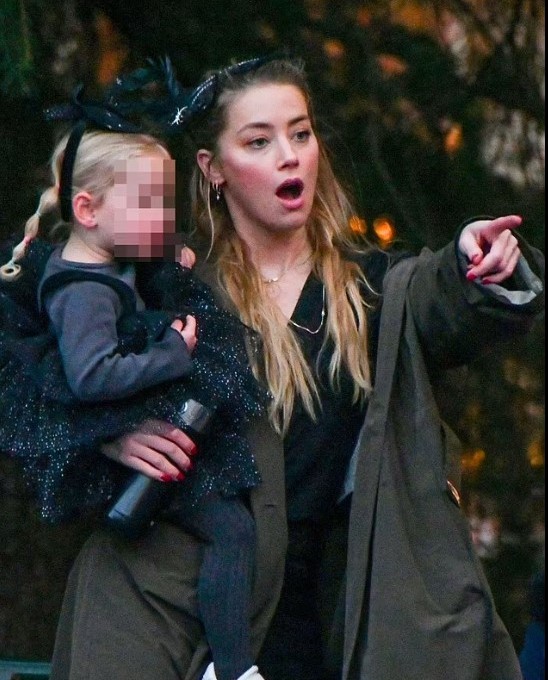 During their Halloween adventure, Amber attentively watched Oonagh play, carrying her daughter's treat basket and makeshift broom while sipping from an insulated to-go mug.

Oonagh looked adorable in her gray long-sleeved top, tulle dress, knit tights, and witch's hat headband. Her blonde bubble braids and comfortable white sneakers completed her costume.

Amber Heard's journey into motherhood began about a year before her highly publicized legal battle with ex-husband Johnny Depp. She welcomed her daughter through surrogacy. The former couple's marriage ended after 15 months in 2016, with their divorce finalized in 2017.

Since the trial, Amber Heard has maintained a relatively low-profile life with her daughter, keeping many details, including the identity of Oonagh's father, private. In July 2021, she announced the birth of her daughter, Oonagh Paige, who had arrived in April of that year.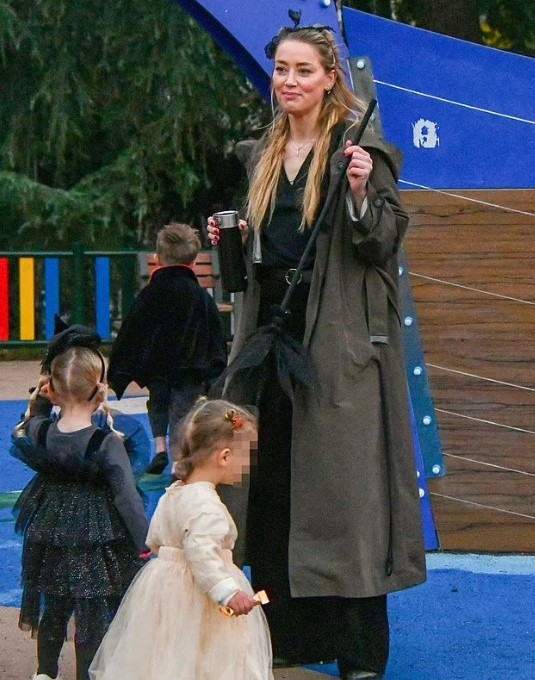 Amber Heard 2023: Amber Heard is an American actress who has starred in several films and television shows, including Aquaman, The Rum Diary, and Magic Mike XXL. She is also known for her relationship with Johnny Depp, whom she divorced in 2016.
In 2023, Heard is still acting. She appeared in the thriller In the Fire, which was released in October. She is also in post-production for Aquaman and the Lost Kingdom, the second Aquaman film.
Heard is also a vocal advocate for social justice issues. She is a spokesperson for the American Civil Liberties Union and the Human Rights Campaign. She is also a founding member of the Time's Up movement, which is dedicated to fighting sexual harassment and assault in the workplace.
Amber Heard is a talented actress and a passionate advocate for social justice. She is an inspiration to many people, and she continues to achieve success in her career and personal life.
Here are some of Amber Heard's accomplishments in 2023:
She starred in the film In the Fire.
She is in post-production for the film Aquaman and the Lost Kingdom.
She spoke at a Time's Up event.
She was awarded the Human Rights Campaign's Ally for Equality Award.
She was named one of the most influential people in the world by Time magazine.
Amber Heard is a true force to be reckoned with. She is a talented actress, a passionate advocate, and a role model for many people.
Amber Heard Net Worth: Amber Heard's net worth is estimated to be around $500,000 as of August 2023, according to Celebrity Net Worth. This represents a significant decrease from her previous net worth of $10 million, which was reported in 2022.
The decline in Heard's net worth is likely due to the legal and financial costs associated with her defamation trial against Johnny Depp. In June 2022, a jury found that Heard had defamed Depp on three counts and awarded him $10.35 million in damages. Heard was also awarded $2 million in damages on one count of her defamation countersuit against Depp.
However, it is important to note that Heard has appealed the verdict and is currently seeking to overturn the jury's decision. If she is successful, her net worth could increase significantly.
In addition to her acting career, Heard is also a model and a spokesperson for several brands. She has earned millions of dollars from endorsement deals with companies such as L'Oréal and Calvin Klein.
Overall, Amber Heard is a successful actress and businesswoman. However, her net worth has been impacted by the legal and financial costs associated with her defamation trial against Johnny Depp.
Father of Amber Heard's Baby: The identity of Amber Heard's daughter's father has not been publicly disclosed by the actress. She has chosen to keep this information private.
Amber Heard Instagram: As of my last knowledge updat in January 2022, Amber Heard had an Instagram account with the handle '@realamberheard.' However, social media account details may change over time, so you may want to check the latest updates on her social media presence.
Amber Heard Child/Children: Amber Heard has one child, a daughter named Oonagh Paige Heard. She was born via surrogacy in April 2021. Amber Heard has been protective of her daughter's privacy and has not publicly disclosed the identity of the child's father.
Amber Heard Age: Amber Heard was born on April 22, 1986. As of October 2023, she is 37 years old.
Amber Heard and Elon Musk: Amber Heard and billionaire entrepreneur Elon Musk were romantically linked in 2016. They briefly dated but later separated. Their relationship gained significant media attention.