An iconic couple from EastEnders is making an extraordinary comeback to the show, featuring the resurrection of one character from the dead.
She will be reuniting with her on-screen husband, Ian Beale, portrayed by Adam Woodyatt, after a two-year absence. The storyline is expected to be a bombshell, as Cindy's resurrection from the dead takes viewers by surprise. Executives hope that this sensational twist will boost the show's ratings, which have seen a decline recently.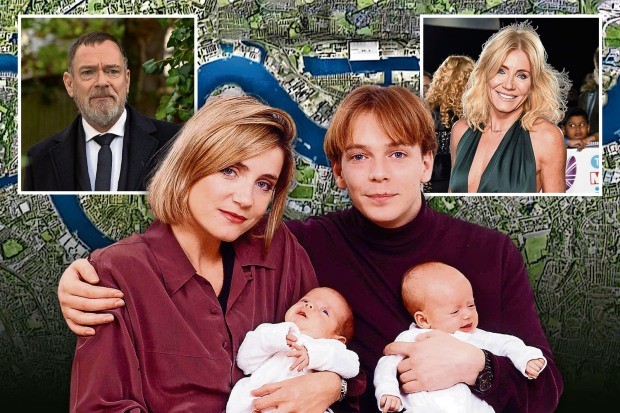 Michelle Collins's character, Cindy, died off-screen during childbirth while serving time in jail for attempted murder. However, her return will bring her back into the lives of the EastEnders' characters, particularly Ian Beale. The reunion between Ian and Cindy is unexpected, as Cindy's death seemed final. This unexpected twist is expected to captivate audiences, as the couple is considered one of the most memorable in the history of soap operas.
The return of Michelle Collins to EastEnders comes as a surprise, as she previously expressed that she would not come back to the show. Her portrayal of Cindy has remained a defining role throughout her career. While she has worked on other projects over the years, Cindy's character has always been present in people's minds.
In addition to her role in EastEnders, Michelle Collins has appeared in other popular television shows such as Coronation Street, Casualty, Death in Paradise, Midsomer Murders, and The Dumping Ground.
Adam Woodyatt, who portrays Ian Beale, has been absent from EastEnders for nearly two and a half years. He took an extended break in January 2021 and made a brief return for Dot Cotton's funeral in December of the same year. His absence coincided with a challenging divorce, which caused financial difficulties. However, recent images suggest that he is ready to revive his role and return to the show.
Ian and Cindy Beale were central to many of EastEnders' significant storylines in the 1980s and 1990s. They were married after Cindy's previous relationship with barman Simon Wicks and went on to have twins together. Cindy's character had affairs with other notable characters in the show, adding to the dramatic tension.
EastEnders, once a ratings powerhouse with peak viewership of up to 30 million in the 1980s, has faced challenges from well-funded rival dramas and streaming services in recent years. The show's average audience has dwindled to around five million per episode, prompting the need for attention-grabbing storylines and surprising comebacks.
Soap operas have a history of bringing back characters who were presumed dead or written out of the show. Examples include Dirty Den Watts in EastEnders, Harold Bishop in Neighbours, Bobby Ewing in Dallas, and Kim Tate in Emmerdale. These surprising returns have often sparked renewed interest and excitement among viewers.