Angelina Jolie and Daughter Vivienne, 15, Share Laughter at JFK Airport
Angelina Jolie, the globally renowned humanitarian and Academy Award-winning actress, graced JFK Airport in New York City with her radiant presence, exuding high spirits and laughter. The 48-year-old star, known for her iconic roles in films like "Mr. & Mrs. Smith," was accompanied by her youngest daughter, 15-year-old Vivienne Jolie-Pitt.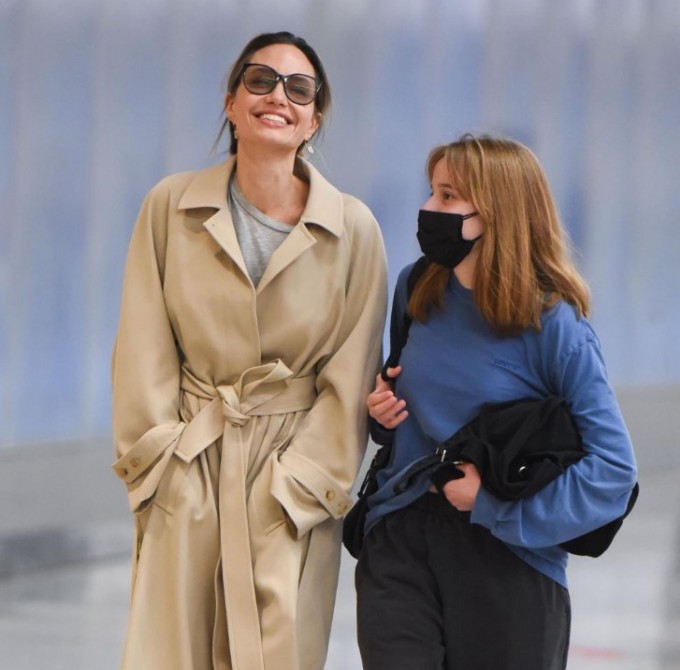 As they strolled through the airport, Angelina Jolie sported an effortlessly chic ensemble, featuring a belted beige raincoat elegantly draped over a light gray top paired with matching slacks. Her impeccable look was tastefully completed with shiny brown heels, adding a touch of sophistication to her travel attire.

In contrast, Vivienne opted for a more relaxed and casual look, embracing the jet-setting adventure with a sense of comfort. She was seen wearing a charming blue top paired with black sweatpants, complemented by navy blue Converse sneakers. The young fashionista accessorized her ensemble with a black mask and a sleek black bag.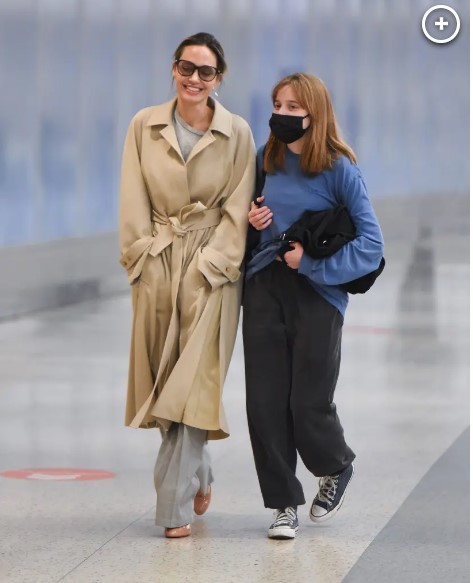 This heartwarming mother-daughter sighting comes on the heels of an exciting revelation. Page Six recently unveiled that Angelina Jolie and Vivienne are collaborating on a Broadway musical project. While Jolie takes on the role of producer, Vivienne assumes the vital position of her mother's assistant in this creative endeavor.

Reflecting on Vivienne's involvement, Jolie shared her admiration for her daughter's dedication, stating, "Viv reminds me of my mother [Marcheline Bertrand] in that she isn't focused on being the center of attention but in being a support to other creatives. She's very thoughtful and serious about theatre and working hard to best understand how to contribute."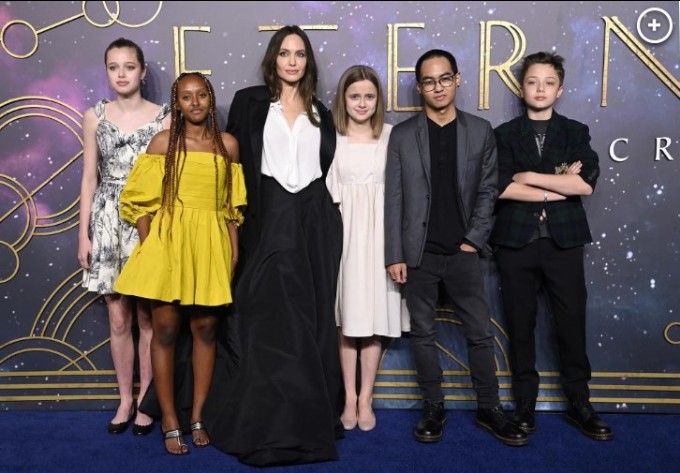 The upcoming Broadway musical is an adaptation of the 1983 film "The Outsiders," featuring acclaimed actors such as Tom Cruise, Patrick Swayze, and Rob Lowe. The production made its world premiere at La Jolla Playhouse in San Diego, California, earlier this year, leaving a profound impact on both Jolie and her daughter.

Following their experience, Jolie and Vivienne had the privilege of meeting S.E. Hinton, the author of "The Outsiders." The encounter with Hinton, who penned the novel at a similar age to Vivienne, inspired Angelina Jolie to take on the role of a lead producer for the forthcoming Broadway launch.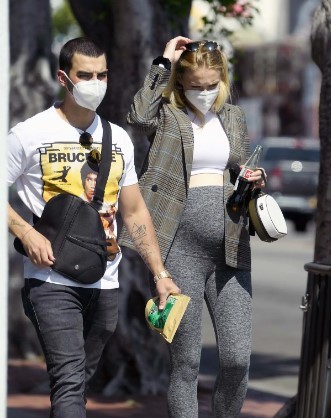 While the show's official dates are yet to be disclosed, anticipation is building for this highly-anticipated Broadway production.

Amid their creative pursuits, Angelina Jolie and her ex-husband, Brad Pitt, continue to grapple with a custody dispute concerning their minor children. The former couple shares a blended family, including Maddox, 22, Pax, 19, Zahara, 18, Shiloh, 17, and Vivienne's twin brother, Knox.

Although Jolie and Pitt exchanged vows in 2014, their union faced challenges, culminating in a separation announcement just two years later. A reported incident involving an allegedly violent altercation on a plane, which left Jolie and several of their children splashed with alcohol, marked a turning point in their relationship.

The custody battle appeared to be nearing resolution in July 2021 when a judge awarded Pitt 50-50 custody. However, the court invalidated the decision due to the private judge's failure to adequately disclose his professional ties to Pitt's legal team. As a result, the custody matter remains unresolved, casting a shadow over their co-parenting journey.
Angelina Jolie's Family: A Closer Look at Her 6 Children

Discover Angelina Jolie and Brad Pitt's remarkable journey as parents to their six children. On July 12, Angelina Jolie welcomed twins Knox Léon and Vivienne Marcheline Jolie-Pitt into the world in Nice, France. Delve into the details of their birth and the special meaning behind Knox's name.

Angelina Jolie and Brad Pitt's family has always been a topic of fascination for the public. With six children, their journey as parents has been both eventful and heartwarming. One significant moment in their parenting journey was the birth of their twins, Knox Léon and Vivienne Marcheline Jolie-Pitt, in Nice, France on July 12.

Knox Léon, the first of the twins to make his entrance, arrived just moments before his sister. He weighed a healthy 5.3 lbs at birth. What makes this moment even more special is the unique meaning behind Knox's name. He was named after Brad Pitt's beloved grandfather, Hal Knox Hillhouse, honoring a cherished family connection.

As we explore Angelina Jolie's family and her six wonderful children, it's evident that each child holds a special place in their hearts, contributing to the beautiful tapestry of their family life.
Angelina Jolie's Age When She Welcomed Twins: A Remarkable 33
Angelina Jolie, the acclaimed Oscar winner, celebrated the arrival of her twins at the age of 33. The twins, born via caesarean section, made their entrance on a Saturday evening at the prestigious Lenval hospital, nestled along the picturesque Promenade des Anglais waterfront drive in the stunning city of Nice.

Angelina Jolie's journey into motherhood reached a significant milestone when, at the age of 33, she joyfully welcomed her twins into the world. The twins' birth, facilitated by a caesarean section, took place on a memorable Saturday evening at the esteemed Lenval hospital, which graces the scenic Promenade des Anglais waterfront drive in the picturesque city of Nice.