Angelina Jolie's Mysterious Middle Finger Tattoo Design Finally Unveiled by Tattoo Artist Mr. K
The revelation came after renowned tattoo artist Mr. K gave fans a tantalizing glimpse of the intriguing art on his Instagram.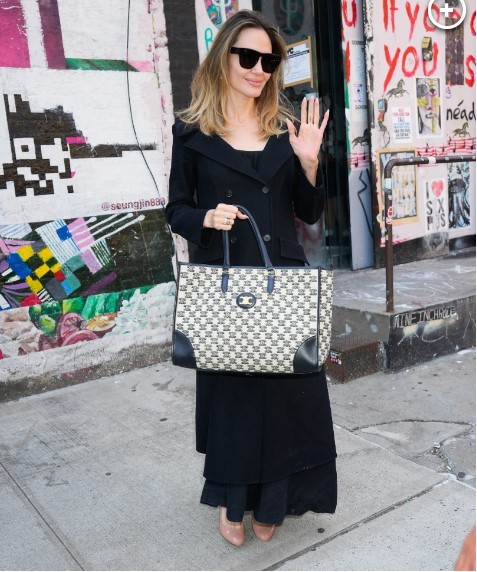 Known for his work on celebrities like Matt Damon, Michael J. Fox, and Doja Cat, Mr. K's tease left fans speculating whether the tattoo had any connection to Jolie's former husband, Brad Pitt. The cryptic nature of the design fueled rumors of it being a subtle reference to the "Fight Club" actor.
However, Mr. K quickly dispelled these assumptions in the comments section, asserting that Jolie's tattoo was "NOTHING" linked to Brad Pitt. This clarification put the rumors to rest, paving the way for the true meaning of the tattoo to be unveiled.
Recent paparazzi snapshots of the 48-year-old actress have now provided clarity on the design. Contrary to previous speculations, the tattoo is not a veiled message to her ex-husband. Instead, it features a small dagger intricately designed to appear as though it's piercing her skin.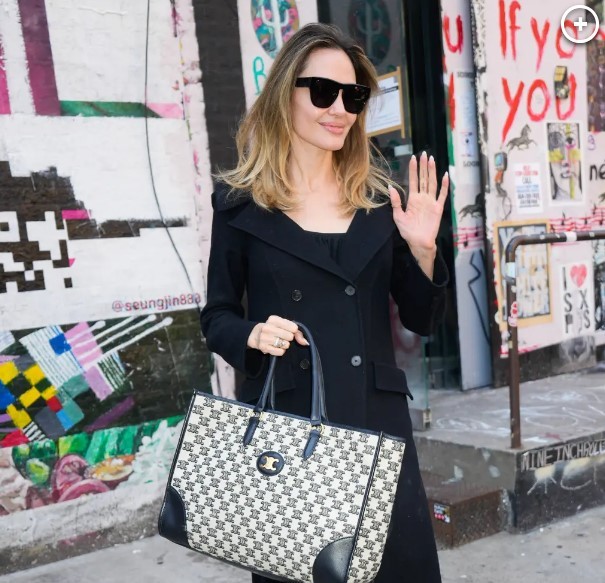 This unique choice of a dagger as a tattoo design resonates with Jolie's affinity for sharp symbolism. Known for her fascination with pointed objects, Jolie even possesses an extensive collection of knives. In a revelation from 2008, she shared that her love for blades is rooted in a family tradition. She recalled her mother taking her to purchase her first set of daggers when she was between 11 and 12 years old.
Despite her collection of meaningful tattoos, which include matching quotes with Pitt and coordinating Buddhist symbols representing their connection, Jolie had yet to showcase her devotion to all things sharp until now.
In a past interview with ABC News back in 2003, Jolie delved into her fascination with weaponry and the story behind her knife collection. She explained, "They are not shiny, brand-new sharp knives from the store. They're antique beautiful knives from other countries, and they are locked in a case so my son does not touch them." She also candidly shared about her personal history with self-harm and knife usage, recalling a time in her earlier life when she and a partner engaged in a primal and unconventional act involving knives.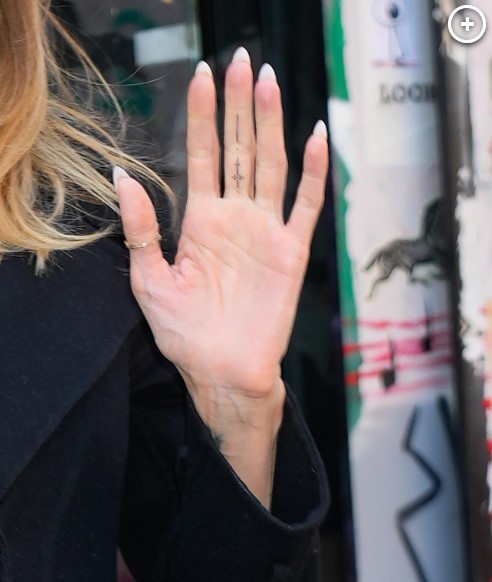 While Jolie has not yet revealed the symbolic significance behind the dagger tattoo on her middle finger, tattoo artist Mr. K has assured eager fans that he will share a close-up look at the design in due time. As the imagery of the tattoo becomes clearer, it leaves room for speculation about the deeper meaning behind the choice of a dagger as a permanent piece of art on Angelina Jolie's hand.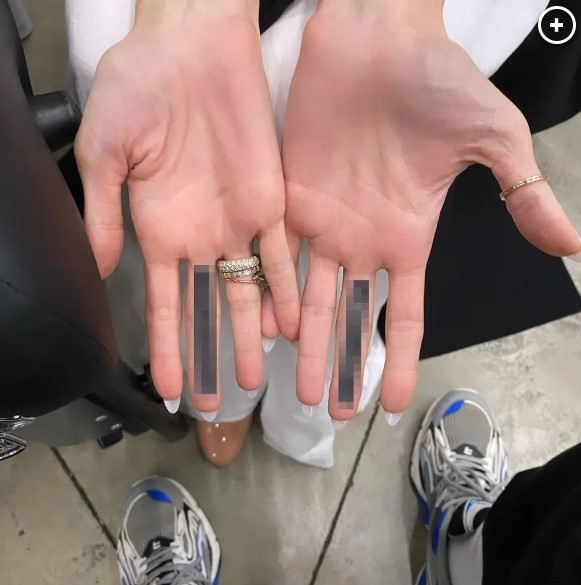 Angelina Jolie is known for her eclectic and elegant style. She often mixes high-end fashion with vintage pieces and street style.
She is also known for her love of black, which she often wears in sleek and sophisticated silhouettes.
Jolie is also not afraid to experiment with fashion, and she has been known to wear everything from gowns to jumpsuits to leather jackets.
She is also a fan of statement accessories, such as large sunglasses and bold jewelry.
Jolie's style has evolved over the years, but she has always maintained her own unique sense of style.
Eclecticism: Jolie is not afraid to mix and match different styles and trends. She often wears pieces from different eras and price points, creating a unique and personal look.
Elegance: Jolie's style is always polished and sophisticated, even when she is experimenting with different trends. She knows how to dress for her body type and her personal style, and she always looks her best.
Simplicity: Jolie often keeps her looks simple and understated, letting the quality of the pieces and the cut of the clothing do the talking. She is not afraid to show off her natural beauty, and she often wears her hair and makeup in a natural way.
Confidence: Jolie's style is all about confidence. She knows what looks good on her and she is not afraid to wear it. She is also not afraid to take risks, and she often experiments with different looks.
Jolie's style is an inspiration to many, and she is often cited as one of the most stylish celebrities in the world. She is a true fashion icon, and her style is sure to continue to evolve and inspire for years to come.