Anya Taylor-Joy and Malcolm McRae's Lavish Venice Wedding Captivates 150 A-List Guests
With over 150 illustrious guests in attendance, including the likes of Cara Delevingne and Julia Garner, the couple's special day was nothing short of magical.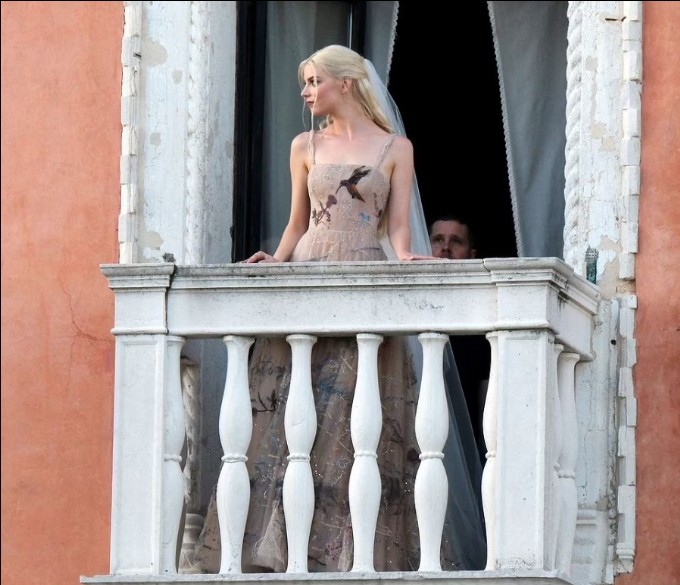 Anya Taylor-Joy, 27, graced the occasion in a resplendent beige gown that left onlookers spellbound. Her unconventional yet captivating dress featured intricate embroidery and embellishments, adorned with beautiful depictions of birds and flowers across the bodice. A bright white veil completed her enchanting bridal ensemble.

In the lead-up to her transformation into a bride, Anya was seen in preparation mode on a balcony, exuding grace in a white silk robe while sipping coffee, showcasing her natural beauty without makeup.

Cara Delevingne, 31, made a striking appearance in a tuxedo with a waistcoat beneath the pinstriped suit, accentuating her elegance. Meanwhile, Julia Garner, 29, channeled the Roaring Twenties with a stunning black velvet gown adorned with beading and a plunging neckline.

The event also saw the presence of the dashing Nicolas Hoult and his girlfriend, Bryana Holly. Bryana turned heads in a one-shouldered pink dress, while Nicolas looked impeccably sharp in a classic black suit.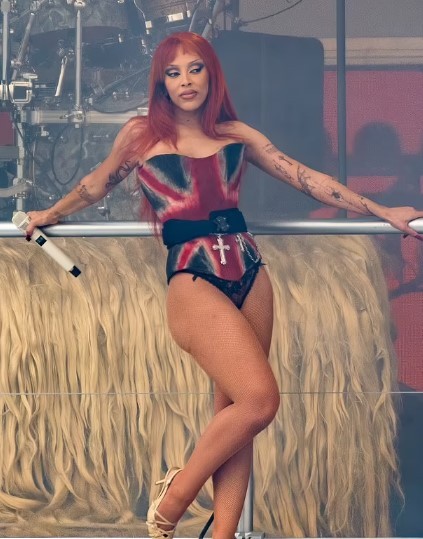 Keleigh Sperry, the wife of Miles Teller, radiated elegance as she arrived at the ceremony alongside Julia Garner. The duo had previously shared an exhilarating snapshot of themselves gliding across the water as they approached the venue.

Evan Ross, known for his bold style, graced the event in a suit without an undershirt, perfectly complementing his edgy bleached hair.

The couple's choice of wedding venues in Venice included the historic Palazzo Pisani-Moretta, a 15th-century palace, and the Scuola Grande San Giovanni Evangelista di Venezia, a 14th-century church. The Wedding Boutique Italy, a prestigious wedding planning firm, was entrusted with organizing their spectacular nuptials, known for curating luxury weddings in exquisite Italian destinations, including the Amalfi Coast, Tuscany, Sicily, and Lake Como.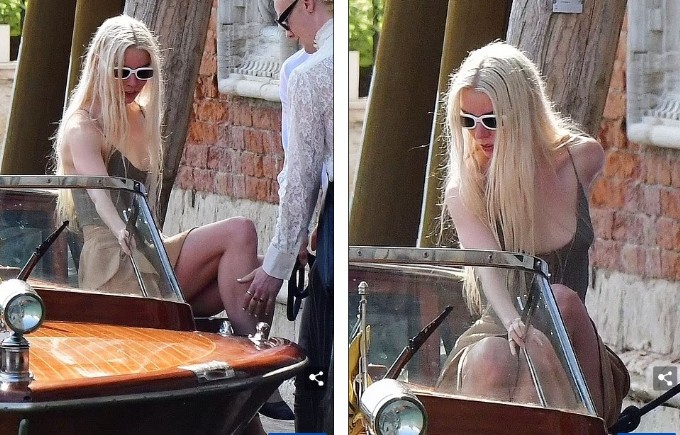 Anya Taylor-Joy and Malcolm McRae's relationship, which began in May 2021, has largely remained private. The couple has gracefully managed a long-distance relationship, with Anya primarily residing in London and Malcolm, an actor and musician, based in the United States. Their busy schedules have also presented challenges, with Anya frequently on film sets and Malcolm embarking on music tours.

Speaking about their unique bond in a March 2022 interview with British Vogue, Anya Taylor-Joy described Malcolm as her "hobby" and emphasized their shared love for reading. She acknowledged the difficulties of their long-distance relationship but highlighted the value they placed on their time together, finding joy in simple, everyday activities.

Anya Taylor-Joy, born in Miami, Florida, spent her early years in Buenos Aires before relocating to London at the age of six. Her breakthrough role as chess prodigy Beth Harmon in "The Queen's Gambit" earned her accolades, including a Golden Globe and a Screen Actors Guild Award. She continues to shine in Hollywood, receiving accolades and nominations for her exceptional performances in both television and film, including her upcoming lead role in the blockbuster action movie "Furiosa," a prequel to "Mad Max: Fury Road."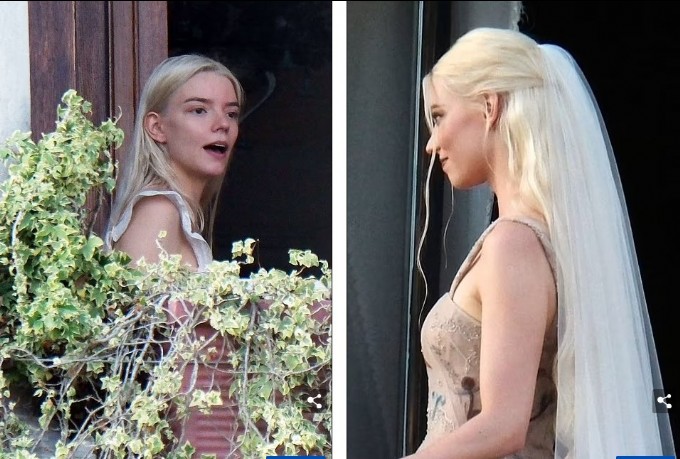 All you need to know about Anya Taylor-Joy and Malcolm McRae's wedding venue
The 15th century Palazzo Pisani Moretta is a palace based on the Grand Canal in the Venice subdivision of of San Polo, nestled between Palazzo Tiepolo and Palazzo Barbarigo della Terrazza.
With interior rooms decorated in the Baroque tradition by revered artists such as Giovanni Battista Tiepolo, Jacopo Guarana, Gaspare Diziani and Giuseppe Angeli, the sprawling venue was once the residence of the House of Pisani, a Venetian patrician family, originally from Pisa.
The exterior features ogival arches flanked by two single windows, while the ground floor has two central pointed arched doorways that open on to the canal.
Since 1994 it has hosted Il Ballo del Doge - an annual masquerades ball.
Anya Taylor-Joy's Husband: Anya Taylor-Joy married musician Malcolm McRae in a lavish ceremony held in Venice. The couple began dating in May 2021 and exchanged vows in a star-studded wedding.

Anya Taylor-Joy's Age: Anya Taylor-Joy was born on April 16, 1996, which makes her 27 years old as of September 2023.

Anya Taylor-Joy's Movies and TV Shows: Anya Taylor-Joy has appeared in several notable movies and TV shows. Some of her prominent works include "The Queen's Gambit," "Peaky Blinders," "Last Night In Soho," "The Witch," "Split," "Glass," "Emma," "Thoroughbreds," and "The New Mutants," among others.

Anya Taylor-Joy's Wedding: Anya Taylor-Joy's wedding to Malcolm McRae was a lavish and star-studded event held in Venice. The ceremony was attended by over 150 guests, including celebrities like Cara Delevingne and Julia Garner.

Anya Taylor-Joy's Instagram: Anya Taylor-Joy is active on Instagram. You can find her official Instagram account under the handle @anyataylorjoy, where she shares updates, photos, and glimpses of her life and career.

Anya Taylor-Joy's Net Worth: As of 2021, Anya Taylor-Joy's estimated net worth was around $3 million. However, her net worth may have increased since then due to her growing success in the entertainment industry. Please note that net worth figures can change over time.