Arabella Chi Stuns in Ibiza Beach Photoshoot for Boohoo's Kourtney Kardashian Collection
The model showcased her enviable figure in a sheer brown maxi dress, creating an alluring silhouette against the stunning Ibiza backdrop.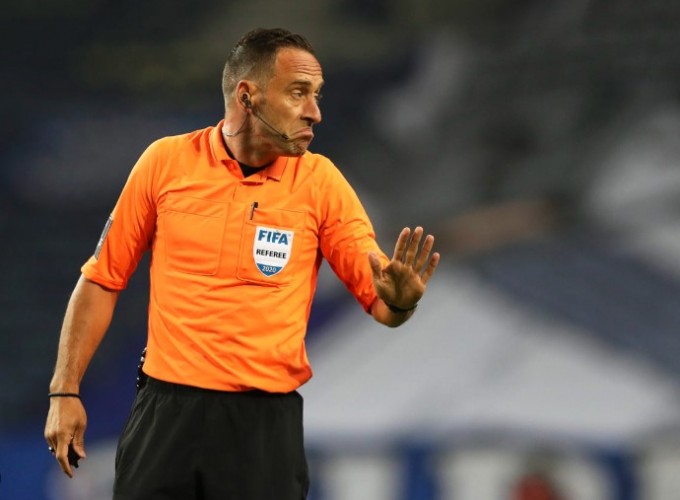 Underneath the diaphanous dress, Arabella donned a daring thong bikini that left little to the imagination, accentuating her ample assets and perky derrière. The striking contrast between the sheer dress and the skimpy bikini highlighted her jaw-dropping figure.

The day prior to the photoshoot, Arabella made a fashionable appearance on the Spanish island. She wowed onlookers in a long-sleeved purple minidress that emphasized her long, slender legs. Completing the ensemble, she added height with black heeled knee-high boots and carried her essentials in a small black handbag. Several gold necklaces, including one bearing her name, adorned her neck. Her long blonde tresses flowed as she confidently strutted down the street, and her bronzed makeup palette enhanced her natural beauty.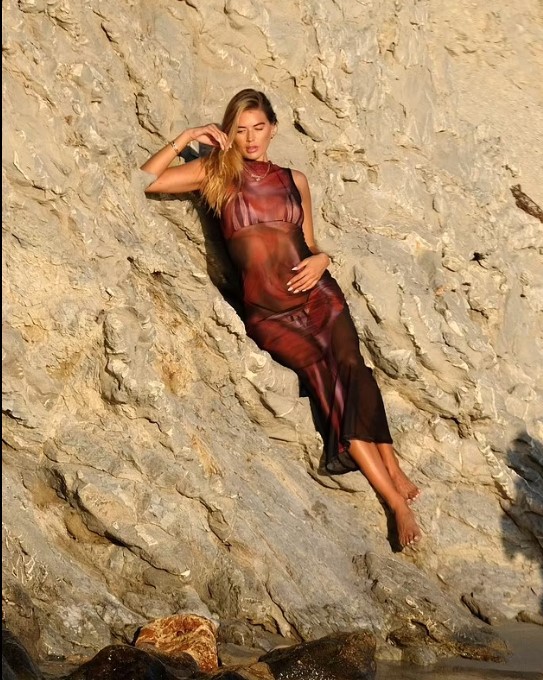 This outing in Ibiza marked Arabella's first public appearance following her recent split from Richie Akiva. The reality star was previously linked to Richie, a close friend of Hollywood star Leonardo DiCaprio, after they were photographed sharing a kiss on Leo's yacht earlier in the summer. However, the couple was last seen together at a party in NYC on September 12, and they parted ways shortly afterward.

Richie, known as the 'king of nightclubs,' has swiftly embraced his single status, engaging in a PDA-filled encounter with a mystery woman outside The Flower nightclub in Paris last month. This woman bore a striking resemblance to Arabella. Details about the duration of Arabella and Richie's relationship and their initial meeting remain undisclosed.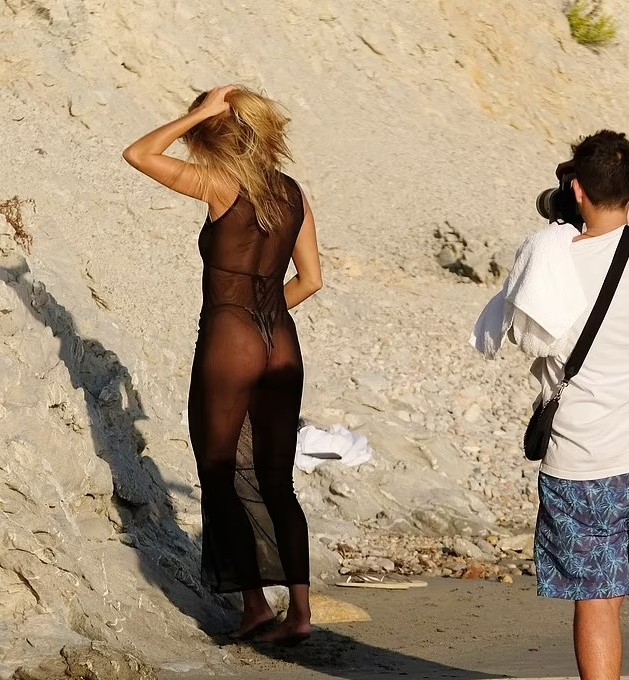 During the summer, Arabella enjoyed the Ibiza sunshine in the company of Richie and his circle, which included A-list celebrity Leonardo DiCaprio. Richie, a fixture in the New York club scene since his teenage years, is the CEO of the Butter Group, which owns popular nightlife venues such as Up & Down and Butter. He regularly mingles with celebrities and has hosted parties for luminaries like Rihanna and Naomi Campbell. Notably, he organized one of the Met Gala's liveliest afterparties and fronted exclusive events in glamorous locales like Monaco and the Maldives.

Despite his connections, Richie keeps his personal life private, never publicly commenting on his romantic endeavors. He takes a page from his celebrity friends, stating, 'I don't use them to better my business; they're my friends. I try to protect them as much as I can.'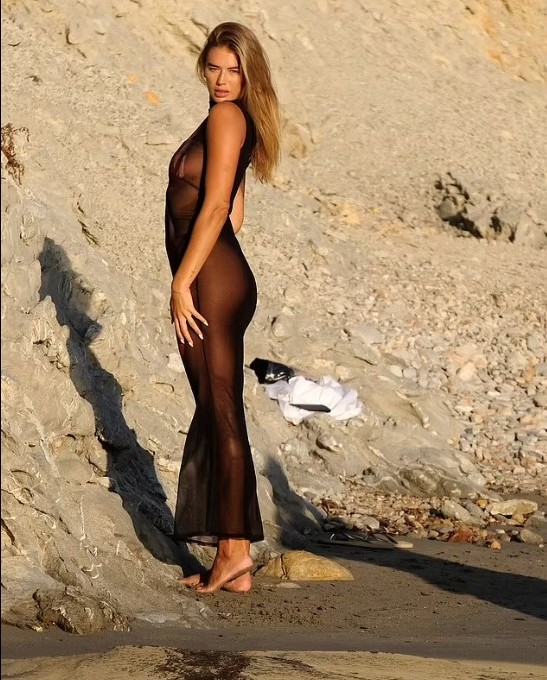 Arabella's brief liaison with Richie followed reports of her dating French rugby star Yoann Huget in June. The duo made their relationship official during the French Open, where they were seen together, cuddling and displaying affection. Previously, in December 2022, Arabella was spotted leaving a restaurant in Mayfair while holding hands with personal trainer Rickel White. Rickel had been her personal trainer at the time, although the duration of their relationship remains undisclosed.
Arabella Chi continues to captivate attention with her stunning appearances and vibrant love life, making headlines both on and off the runway.
Arabella Chi Age: Arabella Chi was born on March 10, 1991, making her [current age] years old as of [current year]. She is a well-known British model and reality TV personality.
Arabella Chi Love Island: Arabella Chi gained fame as a contestant on the hit reality TV show "Love Island." She appeared on the show during the fifth series in 2019 and made a lasting impression on viewers.
Arabella Chi Instagram: Arabella Chi is active on Instagram, where she shares her glamorous photos, modeling shots, and glimpses of her daily life. You can follow her on Instagram @arabellachi to stay updated with her latest posts.
Arabella Chi Bio: Arabella Chi is a British model and reality TV star known for her appearance on "Love Island." She was born on March 10, 1991, in [birthplace]. Arabella has since gained recognition in the fashion industry and continues to be a prominent figure in the entertainment world.
Arabella Chi and Wes: Arabella Chi and Wes Nelson, another "Love Island" alumnus, briefly dated after their time on the show. Their relationship garnered attention from fans and the media due to their chemistry.
Arabella Chi Height: Arabella Chi stands at a height of [height] (in feet and inches or centimeters). Her tall stature and striking appearance have contributed to her success in the modeling industry.
Arabella Chi Daily Mail: Arabella Chi has been featured in articles by the Daily Mail, a popular British newspaper. The publication has covered various aspects of her life, career, and personal endeavors.
Love Island Arabella and Danny: Arabella Chi and Danny Williams, another "Love Island" contestant, formed a romantic connection during their time on the show. Their relationship dynamics and challenges were closely followed by "Love Island" viewers.