Ariana Madix Dazzles at BravoCon with Risky Ensemble
A shining star of the event was none other than Ariana Madix, a prominent member of the cast from the hit Bravo TV series Vanderpump Rules. Ariana's presence was marked by a daring and revealing outfit that left little to the imagination.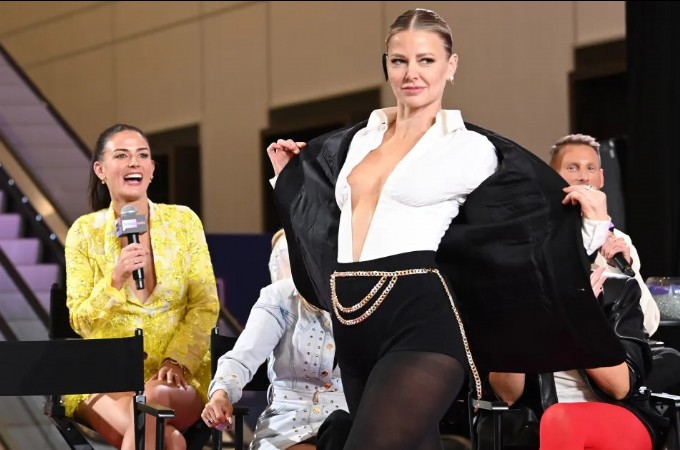 BravoCon has become a beloved annual gathering for fans of the network's popular shows, including Vanderpump Rules, Below Deck, and the Real Housewives series. The event is known for its exciting mix of Q&A sessions, photo opportunities, and interactions with the stars, making it a must-attend for Bravo enthusiasts.
Ariana Madix, a talented and charismatic actress aged 38, graced BravoCon with an outfit that caught everyone's attention. However, her choice of attire came dangerously close to causing a wardrobe malfunction. Her stunning black-and-white ensemble featured a low-cut white shirt, which she opted to wear without a bra. This bold choice left little to the imagination, revealing her confidence and style. To complement the outfit, Ariana donned a loose-fitting blazer, adding an extra layer of sophistication and sensuality to her look.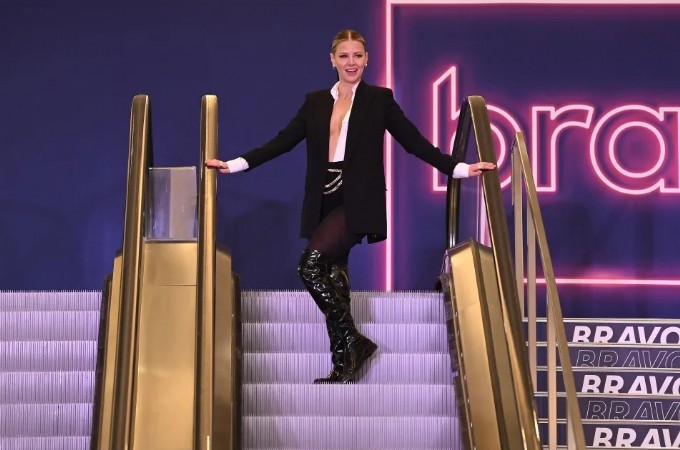 The lower half of Ariana's outfit featured high-waisted shorts adorned with three chains in the front. She paired these distinctive shorts with tights and thigh-high leather boots, which added an edgy twist to her overall appearance. Her makeup was perfectly executed, and her hair was elegantly swept back into a bun, secured with a sleek black bow. Completing the ensemble, Ariana sported eye-catching earrings that added an extra touch of glamour to her daring look.
Ariana actively participated in a variety of activities throughout the event. She was seen alongside co-stars such as Katie Maloney, Scheana Shay, Lala Kent, Lisa Vanderpump, James Kennedy, Tom Schwartz, and Tom Sandoval during a captivating Q&A session. Her presence undoubtedly left an indelible mark on BravoCon attendees, making her one of the event's highlights.
Outside the glamorous world of BravoCon, Ariana's personal life has become a topic of intrigue, with the focus squarely on her past relationship with Tom Sandoval. The couple, who had been together since 2014, faced tumultuous times in their relationship, culminating in their breakup in 2023. The reason for their separation was Tom's infidelity, as it was revealed that he had been unfaithful to Ariana with their VPR co-star, Raquel (Rachel) Leviss.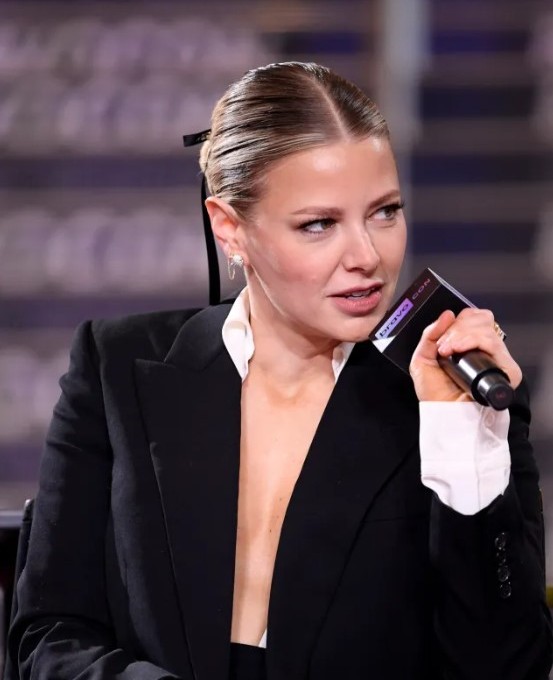 The news of Tom's infidelity sent shockwaves through the Vanderpump Rules fanbase when it became public knowledge in March. Reports suggested that the affair had been ongoing for several months before Ariana discovered the betrayal. Adding to the drama, there were reports that Tom and Raquel had "disappeared for hours" during co-star Scheana's wedding in August 2022 and were caught kissing before the wedding ceremony.
As the intriguing "Scandoval" storyline takes center stage in the upcoming season of Vanderpump Rules, viewers can expect more twists and turns. The new episodes will also shine a spotlight on Something About Her, a West Hollywood sandwich shop that Ariana co-owns with Katie, providing fans with a fresh perspective on Ariana's life beyond the reality TV screen.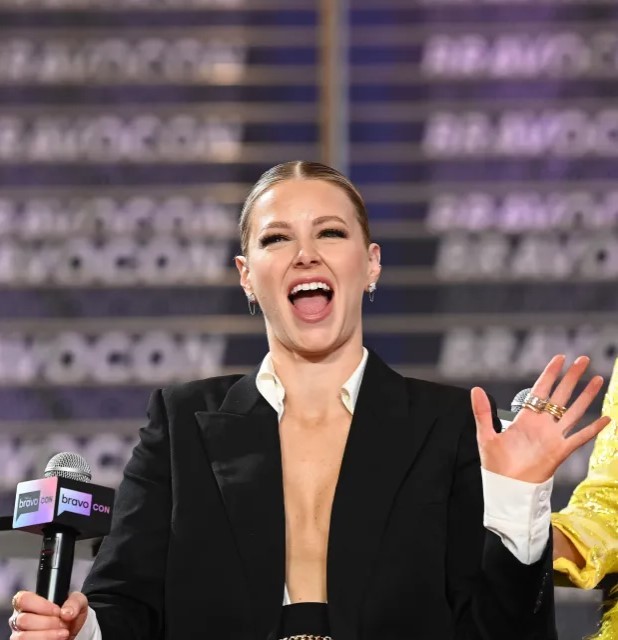 In the realm of her personal life, Ariana has found happiness with Daniel, a fitness professional known for his supportive and easygoing nature. Lindsay Hubbard, a star of Bravo's Summer House, praised Daniel for his adaptability and comfort within the realm of reality television. Her confirmation of Ariana and Daniel's flourishing relationship came as the couple attended a destination wedding in November, where they undoubtedly celebrated their love.
Beyond the realm of reality TV, Ariana has been making waves with her captivating performances on Dancing With The Stars. She partners with Pasha Pashkov, and the duo continues to impress judges and fans with their mesmerizing dance routines. Their repertoire includes an alluring tango performance to Hailee Steinfeld's "Love Myself" and other memorable routines set to hit songs such as "Into The Unknown" from Disney's Frozen, Bad Bunny's "Me Porto Bonito," and Billie Eilish's "Happier Than Ever."
Ariana Madix's journey on DWTS promises to be a delightful one, and fans can eagerly anticipate her upcoming performance on Music Video night, scheduled for broadcast on Tuesday.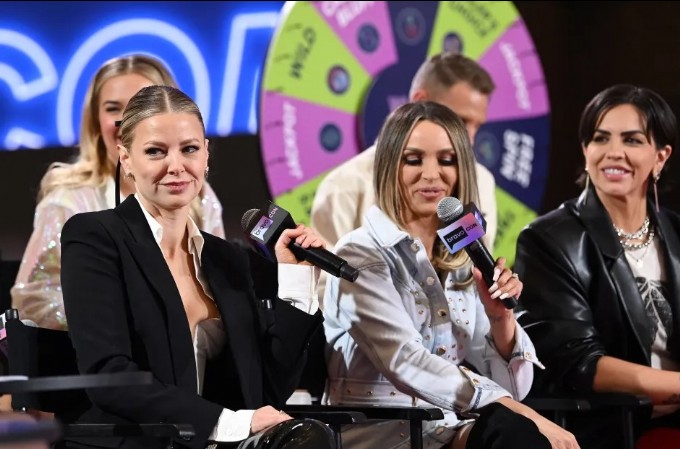 According to HotNewHipHop, Ariana Madix's net worth in 2023 is estimated to be $2 million. She has earned her wealth through her career as a reality television personality, actress, model, and author.
Ariana Madix is best known for her role on the Bravo reality television series Vanderpump Rules. She has appeared on the show since its inception in 2013. In addition to her work on Vanderpump Rules, Madix has also appeared in several other television shows, including Scream Queens and American Horror Story.
In addition to her acting career, Madix is also a successful author. She released her first book, Fancy AF Cocktails: Drink Recipes for the Modern Mixologist, in 2021. The book was a commercial success and was met with positive reviews from critics.
Madix is also a successful businesswoman. She is the co-founder of the clothing line Uncut Gems. She is also the co-owner of the restaurant TomTom with her ex-boyfriend, Tom Sandoval.
Madix is an active user of social media. She has over 1.1 million followers on Instagram. She often uses her platform to promote her work and to connect with her fans.
Here is a summary of Ariana Madix's net worth and sources of income:
Net worth: $2 million
Sources of income: Reality television personality, actress, model, author, businesswoman