Australian Cricketer Fawad Ahmed Announces Tragic Passing of Four-Month-Old Son: 'Till We Meet Again
The world of sports is often seen as a realm of heroes and triumphs, where athletes inspire and entertain us with their remarkable feats. However, sometimes life reminds us that even our heroes are not immune to the profound challenges that it can present. Australian cricketer Fawad Ahmed, a name celebrated on the cricket pitch, recently experienced the depths of sorrow as he and his wife faced the heartbreaking loss of their four-month-old son. This heart-wrenching news followed a protracted and grueling battle with severe health issues, casting a shadow over the cricketing star's life.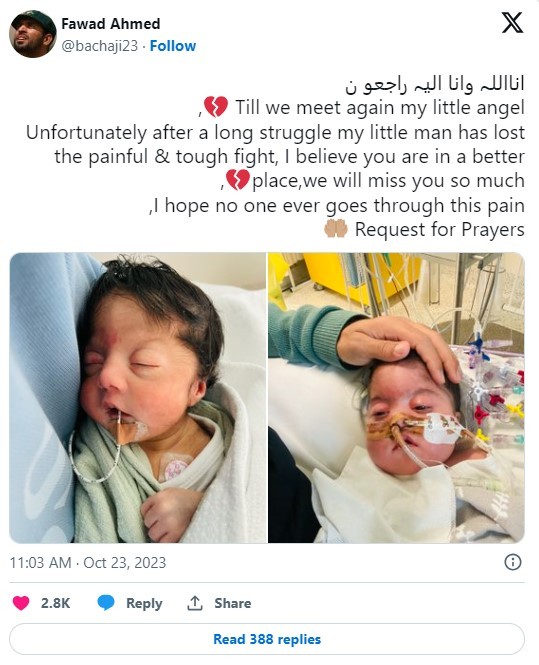 Their son, a new life full of promise, was born in June. His arrival should have marked a time of celebration and joy for the family, but instead, it triggered a relentless ordeal of hospital stays and medical consultations. Their infant son's health was marred by a series of unexplained ailments, and the family embarked on a challenging and emotionally draining journey to find answers and a path to recovery.
The Royal Children's Hospital in Melbourne became a second home for the young child, a place where he faced the trials of countless tests and procedures. Doctors worked diligently to uncover the root cause of the child's suffering, a mission that left the family on an emotional rollercoaster, oscillating between hope and despair.
But, despite the unwavering efforts of the medical professionals and the boundless love and support of his parents, the battle took an inevitable and heartrending turn. In an emotional post shared with the world, Fawad Ahmed announced the passing of his beloved son. His words, filled with both grief and love, expressed the pain of the loss: "Till we meet again my little angel." It is a farewell that no parent should have to say, a farewell that signifies the end of an arduous and painful struggle.
Fawad Ahmed and his wife found themselves navigating a path that was marked by the profound challenges of parenting a child with serious health issues. It's a journey that calls upon every ounce of strength, courage, and love that parents can muster. Yet, despite their relentless efforts and the support of the medical community, the child's struggle came to a heart-wrenching end. His parents now find solace in the belief that their son is in a better place, free from pain and suffering, though the emptiness left behind is immeasurable.
Fawad Ahmed's journey in the world of cricket has been nothing short of inspirational. Born in Pakistan, he left his home country in 2010 to seek refuge in Australia, a move motivated by the persecution he faced from religious extremists due to his involvement in cricket, both as a player and a coach. This transition marked the beginning of an extraordinary cricketing career that would make him a celebrated name in the sport.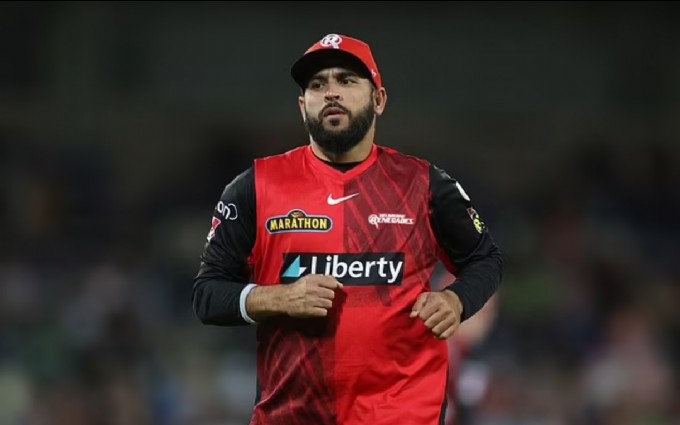 Ahmed's contributions to cricket have been significant. He represented Australia in international matches, proudly donning the national jersey in five occasions in 2013. His accolades extend to winning the prestigious Sheffield Shield with Victoria and being part of the Melbourne Renegades in the Big Bash League. Throughout his cricketing journey, Fawad Ahmed has demonstrated resilience and unwavering determination, qualities that have made him a role model for aspiring cricketers.
Amid the challenges and triumphs of the cricketing world, the Fawad Ahmed family now faces an even greater and more profound struggle. As they come to terms with the loss of their beloved son, their strength and resilience serve as an inspiration to many. In the face of unimaginable adversity, their ability to navigate the storm and emerge with hearts full of love and hope reflects the depth of the human spirit. This difficult time has united the cricket community, and the thoughts and condolences of the Australian Cricket community are with Fawad Ahmed and his family, extending support and care as they navigate this heartbreaking chapter.
While Fawad Ahmed's journey in the world of cricket has been remarkable, his family's journey through the challenges of life is equally extraordinary. It reminds us that even our heroes, who shine brightly on the field, face the same joys and sorrows that life presents to us all. In this time of grief, the cricketing world stands by Fawad Ahmed and his family, offering condolences and support, and respecting the resilience and strength they have displayed in the face of such profound loss.
It is a poignant reminder that life's battles can touch anyone, regardless of their accomplishments or renown. In times of sorrow, the unity and empathy of a community are what provide solace and strength, showing that, indeed, we are all in this journey together.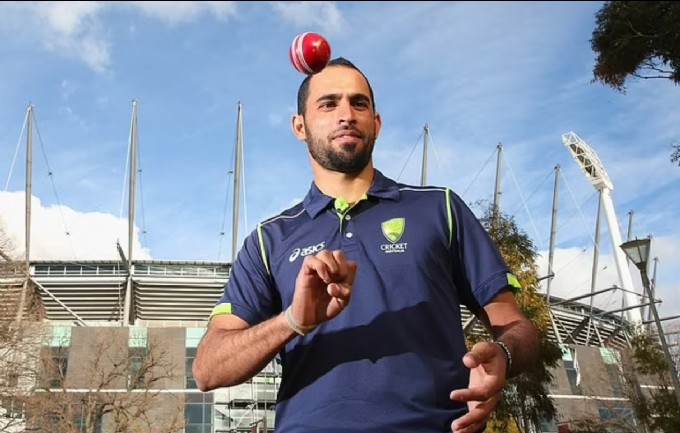 Fawad Ahmed Retired: As of my last knowledge updat in September 2021, Fawad Ahmed had not officially announced his retirement from cricket. Please check the latest news and sources for updates on his cricketing career.
Fawad Ahmed Instagram: If Fawad Ahmed has an official Instagram account, it would be a platform where he might share personal and cricket-related updates.
Fawad Ahmed Wikipedia: You can find a detailed biography and information about Fawad Ahmed on his Wikipedia page, which covers his cricketing career and personal background.
Fawad Ahmed News: Fawad Ahmed has been featured in numerous news articles and reports, particularly during his cricketing career and various life events.
Fawad Ahmed: Fawad Ahmed is an Australian cricketer known for his leg-spin bowling skills. He was born in Pakistan but sought refuge in Australia in 2010 due to persecution by religious extremists for his involvement in cricket. His cricketing career has seen him play for various Australian teams, and he has also represented Australia in international matches.