Awkward live TV gaffe at the Oscars as Channel Seven shows a red carpet reporter's wardrobe malfunction during a packed media scrum
And it seems Channel Seven had to share its camera set-up with another network, leading to an awkward moment on Sunrise on Monday.
During Natalie Barr's live cross with U.S. bureau chief Ashlee Mullany at 7:20am, a reporter for a foreign TV station was standing almost back to back with Mullany.
The blonde journalist was wearing a backless black dress without a bra, and was facing away from the 7News camera at an almost 90 degree angle.
This unfortunately meant she revealed a little more of her chest than she bargained for as Mullany reported live to the Sunrise newsroom.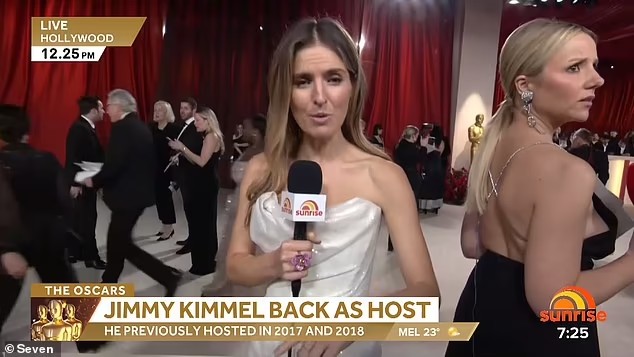 Hollywood stars will walk a champagne-coloured carpet at the Oscars on Sunday when organisers aim to keep the spotlight on Everything Everywhere All at Once, Top Gun: Maverick and other nominated films that brought crowds back to cinemas.
In case of an unexpected twist, a crisis response team will be on hand at the Dolby Theatre in Los Angeles. The group was formed after Will Smith smacked Chris Rock on stage last year, tarnishing the film industry's most prestigious ceremony.
This year, the Academy of Motion Picture Arts and Sciences hopes to move past the slap and stage a glitzy show with new elements to attract younger viewers and boost sagging TV ratings.
Comedian Jimmy Kimmel, the first solo emcee in five years, is returning as host for the third time.
Producers plan to celebrate the moviegoing rebound of the past year, one that some feared would never happen when streaming took hold during the Covid pandemic.
Several of 2022's biggest hits at the multiplex landed in the best picture race, from Top Gun and Everything Everywhere to Elvis and Avatar: The Way of Water.
'Among our nominees are films that have not just hit the heart but also generated box office,' said producer Glenn Weiss. 'We're looking to really elevate that point.'
The big films on the ballot, rather than some of the little-seen movies nominated in recent years, could help draw more viewers.
Last year, the television audience for the Academy Awards ranked as the second-lowest ever with 16.6 million viewers.
One novelty: QR codes will flash on TV screens ahead of commercial breaks with links to two- to-three minute videos about nominees. Organisers hope that sharing information about the contenders will give viewers people to root for and keep them watching.
To change up the look, organisers swapped out the traditional red carpet for the first time since 1961, opting instead for a champagne colour. The stars' entrance is covered by a dark tent that will give the appearance of nighttime glamour.
Winners are voted on by the roughly 10,000 actors, producers, directors and film craftspeople who make up the film academy.
Among the night's musical performances, pop superstar Rihanna will sing her nominated song 'Lift Me Up' from 'Wakanda Forever.'
All of the awards for film craftspeople will be handed out live. Last year, some were announced before the broadcast to try to keep the show to three hours. That caused a backlash from behind-the-scenes workers and did not result in a shorter show.