Benjamin Mendy Acquitted of Rape and Attempted Rape Charges, Seeks Privacy to Rebuild His Life
Benjamin Mendy, the former Manchester City footballer, has been found not guilty of charges relating to rape and attempted rape. After a retrial at Chester Crown Court, Mendy was cleared of all allegations made against him by six women, leading him to request privacy as he seeks to rebuild his life.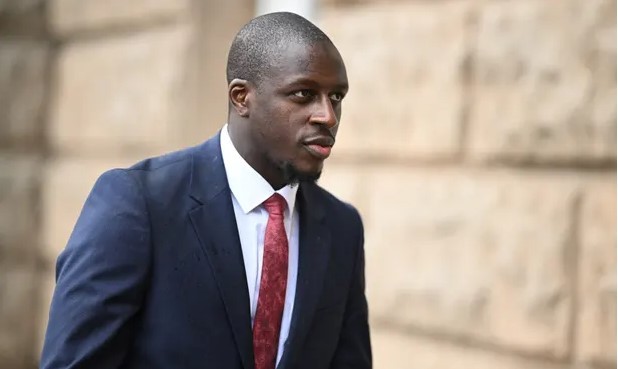 The 28-year-old former French international wept upon hearing the jury's verdict. The acquittals mark the end of a challenging period that had a profound impact on Mendy's football career. Although he has been cleared of all charges, Mendy is currently unemployed as his Manchester City contract expired in June 2021. The Premier League club had stopped paying him in September 2021, shortly after he was charged.
Throughout the trial, Pep Guardiola, Manchester City's manager, acted as a character witness for Mendy. Describing him as a "really good boy," Guardiola provided support during the initial trial. However, Mendy's contract was not renewed, leaving him without a club.
The allegations against Mendy involved incidents that were said to have taken place between October 2018 and August 2021 at his £4.8m mansion, often during illegal parties held amidst Covid-19 lockdowns. The retrial concluded with Mendy being acquitted of attempting to rape a woman who had visited his house with a friend, another French footballer named Diacko Fofana. Mendy claimed that he had flirted with the woman but immediately withdrew when she expressed her refusal.
Furthermore, Mendy was also cleared of raping a woman he had met at a bar in the upscale Cheshire suburb of Alderley Edge.
During the trial, Mendy acknowledged his promiscuous behavior and stated that being a famous footballer made it easy for him to attract women at nightclubs and invite them to his home. He emphasized that the encounters were consensual and normal for him, often involving multiple women on the same night.
While some women alleged that they felt unable to call for help and had to surrender their phones upon arrival at Mendy's house, he claimed that he only requested phones to be placed in a box for privacy reasons, particularly during lockdown-breaking parties. The parties themselves involved alcohol, nitrous oxide balloons, and sexual activities taking place throughout the house.
Mendy admitted to not using condoms during sexual encounters, expressing a lack of concern about sexually transmitted diseases. He even texted a 17-year-old girl the morning after their sexual encounter to inquire if she had taken the "morning after" pill.
Mendy's legal troubles began in November 2020 when a young woman accused him of rape, and he was subsequently arrested. He was later arrested again in January 2021 after a second woman reported him for sexual assault. Despite bail conditions prohibiting him from hosting parties at his home, Mendy continued to invite women over after nights out. He stated that he believed he had done nothing wrong.
Following his acquittal, Mendy's lawyer, Jenny Wiltshire, expressed gratitude to the jury for focusing on the evidence presented in the trial. Wiltshire highlighted that Mendy had been tried twice and found not guilty on both occasions. Mendy, who has endured a challenging three-year investigation process, now seeks privacy to begin rebuilding his life.
The trial's conclusion brings closure to the legal proceedings surrounding Mendy, allowing him to move forward after a tumultuous period in his personal and professional life.