'Bikini cowgirl', 19, who works on an outback farm takes the world by storm with her true blue VB, ute and dance sessions: 'You're my new crush'
Storm Hogan rides, trains and exercises horses in rural, South Australia and documents her life in the country often donning her cowboy boots and a bikini.
The self-dubbed 'bikini cowgirl' has drawn in thousands of followers from Australia and all over the world who have been taken by her stunning looks and 'pure' Australian accent.
Many are calling the 19-year-old their 'new crush' after she started posting videos on TikTok
However Storm's new-found fame has resulted in her receiving mean comments from cruel trolls forcing her to hit back.
Storm said she is a 'barrel racer and a track rider' splitting her time between the farm and attending races.
She recently shared a video of herself sipping her favourite beer in a black swimsuit dancing in a paddock which racked up hundreds of thousands of views.
Storm has had almost all of her videos go viral including one detailing what she does each day of the week and another explaining Victoria Bitter Gold is her drink of choice.
The clips drew in a flurry of comments from adoring admirers, one of whom called Storm a 'true beauty'.
'That's not magic, that's 100 per cent Aussie beauty,' one viewer wrote.
'As an Aussie, I am nominating you for the 'Aussiest Aussie to ever Aussie' award,' a second joked.
'And I was today years old when I learned how much I love barrel racers,' one man replied.
'Why can't I find a girlfriend like this? Guess I'll be single for long time,' another pined.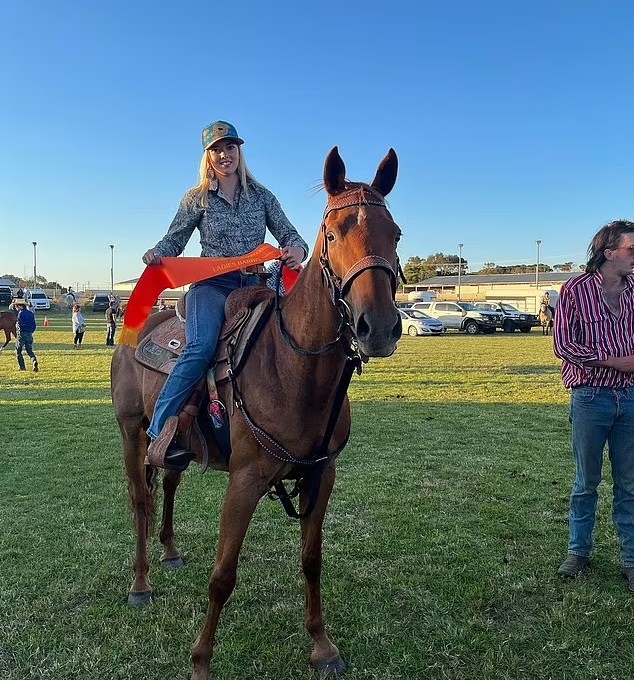 The attention prompted Storm, who has her own business selling custom t-shirts, to 'introduce' herself.
'I'm Storm, yes that's my actual name. I'm 19 and I turn 20 in July and yes I'm from Australia,' she said.
'I am a barrel racer and a track rider, I also train and break horses as well and I'm from Victoria but I moved out of Victoria to South Australia.'
Recently Storm had to call out a cruel troll who made a rude comment saying she looked 'a little inbred'.
'You don't know what people have been through that day so it could be something that sends them over the edge,' she replied.
'So if you don't have anything nice to say just shut your mouth. You're behind a screen, bit gutless don't you think?'
But the comment hasn't stopped her from continuing to post videos of her life so many have loved.