Bill Gates and Girlfriend Paula Hurd Enjoy Lunch Date with Billionaire's Kids
The couple dined at the popular Boucherie restaurant on Sunday, accompanied by Gates' daughters Jennifer, Phoebe, and son Rory.
Paula Hurd, the widow of former Oracle CEO Mark Hurd, looked elegant in her black pants, matching blouse, and jacket ensemble. Adding a touch of sophistication, she accessorized with a stylish black clutch embellished with studs. Bill Gates opted for a casual yet trendy look, sporting a gray pullover, jeans, a blue baseball cap, and sneakers.
After the group meal, Phoebe, the youngest of Gates' children at the age of 20, was seen getting into a vehicle. She looked effortlessly chic in a black-and-white striped top, light blue jeans, and white sneakers. Also joining the family outing was Nayel Nassar, the husband of Jennifer Gates, whom he married in October 2021. Nassar, a professional equestrian, donned a gray sweater, blue jeans, and black sneakers. Jennifer, following closely behind, rocked a stylish combination of a blue jean jacket and pink pants.
Notably absent from the lunch gathering was Bill and Paula's 4-month-old baby, whom they welcomed into the world in March. While the couple's newborn wasn't present, Bill's son Rory, 24, caught the attention of onlookers with his fashion-forward ensemble—a two-tone blue puffer jacket, beige pants, and maroon sneakers.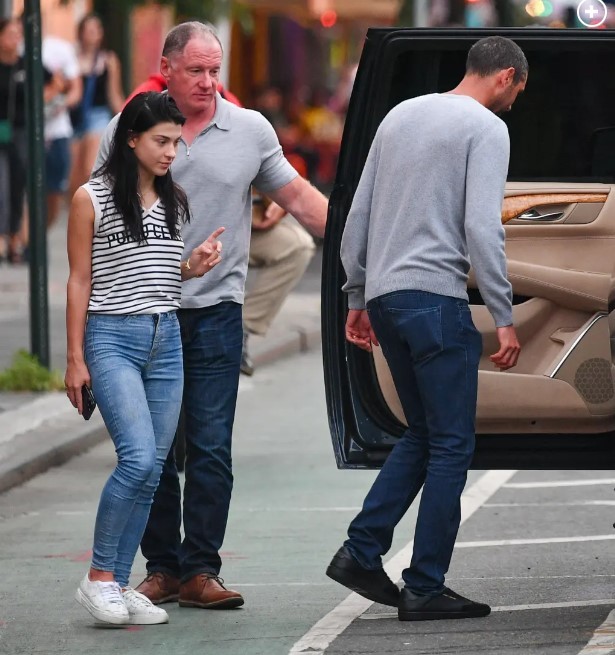 Although Paula is a mother to two daughters from her late husband, Kathryn and Kelly, they were not seen at the restaurant, focusing the spotlight on the immediate family's interaction.
Bill and Paula's relationship gained media attention recently when Paula was spotted wearing a diamond ring on her left ring finger, prompting speculation of an engagement. However, a spokesperson for Bill Gates clarified that wedding plans were not imminent, stating, "Our office can confirm that the ring Mrs. Hurd was seen wearing has belonged to her for decades," as confirmed to People on Tuesday.
Despite not being engaged, the family lunch outing symbolizes a significant milestone in Bill and Paula's romance. Earlier this year, sources revealed that Paula had not yet met Bill's children, making this gathering a significant step in their evolving relationship.
Throughout 2022, Bill Gates and Paula Hurd were seen together at various events, but it wasn't until January of this year that rumors of a deeper connection between the two began to circulate. The lunch date further solidifies their growing bond and showcases their commitment to family integration.
As Bill Gates continues his influential work in philanthropy and technology, his evolving personal life garners public interest. The lunch date with Paula Hurd and his children not only demonstrates their close-knit family dynamic but also highlights the importance of nurturing relationships outside the business world.