Blake Lively's Close Call: Actress Nearly Experiences Wardrobe Malfunction While Cheering at NFL Game
The event took place at MetLife Stadium in East Rutherford, New Jersey, on a lively Sunday.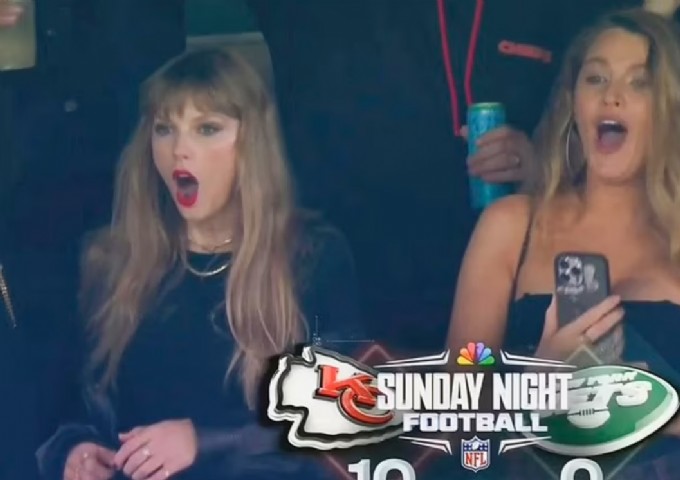 The 36-year-old former "Gossip Girl" star was seen wearing a black strapless corset top, and as excitement filled the air, her outfit threatened to reveal more than she intended. To maintain her modesty, Blake had to strategically place her right hand over her ample cleavage.

Blake, who welcomed her fourth child in February, stood alongside her close friend, pop sensation Taylor Swift, in the VIP suite as they watched the Chiefs score a touchdown. Taylor Swift has been making headlines recently due to her romantic involvement with Travis Kelce, the Kansas City Chiefs' tight end. Some Chiefs fans might even be considering her their new good luck charm.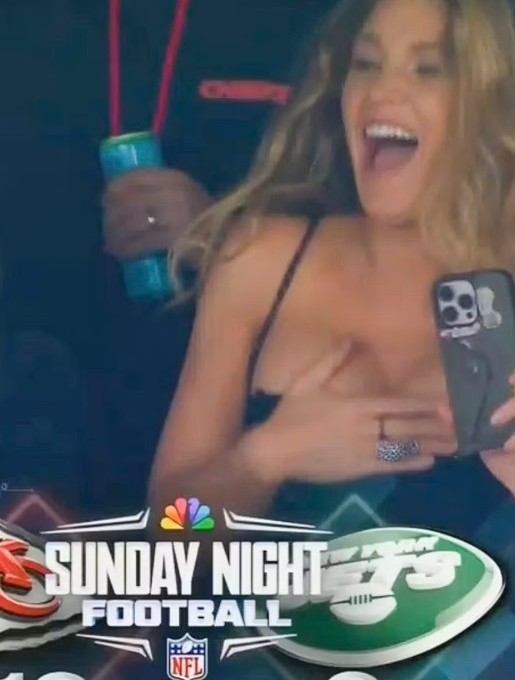 Two years ago, Blake Lively, also known as Blake Brown, made her directorial debut by directing the music video for Taylor Swift's re-recorded track, "I Bet You Think About Me." The video featured Miles Teller as a groom daydreaming about his ex-girlfriend, played by Swift. Taylor Swift is known for incorporating personal elements into her music, and in her 2020 tracks "Cardigan," "August," and "Betty," she used the names of Blake and her husband, Ryan Reynolds, as well as their three eldest daughters, James (8), Inez (6), and Betty (3).

Blake Lively and Ryan Reynolds first crossed paths on the set of the 2010 film "Green Lantern" while she was still dating her "Gossip Girl" co-star, Penn Badgley. Their romantic relationship began a year and a half later, and the couple has been married for 11 years. Ryan Reynolds, who co-owns Wrexham AFC, attended the game with his "Deadpool 3" director, Shawn Levy, and co-star Hugh Jackman, whose Marvel film is scheduled for release on May 3.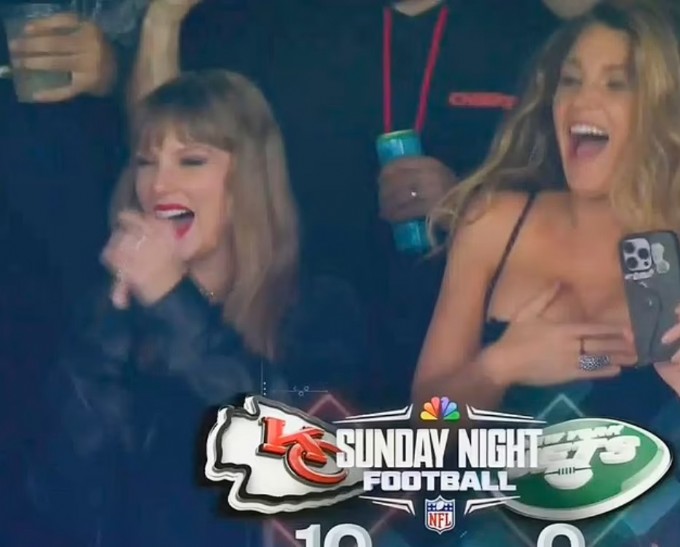 For her game-day look, Blake paired her alluring top with faded black high-waisted jeans and accessorized with a vibrantly beaded cross-body bag and large hoop earrings. Interestingly, Blake is known for not having a personal stylist and personally selects her outfits for all red carpet events.

The VIP suite was abuzz with celebrities, including Travis Kelce's mother, Donna Kelce, Brittany Mahomes, Sophie Turner, Sabrina Carpenter, and Antoni Porowski. Blake was also joined by her sister, Robyn Lively, known for her roles in "Teen Witch" (1989) and "Cobra Kai" (2022).

In a candid moment, Blake and Ryan interacted with Kansas City Chiefs quarterback Patrick Mahomes inside the arena's parking garage.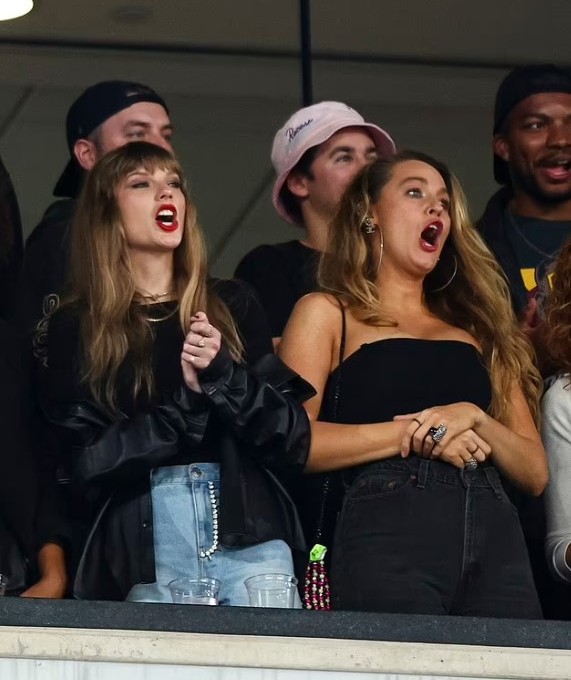 Blake Lively's next acting venture is in Justin Baldoni's romantic drama "It Ends with Us," where she plays Lily Bloom, a Boston woman caught between her affection for a neurosurgeon and her high school sweetheart. The big-screen adaptation of Colleen Hoover's 2016 novel is set to hit US theaters on February 9, featuring Justin Baldoni, Brandon Sklenar, Jenny Slate, and Hasan Minhaj.

Blake Lively's last significant acting role was as Stephanie Patrick in Reed Morano's 2020 revenge drama "The Rhythm Section," which received mixed reviews and earned only $6 million of its $50 million budget at the global box office.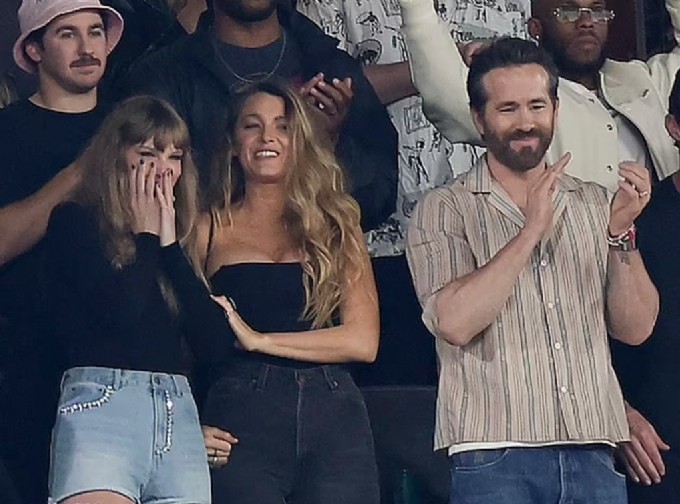 Blake Lively:

Full Name: Blake Ellender Lively
Date of Birth: August 25, 1987
Age: As of my last knowledge updat in September 2021, she was 34 years old.
Height: Blake Lively stands at approximately 5 feet 10 inches (178 cm) tall.
Movies Starring Blake Lively:

Blake Lively has appeared in various movies throughout her career. Some of her notable films include "The Sisterhood of the Traveling Pants" (2005), "Accepted" (2006), "The Town" (2010), "Green Lantern" (2011), "Savages" (2012), "The Age of Adaline" (2015), "Café Society" (2016), "The Shallows" (2016), and "A Simple Favor" (2018), among others.
Taylor Swift and Blake Lively:

Taylor Swift and Blake Lively are close friends. They have been photographed together at various events and have publicly supported each other's work. Blake Lively appeared in Taylor Swift's music video for "I Bet You Think About Me," and their friendship is well-documented in the media.
Blake Lively's Children:

Blake Lively is married to actor Ryan Reynolds, and the couple has three children together. As of my last update, they have two daughters named James and Inez, and a third child, whose name was not publicly revealed at the time.
Blake Lively on Instagram:

Blake Lively is active on Instagram under the username @blakelively. You can check her Instagram profile for her latest updates and posts. Please note that her follower count and activity may have changed since my last updat in September 2021.