British former professional boxer David Haye shares snaps with girlfriend and blonde personal trainer
David Haye has shared an array of cosy pictures with his girlfriend Sian Osborne and a blonde personal trainer as they enjoyed a sun-soaked holiday together sparking a new throuple relationship with them.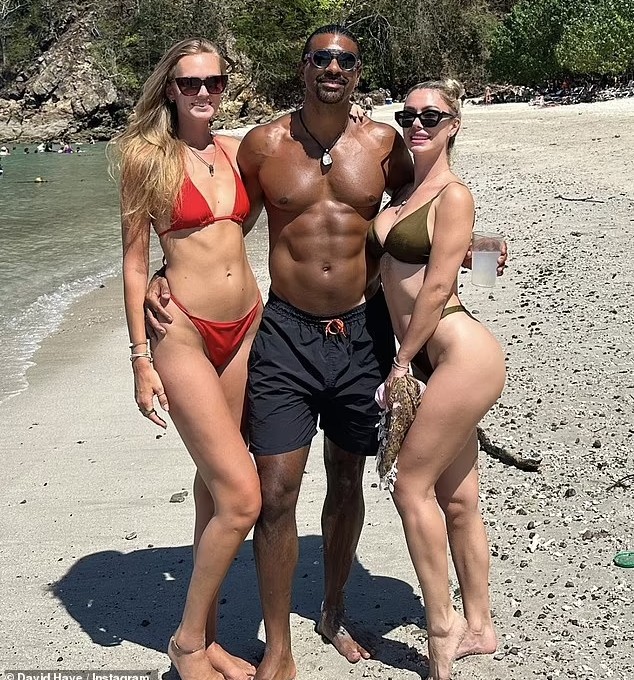 The former professional boxer, 42, took to Instagram on Saturday to share a slew of photographs of himself, Sian, 35, and blonde bombshell Mica Jova in Costa Rica.
In a long caption, David cryptically spoke about meeting 'open-hearted individuals' who don't judge him on the 'societal expectations foisted upon a man of 42'.
It comes after Una Healy declared herself single after reportedly ending her throuple with David and model Sian after they all holidayed in Marrakech together.
In his latest post, David put on a cosy display with his bikini-clad girlfriend and German-English personal trainer Mica as they soaked up the sun on Isla Tortuga.
David showed off his toned physique as he went shirtless in black board shorts while Sian looked gorgeous in a red bikini and Mica looked equally stunning in an olive two-piece.
The snap bore a striking resemblance to a beach snap David shared in January of himself standing in-between Sian and The Saturdays star Una, 41.
David also shared another snap of him sitting on the beach with Sian and Mica as he sat with his arms wrapped around them both.
In the post, David also documented their holiday as he shared a whole host of snaps of them all relaxing with their other pals, including Dizzee Rascal.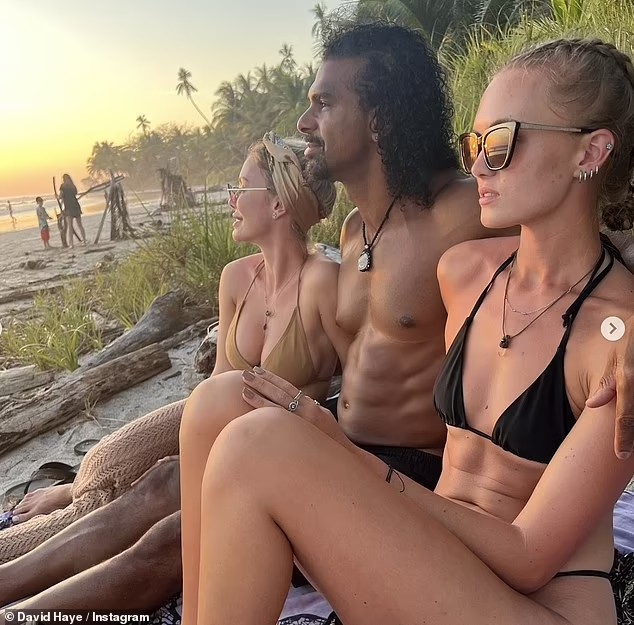 Mica also took to her own Instagram to share a snap of herself in the gym with David, writing alongside the picture: 'Fit has always been the new sexy.'
In an accompanying caption, David cryptically spoke about 'the societal expectations foisted upon a man of 42' following reports he was in a three-way romance with Sian and Una.
He penned: 'In the opening chapter of 2023, I have immersed myself fully in the richness of each passing moment.
'I have found myself in the company of open-hearted individuals who perceive me through the lens of my daily actions, rather than the societal expectations foisted upon a man of 42.
'A recalibration of my manner of living shall be necessary, for the attire of flip-flops, shorts, and a perpetually bare abdomen is hardly suited to the climate of my home town of London.
'I shall carry with me the memory of those extraordinary connections forged with radiant spirits, who shared in the marvellous odyssey we embarked upon together.
'I eagerly anticipate resuming this wondrous journey at the dawn of 2024, picking up precisely where I left off.'
David, who has since jetted back to the UK from Costa Rica, went on to tell fans that he will be watching fellow boxer Anthony Joshua at The O2 Arena on Saturday night.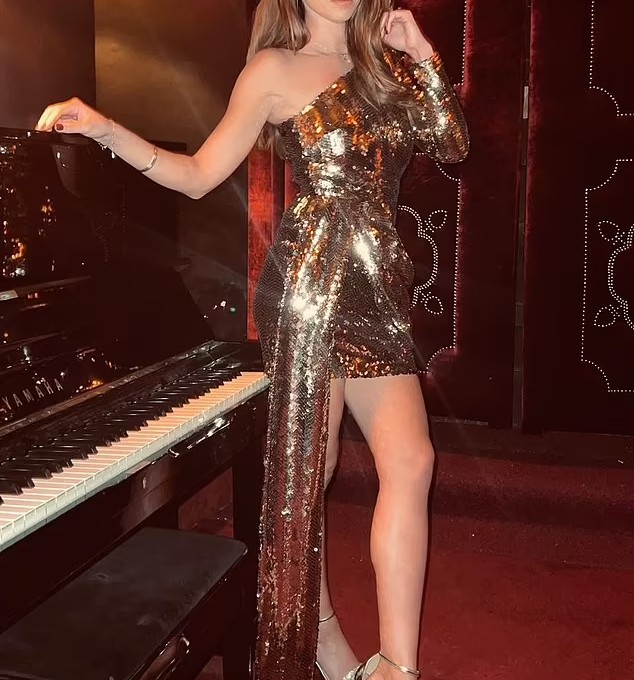 MailOnline has contacted Mica and David's representatives for comment.
It comes after David and his girlfriend Sian were pictured holidaying in Marrakech with Irish singer Una back in January.
It's understood that David and Sian, who he started dating in 2020, drafted Una into a three-way romance before Una is said to have ended the 'throuple'.
Now, Una has confirmed that she is single and is focusing on parenting her two kids Aoife, ten, and Tadhg, eight, who she shares with ex-husband Ben Foden.
She recently told the Irish Mirorr: 'I am single and raising my two children, just like many other single parents – both men and women – doing a great job.
'I am a single parent, I don't like the term single mother as it has negative connotations.
'You can't do it all by yourself, there is no shame in asking for help, be that from childcare, family or friends.'
Una went on to say that she is often asked how she juggles being a single parent but pointed out that men are rarely ever asked how they do the same, saying mothers don't have a choice.
Meanwhile, David appeared to hint that he was looking for a replacement for Una in his couple as he shared a cryptic Instagram post earlier this month.
The boxer shared a snap of himself with girlfriend Sian and three other women while partying at the SXM Festival in Saint Martin in the Caribbean.
Alluding to Una's alleged ending of their 'throuple', he penned: 'We experienced an unexpected opening in our team, but the invigorating atmosphere at the @sxmfestival ensures that we'll soon have a full roster.'