Britney Spears Is All Smiles Dancing With Longtime Friend Cade Hudson on Vacation After Removig Her Wedding Ring
Britney Spears s enjoying the beginning of spring with a tropical vacation to Mexico, and the pop star's been updating fans on her activities via Instagram.
In an adorable video shared on Friday (March 31), the "Piece of Me" singer is seen in a neon green and pink bikini and floppy brown hat, dancing around with her longtime friend and manager Cade Husdon to Robin Thicke and Pharrell Williams' 2013 hit "Blurred Lines."
She captioned the post with a series of emojis, including various flowers, facial expressions and several kiss emojis.
Earlier in the week, Spears shared snaps from the private jet heading to the beautiful vacation, her outfits and moments having fun on the beach. The superstar's husband, Sam Asghari, does not seem to be on the trip with the duo.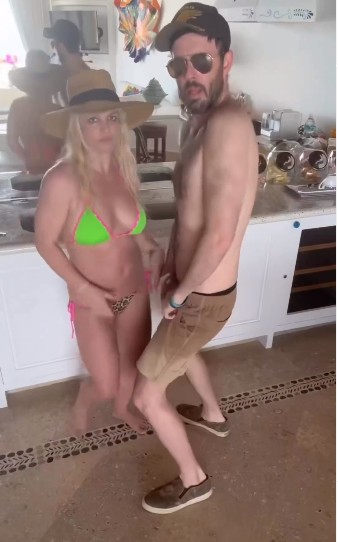 Last month, Spears revealed her favorite song from her extensive catalog. "My song 'The Hook Up' !!! It was never released as a single but it was always my favorite !!!" she shared alongside one of her signature Instagram montages before she deleted it.
In the video, Brit playfully models a short black cocktail dress with matching feathers framing its sweetheart neckline.
Featured on her 2003 album In the Zone, the dancehall-inflected track was produced by Tricky Stewart and Penelope Magnet — the duo who also helmed lead-off "Me Against the Music" featuring Madonna and fan favorite single "Outrageous."