Bryson DeChambeau's Historic 58 Secures LIV Golf Greenbrier Title
The 2020 US Open champion, Bryson DeChambeau, captivated the golfing world with an awe-inspiring display of skill and determination during the recent tournament. His performance on the course was nothing short of spectacular, showcasing an unparalleled level of prowess that left fans and fellow golfers in awe.

As the sun cast its warm glow over the picturesque greens of the West Virginia course, DeChambeau stepped onto the fairway with a determination that was palpable. His every move exuded confidence, a trait that has become synonymous with his playing style. The 13 birdies he meticulously crafted throughout his round were a testament to his exceptional ability to read the course, analyze the conditions, and execute shots with pinpoint accuracy.

Even more impressive was DeChambeau's ability to maintain his composure despite the pressure that comes with such a significant event. While golf is often perceived as an individual sport, the mental aspect cannot be understated. Each swing of the club carries with it not only technical considerations but also the weight of the moment. DeChambeau's focus and mental fortitude shone brightly as he navigated the challenges posed by the course, never allowing a single misstep to dictate the trajectory of his round.
It's worth noting that DeChambeau's performance wasn't solely about his astonishing birdie count. His impeccable control over his shots was evident in the solitary bogey he carded. This single instance of adversity could have thrown off a lesser player, but DeChambeau's ability to quickly regroup and continue his relentless pursuit of excellence was a testament to his mental resilience.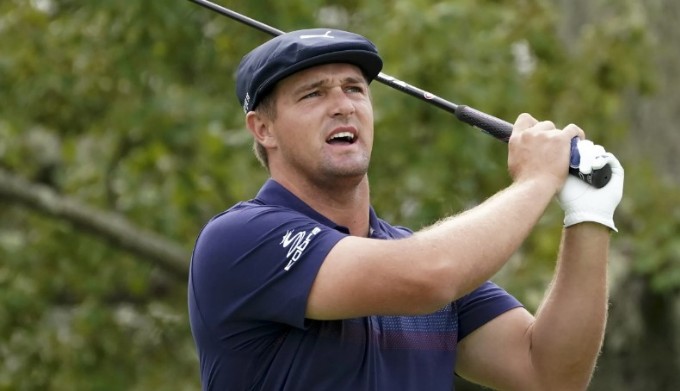 As the rounds progressed, it became increasingly clear that DeChambeau was on a historic trajectory. The way he seamlessly melded his technical expertise with a deep understanding of the course dynamics was a sight to behold. The LIV series, a relatively new addition to the golfing world, had never witnessed such a masterful display of skill. DeChambeau's score of 23 under par not only shattered records within the series but also drew comparisons to the hallowed grounds of the PGA Tour.

Speaking of the PGA Tour, DeChambeau's achievement found itself on par with the legendary Jim Furyk's 2016 record. The echoes of Furyk's remarkable round at TPC River Highlands in Connecticut were joined by DeChambeau's name in the annals of golfing history. The magnitude of this feat is underscored by the fact that rounds of 58 are an exceedingly rare occurrence. Names like Ryo Ishikawa and Kim Seong-hyeon resonate among the select few who have achieved this incredible milestone, and DeChambeau's inclusion further solidifies his legacy as a true golfing prodigy.
The competition was not without its fair share of challengers, and Chile's Mito Pereira emerged as a formidable adversary. Pereira's closing round of 63 showcased his own skill and determination, serving as a fitting reminder that the world of golf is replete with exceptional talent. However, DeChambeau's six-shot victory over Pereira marked a triumphant return to the winner's circle. The road since his previous victory at the 2021 Arnold Palmer Invitational at Bay Hill had been fraught with personal challenges.

In the wake of his father Jon's passing in 2021, DeChambeau's journey took on a deeply personal significance. The battle with kidney disease that claimed his father's life cast a shadow over his successes and victories. In a poignant tribute, DeChambeau acknowledged the presence of his father's spirit on the course, guiding him through each shot and decision. This emotional connection added an extra layer of depth to his achievement, turning it into a celebration of his father's enduring influence.

In the grand tapestry of golfing history, DeChambeau's remarkable achievement will forever stand as a beacon of excellence. The Old White course, where this historic event unfolded, had previously witnessed its share of memorable moments. Australian Stuart Appleby's 59 in 2010 remains etched in the course's lore, a testament to the extraordinary feats that can transpire on its greens.

As the dust settles and the magnitude of DeChambeau's accomplishment sinks in, the world of golf is left with an indelible memory. This is a story of resilience, of talent honed to perfection, and of a son's tribute to his father's legacy. In years to come, when enthusiasts and players alike recount the greatest moments in golf, DeChambeau's name will be woven into that narrative—a reminder that, sometimes, a round of golf is so much more than a game