Celebrity Confessions: The Mile High Club Adventures
These stars are unafraid to admit that they've indulged in intimate encounters while soaring through the skies. While some managed to keep their airborne affairs discreet, others faced the embarrassment of getting caught in the act. Join us as we explore the audacious world of these celebrities who embraced the thrill of joining the Mile High Club.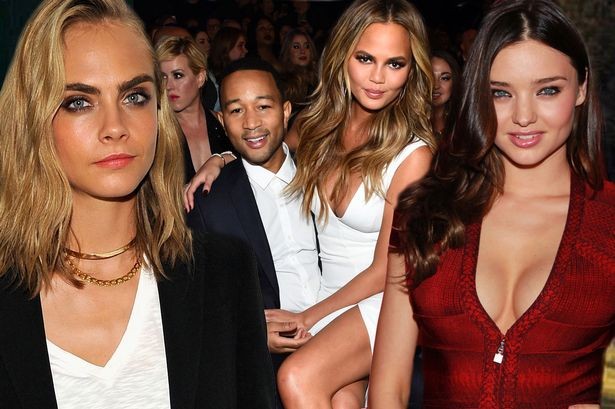 Christina Aguilera:
Pop sensation Christina Aguilera revealed her membership in the Mile High Club during an appearance on the "Call Her Daddy" podcast. With a mischievous grin, she confessed to engaging in intimate activities right in her seat while thanking her lucky stars for never being caught.
Chrissy Teigen & John Legend:
Power couple Chrissy Teigen and John Legend proudly admitted to their sky-high rendezvous. They once managed to have a passionate encounter in their first-class seats during a flight to Thailand without arousing suspicion from fellow passengers.
Gwyneth Paltrow:
Gwyneth Paltrow coyly acknowledged her Mile High Club status during a game of Never Have I Ever on "The Ellen Degeneres Show." Alongside Johnny Depp and Paul Bettany, she raised her panel to reveal her steamy aerial encounter without divulging further details.
Miranda Kerr:
Supermodel Miranda Kerr confessed to experiencing pleasure both solo and with a partner while in the air. Though she didn't disclose the identity of her Mile High Club companion, she playfully hinted at having enjoyed the exhilarating moments.
Kim Kardashian:
Kim Kardashian candidly admitted her membership in the Mile High Club, but emphasized that her amorous exploits were confined to private planes. She shared that the perfect circumstances for a romantic encounter were international, night flights with minimal fellow travelers.
Khloé Kardashian:
Following in her sister Kim's footsteps, Khloé Kardashian reveled in the thrill of the Mile High Club. Khloé enjoyed the risk of being caught and appreciated the excitement that came with engaging in intimate activities with other passengers onboard.
Cara Delevingne:
Model and actress Cara Delevingne didn't shy away from her experiences in the skies. Despite encountering a few awkward situations, including being noticed by another passenger, she acknowledged her involvement in multiple Mile High Club incidents.
Janet Jackson:
In a memorable appearance on the "Tyra Banks Show," Janet Jackson confessed to her airborne adventure. Surprisingly, Janet disclosed that her intimate encounter took place right in her seat, making the experience all the more daring.
Kris & Caitlyn Jenner:
Kris Jenner shared a humorous account of her time as a Mile High Club member with ex-partner Caitlyn Jenner. Though they believed their escapade had gone unnoticed, a flight attendant eventually congratulated them over the loudspeaker, leading to an amusing champagne celebration.
John Travolta & Kelly Preston:
With his affinity for aviation, it comes as no surprise that John Travolta embraced the Mile High Club. He revealed that he and his late wife, Kelly Preston, took advantage of their privacy on his plane, allowing the copilot to take control while they enjoyed their intimate encounter.
Celebrities are no strangers to indulging in exciting and daring experiences, including becoming members of the Mile High Club. From pop stars to Hollywood icons, these fearless individuals have openly shared their exhilarating adventures on planes. While some celebrities managed to keep their escapades discreet, others faced the awkwardness of being caught mid-flight. Regardless