Charles Leclerc's Dramatic Crash Before Brazilian Grand Prix Start
The formation lap quickly turned into a nightmare for Leclerc as he lost control of his steering and collided with the barriers, abruptly ending his race.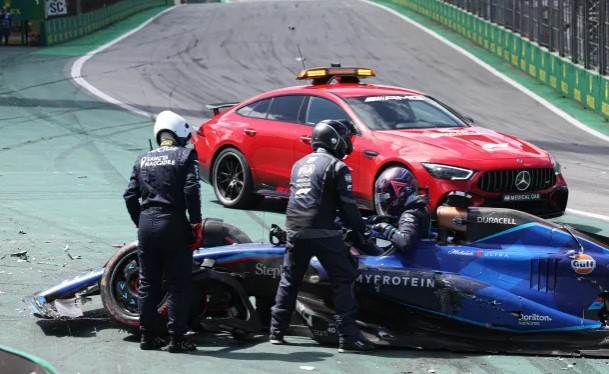 Leclerc, who started from second on the grid, voiced his frustrations, asking his team why he was experiencing such misfortune. He exclaimed, "I lost the hydraulics. Why am I so unlucky? Why am I so f*****g unlucky?"
The Brazilian Grand Prix featured more early drama, as Kevin Magnussen, Alex Albon, and Oscar Piastri faced race-ending incidents. Magnussen and Albon collided before turn one, causing both drivers to spin out and prompting the immediate deployment of the safety car.
Oscar Piastri was an unfortunate casualty, suffering a hit to his rear side from Magnussen during the incident. Although Piastri attempted to continue, the McLaren team advised him that his car was not safe to proceed.
The series of incidents resulted in significant debris on the track, ultimately leading race stewards to red flag the event temporarily.
The red flag situation turned out to be advantageous for Piastri, as his car underwent necessary repairs in the pitlane, allowing him to rejoin the race when racing resumed.
Leclerc, reflecting on his extraordinary start to the race, explained to Sky Sports that he lost control of the steering due to a hydraulic issue, stating, "I lost the steering wheel and I went straight basically because I had no hydraulic anymore. I don't think it's a hydraulic problem, I mean I know what it is, and I cannot go into too much detail. There was an engine issue that made me lock the rear wheels, and then obviously I spun and hit the wall, and I couldn't do anything."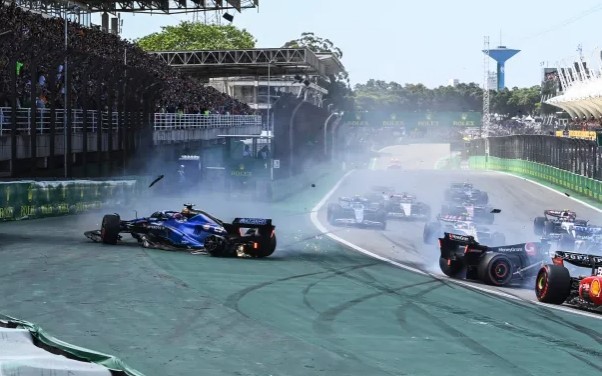 Charles Leclerc, a prominent name in the world of Formula 1, has garnered significant attention and recognition. Here's a quick overview of some essential details about the talented driver:
Salary: Formula 1 drivers earn substantial salaries, often in the millions of dollars. Leclerc's exact salary may vary based on his contract and team performance, but he is undoubtedly one of the well-compensated drivers in the sport.
Instagram: Charles Leclerc is an active presence on social media, including Instagram. You can follow him and get insights into his life both on and off the track.
Pronunciation: The correct pronunciation of "Leclerc" is "Le-klair," with the emphasis on the first syllable.
Siblings: Charles Leclerc has a younger brother named Arthur Leclerc, who is also a racing driver. Arthur has been making a name for himself in the motorsport world.
Wins and Achievements: As of my last update, Charles Leclerc had secured multiple race wins in Formula 1. He achieved his first victory at the 2019 Belgian Grand Prix and has continued to impress with his driving abilities.
F1 Career: Charles Leclerc, born on October 16, 1997, in Monte Carlo, Monaco, began his Formula 1 career with Sauber (now Alfa Romeo Racing) in 2018. He later moved to Scuderia Ferrari, one of the most prestigious teams in the sport, in 2019, where he currently races. His promising career and remarkable driving skills have made him a rising star in the F1 world.
Charles Leclerc's Net Worth: As of my last knowledge updat in early 2022, Charles Leclerc's net worth was estimated to be around $16 million. However, this figure may have changed due to his ongoing Formula 1 career and sponsorship deals.
What did Charles Leclerc mother do?
Charles Leclerc's mother, Pascale Leclerc, is a hairdresser. She runs her own hair salon in Fontvieille, Monaco. She is also a very supportive mother and has been a big part of Charles's racing career.
What does Charles Leclerc smell like?
According to a 2022 interview with GQ magazine, Charles Leclerc smells like "a mix of fresh air, sweat, and gasoline." He also said that he likes to wear cologne, but he doesn't want it to be too overpowering.
What teams has Leclerc been in?
Charles Leclerc has been in the following racing teams:
Sauber (2018)
Alfa Romeo Racing (2019)
Scuderia Ferrari (2020-present)
Leclerc is currently racing for Scuderia Ferrari, one of the most prestigious Formula One teams in the world. He is considered to be one of the most talented drivers on the grid and is a future world champion contender.