Chlöe Bailey Sparks Gunna Romance Rumors with Remix of 'fukumean' Track
In a recent Twitter post, Chlöe treated her fans to an unexpected surprise, sharing a captivating video of herself skillfully singing a remix of Gunna's popular track 'fukumean.' This surprise musical rendition comes after months of speculation and rumors surrounding her relationship with Gunna. The public's curiosity had been initially sparked in January 2022 when Chlöe and Gunna were spotted together at an NBA game, holding hands and seemingly enjoying each other's company. While Chlöe had previously denied any romantic involvement, her latest artistic move has reignited the speculations and left followers pondering the depth of their connection.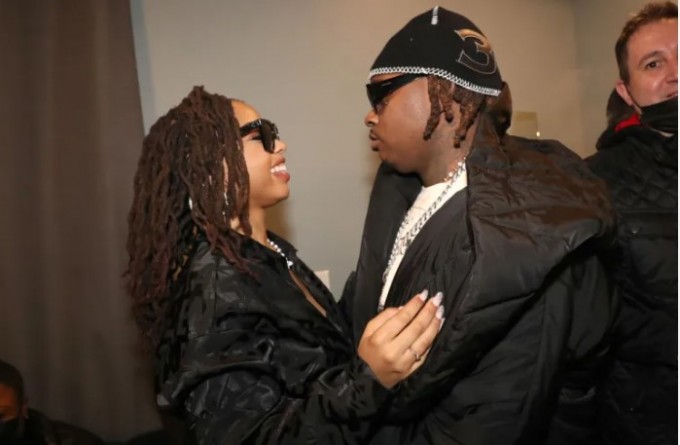 The NBA Game Appearance
The year 2022 began with a wave of rumors as Chlöe Bailey and Gunna were photographed together at an NBA game, looking relaxed and comfortable in each other's presence. Their closeness during the game sent shockwaves through social media, fueling the speculation that they might be romantically linked. The photographs captured them sharing laughs, engaging in animated conversations, and even holding hands at times. This undeniable display of camaraderie between the two artists left fans intrigued about the nature of their relationship.
Initial Denials and Maintaining Privacy
Amid the flurry of rumors following the NBA game appearance, Chlöe was quick to address the speculations. She took to her social media platforms to clarify that she and Gunna were simply friends, emphasizing that there was no romantic involvement between them. Chlöe's straightforward denial momentarily quelled the rumor mill, as fans respected her statement while still holding on to a glimmer of hope for a potential romantic connection.
Gunna's Legal Troubles and Surprising Release
The unfolding of the Chlöe-Gunna narrative took an unexpected turn when Gunna faced legal issues that resulted in his year-long incarceration. This unexpected development seemingly put an end to the swirling romance rumors. However, in a plot twist that caught many off guard, Gunna was released from jail in December 2022. As fans rejoiced in his newfound freedom, they couldn't help but notice Chlöe's recent remix of Gunna's hit track, 'fukumean,' on her social media.
Chlöe's Musical Tribute to Gunna
The intrigue deepened when Chlöe shared details about a song she had penned called "For The Night," specifically inspired by Gunna. In an October Twitter Spaces conversation, she revealed that she had written the song when she was single, months before, and it was an artistic expression of her feelings for Gunna. This revelation opened up a new chapter in their story, suggesting that her emotions for him ran deeper than what had been previously let on. With Gunna's release, fans began to question whether this song was a hint at a more intimate connection between the two artists.
Reigniting the Speculation
Chlöe Bailey's unexpected remix of 'fukumean' served as a sonic reminder of her connection to Gunna. The remix, shared on her social media, showcased her incredible vocal range and interpretation, creating a buzz among fans and music enthusiasts alike. This musical tribute seemed to be more than just an artistic endeavor – it appeared to symbolize a heartfelt connection between Chlöe and Gunna, reigniting the speculation about their relationship status.
The Ongoing Mystery
As Chlöe continues to interact with her fans on social media, she remains cryptic about the nature of her relationship with Gunna. Despite the numerous rumors and their high-profile appearances together, she has neither confirmed nor denied the speculations outright. This enigmatic approach only adds to the air of mystery that surrounds their connection, leaving fans eagerly awaiting any hints or clarifications that might emerge in the future.
Chlöe Bailey's recent remix of Gunna's 'fukumean' track has once again brought the spotlight onto their rumored romantic connection. The timeline of events, from the NBA game appearance to Gunna's legal troubles and subsequent release, has left fans captivated by the evolving narrative. As discussions about the nature of their relationship persist, one thing is certain: Chlöe's talent, authenticity, and artistic expression continue to captivate audiences, keeping her in the spotlight and fueling curiosity about the true nature of her connection with Gunna. Whether their relationship blossoms into romance or remains a complex friendship, the journey of Chlöe and Gunna remains an intriguing and enigmatic tale in the world of entertainment.when they were seen together at an NBA game in January 2022, holding hands. Despite previous denials, the singer's latest move has left followers wondering if there's more to their connection than meets the eye.