Chrissy Teigen Radiates Resilience and Humor Amid Wardrobe Mishap at Glittering Baby2Baby Gala in LA
Adorning a strapless black gown that exuded elegance, Teigen encountered an unforeseen twist when her dress suffered a rear split due to a zipper malfunction.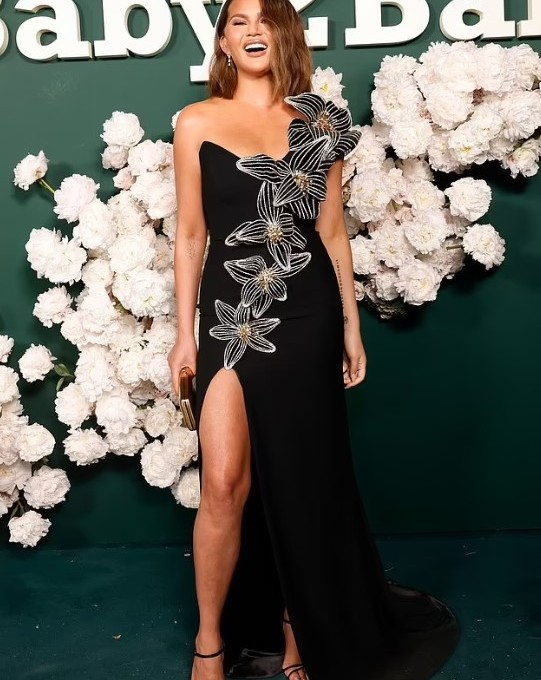 Wardrobe Malfunction Chronicles: Despite the unexpected fashion faux pas, the 37-year-old model responded to the incident with her signature sense of humor. Teigen promptly took to her Instagram account, sharing a candid photo of the wardrobe malfunction with her whopping 42.7 million followers. The accompanying caption, a simple 'oh lol,' showcased Teigen's ability to navigate such mishaps with grace and a smile.
The strapless black gown, accentuated with an elaborate flower embellishment cascading diagonally across the front, had initially epitomized red carpet sophistication. Thankfully, the fashion hiccup occurred within the confines of the venue, sparing Teigen from any potential red carpet embarrassment.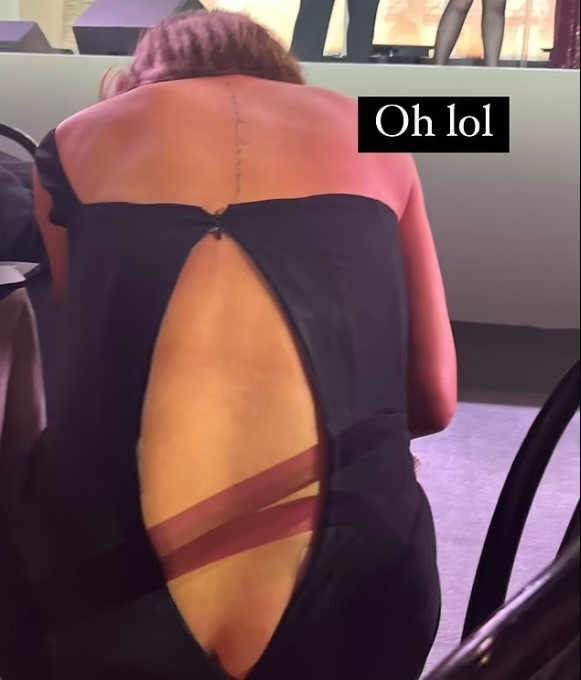 Chrissy's Light-Hearted Reaction: In the Instagram Stories post, Teigen was captured in a moment of infectious laughter, her resilience shining through as she embraced the unexpected wardrobe malfunction with genuine amusement. The photo depicted her in a seated position, the dress revealing a noticeable split extending from the top to the lower back. Teigen's lighthearted response not only endeared her to fans but also showcased her ability to navigate unexpected challenges with composure.
Undeterred by the incident, Teigen continued to share moments from the gala, offering glimpses of her admiration for fellow attendees, including a special acknowledgment for Salma Hayek.
The Baby2Baby Gala: The Baby2Baby Gala, under the leadership of Co-CEOs Kelly Sawyer Patricof and Norah Weinstein, stands as a beacon of hope for children in need across the nation. The organization's noble mission involves supplying essential items to over one million children, spanning homeless shelters, domestic violence programs, foster care, hospitals, and underserved schools.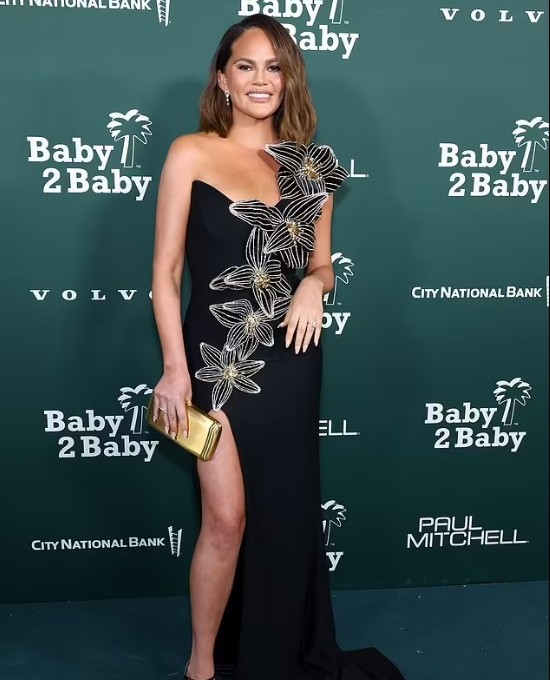 Celebrating Salma Hayek: The gala served as a backdropp for honoring acclaimed actress Salma Hayek with the prestigious Giving Tree Award. This distinguished accolade is reserved for public figures who demonstrate an extraordinary commitment to enhancing the lives of children in need worldwide. The award ceremony reflects the collective efforts of influential personalities in making a meaningful impact through the Baby2Baby organization.
Previous Honoree - Kim Kardashian: In a nod to the organization's tradition, last year saw Kim Kardashian as the recipient of the revered Giving Tree Award. This recognition underscores the ongoing dedication of prominent figures to charitable causes, contributing to the well-being of children through the philanthropic initiatives of Baby2Baby.
Chrissy Teigen's ability to gracefully navigate a wardrobe malfunction and continue to celebrate the joyous occasion exemplifies her resilience and infectious spirit. The Baby2Baby Gala, a convergence of glamour and philanthropy, not only spotlights the organization's crucial mission but also pays homage to individuals like Salma Hayek and Kim Kardashian, whose impactful contributions have left an indelible mark on the lives of countless children in need. The evening, punctuated by unexpected moments and heartfelt acknowledgments, stands as a testament to the power of compassion and collective efforts in making a positive difference in the world.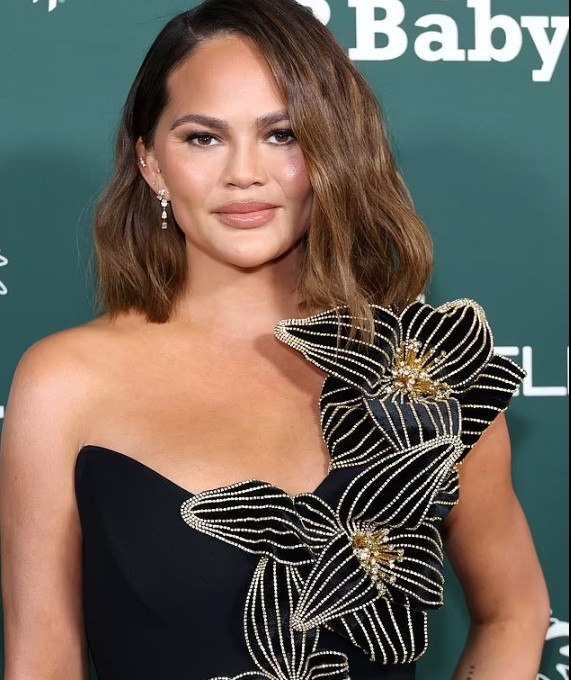 Chrissy Teigen's First Husband
Chrissy Teigen has never been married. She has been in several relationships, but none of them have led to marriage.
Chrissy Teigen's Age
Chrissy Teigen was born on April 30, 1985. As of today, October 4, 2023, she is 38 years old.
Is Chrissy Teigen White?
Chrissy Teigen is of Thai and Norwegian descent. Her father is of Thai descent, and her mother is of Norwegian descent.
Chrissy Teigen's Father
Chrissy Teigen's father's name is Ron Teigen. He is a photographer and business owner.
Chrissy Teigen's Instagram
Chrissy Teigen has over 39 million followers on Instagram. Her Instagram handle is @chrissyteigen.
Chrissy Teigen's New Baby
Chrissy Teigen and her husband, John Legend, welcomed their fourth child, Wren Alexander Stephens, on June 19, 2023.
Chrissy Teigen's Quotes
Chrissy Teigen is known for her witty and relatable quotes. Here are a few of her most popular quotes:
"I'm just trying to do my best and be a good person. And if I make a mistake along the way, I'll learn from it and try to do better next time."
"I'm not sure what's more exhausting, being a parent or trying to keep up with my kids on social media."
"I'm not a big fan of exercise, but I do enjoy eating cake."
"I'm the kind of person who will order a salad and then eat everyone else's fries."
"I'm not sure if I'm more proud of my cooking or my ability to eat an entire bag of chips in one sitting."