CNN anchor Kasie Hunt welcomes her baby girl on bathroom floor after 13-minute labor
As an anchor, Kasie Hunt knows all about remaining calm when breaking news hits. Perhaps that's why she looks calm as can be in the photo taken soon after she unexpectedly gave birth in the bathroom of her own home.
On Mar. 3, CNN's chief national affairs analyst shared a post on Instagram announcing the birth of her second child, Grey Hunt Rivera. Her daughter was born on March 1, according to People.com. Hunt and her husband, Matthew Mario Rivera, also share a son, 3-year-old Mars Hunt.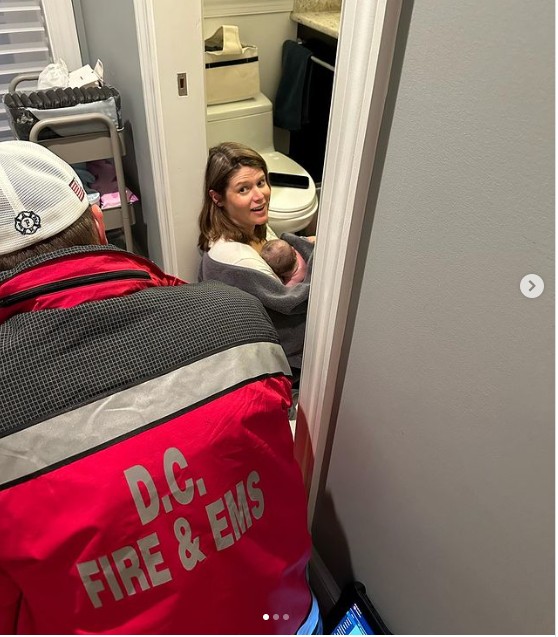 According to the Instagram post, Grey was delivered at home and in the bathroom by her father 13 minutes after Hunt went into labor.
"My husband @mattmrivira & I are thrilled to introduce our daughter, Grey Hunt Rivera — though really, she introduced herself," Hunt wrote in the post's caption. "Before we even had time to dial 911, and 24 hours before she was scheduled to arrive via C-section."
Pictures of Grey's big birthday show Hunt on a bathroom floor with her daughter in hand as she looks up at the camera. Two other photos show Grey being held by her parents and watched by her older brother.
"We are so thankful for the @dcfireandems team who talked us through the incredibly intense moments before she took her first breaths and who arrived within minutes to bring mom and baby safely to the hospital," Hunt said in her post. "Big brother Mars could not be more proud, and we couldn't be more excited for life as a family of four."
In an interview with People, Hunt described the delivery as Grey's display of an "independent streak."
"We're so excited about life as a family of four — and reminded it's going to be that much more unpredictable!"
It's not the first time that a pregnancy has put Hunt in the news.
In 2019, during her time as an NBC News political correspondent, a Twitter user attempted to shame Hunt calling her fat.
Hunt's swift strike back, a tweet that read "I'm 8 months pregnant?" quickly wracked up a heap of support from users and those in the journalism community.
Soon after, Hunt gave birth to Mars Hunt, whose gender was a surprise.
"We got to actually say, 'It's a boy!'" Hunt and her husband told TODAY Parents at the time. "
Like the latest time around, Hunt was also able to make a connection between the nature of her son's birth and his potential.
"Mars must already have big things planned since he started life at 9 1/2 pounds," the two remarked. "We love him so much and can't wait to see what joy he brings to our family of three."