Conquer Egypt and survive natural disasters in Total War: Pharaoh this October
Set to debut on PC in October 2023, Total War: Pharaoh transports players to the tumultuous era of the Egyptian New Kingdom, where they will shape the destiny of three prominent civilizations during the chaos of the Bronze Age collapse.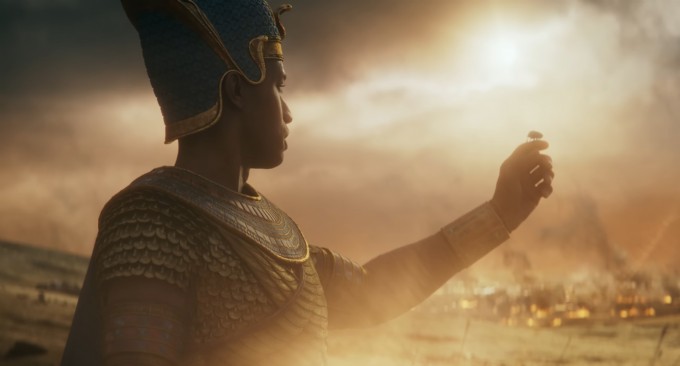 The game's director, Todor Nikolov, expressed his excitement about the captivating setting: "Ancient Egypt is an incredibly iconic period, brimming with political intrigue, cataclysmic events, and grand war campaigns, making it the perfect backdropp for a Total War title." In Total War: Pharaoh, players assume the role of a Pharaoh tasked with saving Egypt from impending doom and guiding their people through the calamitous collapse of the Bronze Age. The fate of the civilization rests in their hands, and it is their choices that will determine whether Egypt perseveres or becomes a mere footnote in history.
Players will have the opportunity to lead one of eight Faction Leaders, each offering a unique experience. Whether charming the courts, charging into epic battles, or wreaking havoc as a merciless warlord, players will immerse themselves in the rich tapestry of Ancient Egypt. Faction options include Ramesses, Seti, Tausret, and Amenmesse representing the Egyptian factions, Bay and Irsu as Canaanite factions, and Kurunta and Suppiluliuma as Hittite factions.
Beyond engaging in fierce conflicts against opposing armies, players must also contend with dynamic environmental factors that influence the battlefield. Sandstorms, thunderstorms, and blazing forests are just a few examples of the challenges players will face, heightening the strategic depth of Total War: Pharaoh.
Introducing a franchise-first Campaign Customisation feature, Total War: Pharaoh ensures each playthrough is a unique conquest. Players can customize various aspects such as randomizing starting positions for all factions, adjusting resource settings, and even increasing the occurrence of natural disasters, providing endless possibilities and replayability.
Early adopters who preorder Total War: Pharaoh will gain access to an exclusive Early Access weekend, along with bonus content such as the Avatar of the Gods Cosmetic pack and the Heart of the Shardana Cosmetic pack. The game will be available in three editions: the base game priced at $59.99, the Deluxe Edition including a digital soundtrack and DLC Faction Pack 1 priced at $72.87, and the Dynasty Edition featuring a digital soundtrack, all three DLC Faction Packs, and the DLC Campaign Pack priced at $91.46. Prepare to embark on a grand journey through Ancient Egypt and shape history in Total War: Pharaoh.