Coronation Street bosses confirm Daisy will be targeted in an acid attack as her stalker Justin's torment reaches a shocking climax
The bride-to-be's big day has been beset with drama as she continues to be tormented by her stalker Justin.
After succeeding in getting Justin arrested by police by goading him into punching her, Daisy was stunned to learn he'd been released on bail, sparking yet more fears the wedding could be cancelled.
Things get worse when everything from her skin, to the cake, to the car, begins to fall apart, but despite this, Daisy manages to don her dress and is ready to head to the venue.
As she heads out to the Rovers Return, a furious Justin emerges with a bottle of clear liquid in his hand - who will fall victim to his attack?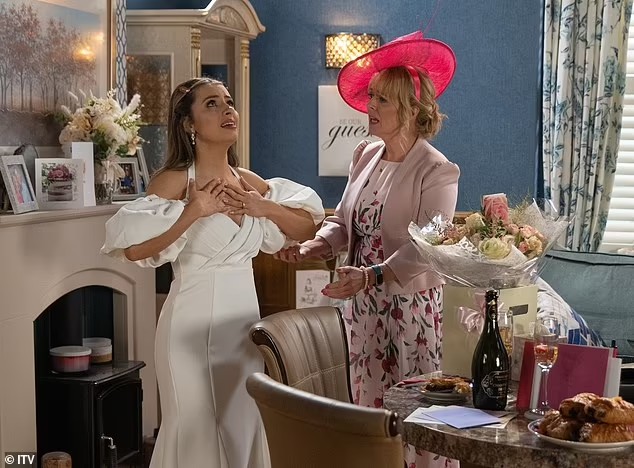 In the upcoming episodes, Daisy's wedding day gets off to a bad start when she wakes up with a bloodshot eye.
Things get even worse when Ryan is forced to step in as chauffeur as the wedding car has been stolen and the cake arrives decorated with a retirement message.
With Jenny and Glenda's help, Daisy arrives downstairs looking a million dollars and Jenny and Glenda leave for the venue.
As Ryan loads his car, Alya wishes him well with his new venture in Ibiza, and as he goes into the pub to get Daisy, they're shocked to find Justin lurking there.
Justin advances on Daisy holding a glass full of clear liquid, telling Daisy that no one will want her after this.
As Justin throws the acid at Daisy - will she escape his vile attack?
The hard-hitting scenes are the thrilling climax of Corrie's dark storyline which has seen Daisy stalked and harassed by Justin after he took an interest in her social media following.
Ahead of the episodes, actress Charlotte Jordan told MailOnline that Daisy's ordeal culiminates in being 'constantly let down' by the police who failed to take her concerns seriously.
Even after she requested a Stalking Protection Order, Justin's defence has meant her request was denied, leaving her even more fearful of his threats.
She said: 'Fear is gonna be lurking in the back of her mind reall, since [Justin] was released on bail. It's that she played a bit dirty to get him arrested. So she's sort of thinking ''OK, well, is he gonna retaliate in some way?''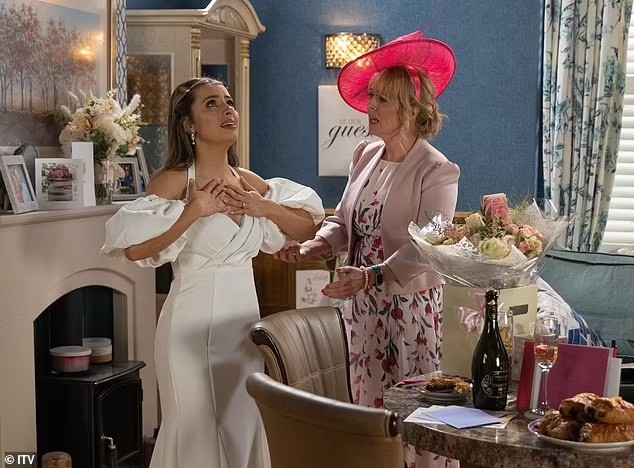 'She will be thinking that for sure, and but there's so it's so it's so many layers. Of what she's thinking with. And just things like I said, she's been scared. She's been angry. She's been all sorts of things.
'So seeing him again after he's been warned multiple times by officials to stay away from... she's certainly gonna be scared of how he reacts to what she did before.
'I think everyone thought at the beginning it was sort of a harmless crush. I think these are some of the words that we use. She's used to male attention.
'She's used to that. But I don't think she ever could have understood quite how obsessed he was going to become.'
Charlotte added: 'It's just so evil just to decide to take away someone's identity in someone's face like that. It's just so heinous. I don't even know.
'How can you really start to think about that was someone's intention for you. So I think she's at the minute when it happens. She's just trying to think ''OK, well, how do I get through it? How do I get to the hospital? How do I stop this from getting worse?'' And then the deeper mentality behind that will come later with the later episodes?'
Asked for her reaction when she was told about the storyline, Charlotte added: 'I cannot say on camera, but F me that's dark. Yeah, I really didn't see that coming.
'I didn't think they'd go that route with it because it's not. It's not something you see a lot on. On television, Yeah, I was. I was. I was really caught by surprise by it.'
Coronation Street airs these scenes on Monday, March 27 at 8pm on ITV1 and ITVX.