Damage CTRL Reflects on WWE SummerSlam 2023: Dakota Kai's Emotional Presence and Future Goals
After Bianca Belair secured the WWE Women's Championship by defeating Charlotte Flair and Asuka, 'The Genius Of The Sky' seized the moment and cashed in her Money in the Bank briefcase, capitalizing on Belair's injured knee with a Moonsault to clinch the coveted title. With Bayley at ringside providing crucial support, SKY's triumph was complete, and fellow Damage CTRL member Dakota Kai joined the celebration in the ring.

At the post-SummerSlam press conference, all three Damage CTRL members shared their joy and gratitude for SKY's monumental victory and the significance of experiencing the moment as a united group. Dakota Kai, who had been absent from WWE since sustaining a torn ACL on May 12, was determined to be present for SKY's title win despite her injury.

"I had to be here for her tonight," Kai expressed. "This is such a big moment for [IYO] and us as a group. I'm still on the road to recovery, but I couldn't miss being a part of this incredible achievement for her and representing Damage CTRL."
Bayley, a former 'SmackDown' and 'Raw' Women's Champion, echoed Kai's sentiments, emphasizing the rollercoaster journey they had experienced together over the past year. Despite the challenges and setbacks, the trio remained resilient and dedicated to each other, culminating in IYO SKY's triumphant victory at this year's SummerSlam.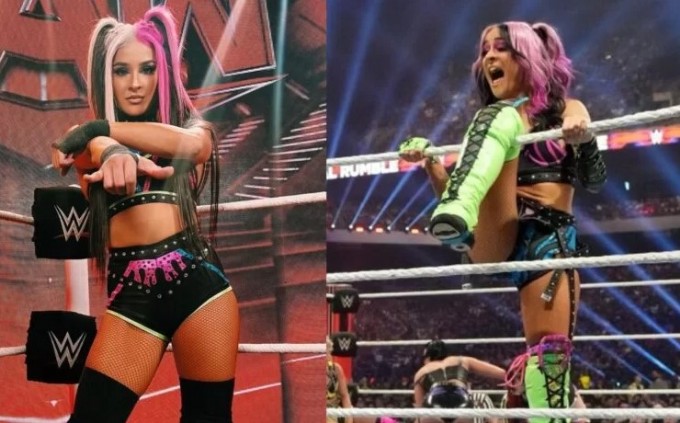 "[IYO] walking out with the WWE Women's Championship tonight, beating Bianca Belair, who we confronted last year, brought it all back around. It's magic," Bayley shared.

Grateful for the unwavering support from her Damage CTRL partners, IYO SKY credited Dakota Kai and Bayley for playing a pivotal role in helping her secure her first singles title on WWE's main roster.

Looking ahead, while Dakota Kai mentioned her anticipated in-ring return in 2024, Damage CTRL remains focused on adding more championship gold to their collection. Bayley expressed their collective goal of reclaiming the WWE Women's Tag Team Championships once Kai makes her comeback.

As Damage CTRL continues to make waves in the WWE, their bond and determination stand as a testament to the power of unity and support in achieving success both inside and outside the ring.

The journey of Damage CTRL, consisting of IYO SKY, Dakota Kai, and Bayley, has been a remarkable story of perseverance, friendship, and triumph in the world of professional wrestling. Their recent success at SummerSlam, where SKY secured the WWE Women's Championship with a well-timed cash-in, showcased the strength of their collaboration.

The story unfolds as Bianca Belair, Charlotte Flair, and Asuka delivered a thrilling contest for the WWE Women's Championship. In a shocking turn of events, SKY capitalized on the chaos by cashing in her Money in the Bank briefcase, exploiting Belair's weakened state due to an injured knee. With the unwavering support of Bayley at ringside, SKY executed a flawless Moonsault to claim the championship title, solidifying her place in WWE history.

The post-SummerSlam press conference became an emotional and celebratory platform for Damage CTRL. The trio, comprising SKY, Kai, and Bayley, expressed their elation and gratitude for the monumental victory. Despite recovering from a torn ACL since May, Dakota Kai's determination led her to witness SKY's triumph. Kai's words echoed the sentiment of unity within the group, emphasizing that her presence was a testament to their bond and shared achievements.

Bayley, a seasoned wrestler with a storied career, resonated with Kai's sentiments. She acknowledged the rollercoaster journey that the trio had embarked on, acknowledging the challenges they faced and the resilience that kept them together. SKY's victory over Belair held a special significance, as it marked a full circle from their previous encounter.

SKY, the newly crowned champion, humbly acknowledged the role that Bayley and Kai played in her success. Their guidance and support were instrumental in her journey to claim the prestigious title on WWE's main roster. The collaboration of these three distinct personalities showcased the power of teamwork and camaraderie in achieving individual and collective goals.

As they bask in the glory of their recent achievement, Damage CTRL sets their sights on a promising future. Dakota Kai's anticipated return to in-ring action in 2024 adds another layer of excitement to their narrative. With the ultimate goal of capturing the WWE Women's Tag Team Championships, the trio's ambitions remain high. Bayley's declaration of their intent underscores their relentless pursuit of excellence.

In a world where rivalries and conflicts often dominate the wrestling landscape, Damage CTRL stands as a beacon of solidarity and determination. Their journey exemplifies the potency of unity, echoing beyond the ring and inspiring individuals to overcome obstacles together. As their narrative continues to unfold, fans and enthusiasts eagerly await the next chapter in the remarkable saga of Damage CTRL