Donald Trump to be arrested on TUESDAY over hush money payments to porn star Stormy Daniels
It comes more than six years after Trump's lawyers paid Daniels a total of $130,000 to keep quiet about the affair, with New York prosecutors considering if he should face charges. Trump denies the affair and knowledge of the payments.
Trump claimed on his Truth Social account that the Manhattan DA's office will arrest him within days and branded the probe 'corrupt and highly political', calling the alleged hush money payment an 'old and fully debunked fairy-tale.'
Last week the former president and 2024 hopeful was invited to testify before a Manhattan grand jury, with his long-time fixer and former lawyer Michael Cohen testifying on Monday.
If Trump's claims are true, it would make him the first former president ever to face criminal charges. His post came hours after it was claimed Manhattan District Attorney Alvin Bragg was planning on indicting Trump next week.
Cohen served jail time after pleading guilty in two criminal cases, one of which included using campaign finances in relation to Daniels and another woman who allegedly had an affair with Trump.
He said he had been acting at his command and that the payoffs were supposed to keep the affair stories out of public knowledge before the 2016 election. Trump has admitted reimbursing Cohen
Daniels met with prosecutors on Wednesday to answer further questions in the case and her lawyer, Clark Brewster, said she would also make herself available as a witness in future, if required.
Cohen has also indicated he's given the grand jury damning testimony that implicates Trump. He testified for three hours on Monday.
Speaking beforehand, he said: 'This is all about accountability. He needs to be held accountable for his dirty deeds.'
Speculation that charges were imminent also increased when Bragg told Trump's team that the former president could testify before the grand jury if he so chose -a notification usually at the end of a process that could mean an indictment is near.

Legal experts have said Trump could face one of two charges over the payments - but also concede that both would be difficult to prove.
He could be charged with falsifying business records if it's alleged Trump knew his retainer agreement with Cohen was a sham to facilitate the payments. That would be a misdemeanor under New York law unless prosecutors prove records were falsified to conceal another crime, which would make it a felony.
That other crime could be that the payments violated state election law because the intention of the alleged pay off was to benefit his campaign.
Trump could face up to four years in prison on those charges.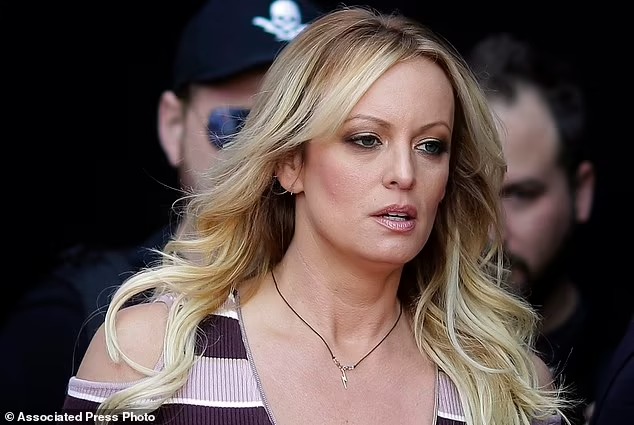 Trump's lawyer, Joseph Tacopina, also said this week that an indictment was 'more probable' because of the recent developments.
'But the one thing I still hold on to is hope that justice will prevail,' he said.
Tacopina also said he hopes Manhattan DA Alvin Bragg's office 'won't stoop to the level of Mark Pomerantz, who was out there looking for a crime that fits the person.'
Tacopina referred to a memoir by former Manhattan Special Assistant District Attorney Mark Pomerantz, who led the office's investigation into Trump for a year beginning in February 2021.
In a letter sent to the New York City's Department of Investigation commissioner last Friday, Trump's attorney accused Bragg and his predecessor, Cyrus Vance, Jr., of conducting a 'politically motivated investigation.'
The prosecutors 'weaponized' their office, Tacopina wrote, 'scouring every aspect of President Trump's personal life and business affairs, going back decades, in the hopes of finding some legal basis — however far-fetched, novel or convoluted — to prosecute him.'
Vance has said 'it is hard to argue the previous investigations were politically motivated'.