Dua Lipa Mesmerizes Audiences with Provocative 'Houdini' Music Video
The sultry video showcases Dua Lipa's exceptional talent as she rehearses choreography in a vibrant dance hall under fluorescent lights, donning a trendy mesh vest top and tracksuit bottoms that perfectly complement her newly dyed red locks flowing freely.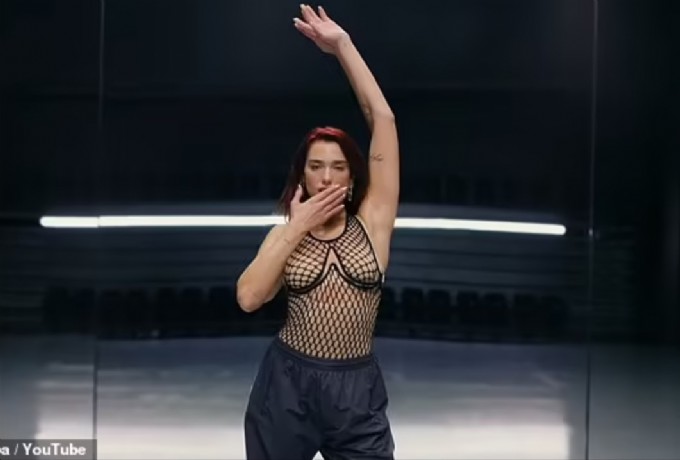 Mirrors become a crucial element in this mesmerizing production, enhancing the impact of the energetic dance moves performed by the "Levitating" singer. The lyrics of "Houdini" echo the theme of escapology, drawing parallels to the legendary magician Harry Houdini, and convey a sense of independence with lines like, 'I come and I go, prove you've got the right to please me.'
Throughout the high-energy choruses, Dua Lipa shares the stage with a dynamic group of backup dancers, creating a visually captivating spectacle that perfectly complements the song's vibe. In contrast, during the verses, she confidently flexes for the camera, displaying a range of poses that underline her versatility as an artist.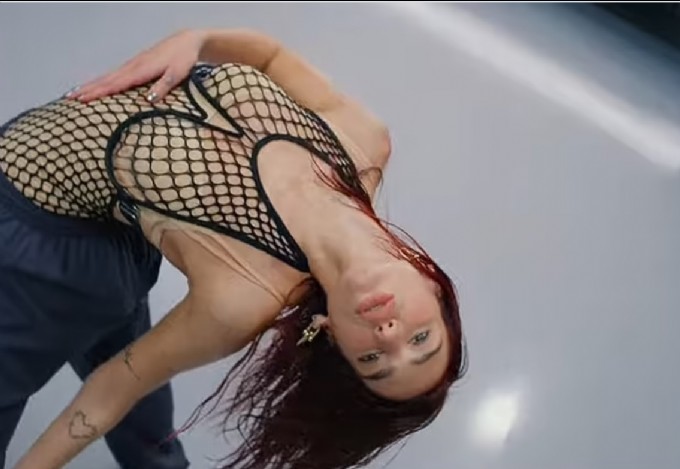 Dua Lipa offered insights into the video's concept, describing it as embodying the '4 am feeling' when a night is winding down, yet the desire to extend the party lingers. Directed by Manu Cossu and featuring cinematographer André Chemetoff, the music video's aesthetic brilliance adds an extra layer to the song's already high-energy atmosphere.
Collaborating with a team of talented individuals, including Caroline Ailin, Danny L. Harle, Tobias Jesso Jr., and Tame Impala's Kevin Parker for the track, Dua Lipa explained that "Houdini" represents the light and carefree aspects of her time as a single woman. The lyrics playfully explore the idea of whether someone is truly worth her time or if she'll disappear from their life like an illusionist.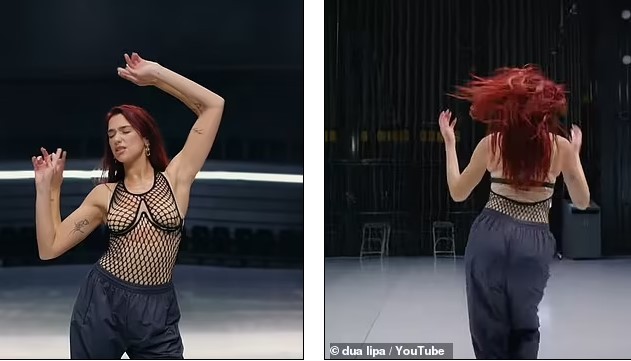 Expressing the joy of being open in her songwriting, Dua Lipa looks forward to sharing her experiences, ups, and downs with her devoted fanbase. She anticipates sharing the feeling of "defiant bliss" that the track represents, highlighting the emotional depth embedded in her music.
While Dua Lipa's last album was the Grammy Award-winning "Future Nostalgia" in 2021, she has hinted at her eagerly awaited third album, scheduled for release in 2024. Reflecting on the album's creation during a time of chaos, she shared her optimism and the lightness she found in navigating through the unpredictability of life. This upcoming album is highly anticipated by fans who have been eagerly awaiting new music from the pop icon.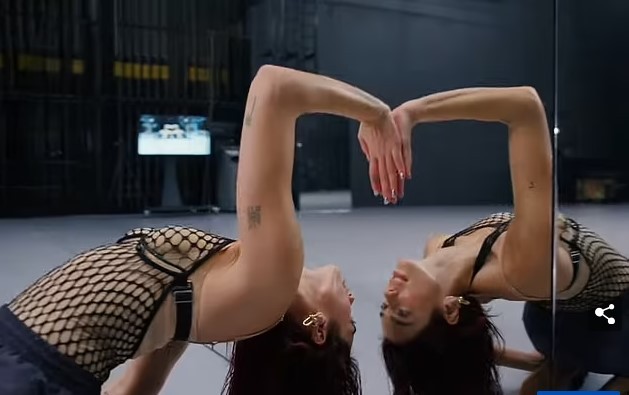 Dua Lipa's musical journey has been marked by chart-topping hits and a distinctive style that has solidified her as a force to be reckoned with in the pop music scene. Her ability to seamlessly blend catchy melodies with meaningful lyrics has garnered widespread acclaim, and "Houdini" appears to be another jewel in her musical crown.
As the pop star continues to evolve artistically, her impact on the industry remains significant. The "Houdini" music video is a testament to her dedication to delivering visually stunning and musically compelling content. Dua Lipa's artistry transcends mere entertainment; it becomes an experience that resonates with audiences on a profound level.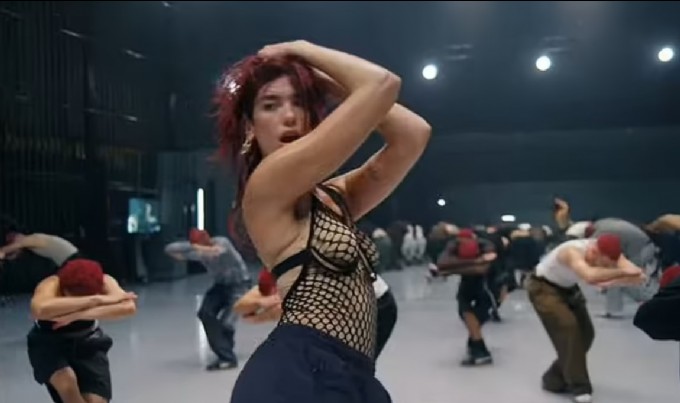 Fans are eagerly awaiting the release of her third album in 2024, anticipating the unique sonic journey that Dua Lipa is known for delivering. In the meantime, "Houdini" serves as a tantalizing glimpse into the pop star's creative prowess, leaving audiences eager for more of her signature blend of style, substance, and unapologetic energy. Dua Lipa continues to shine as a trailblazer in the music industry, captivating hearts and ears with each new release.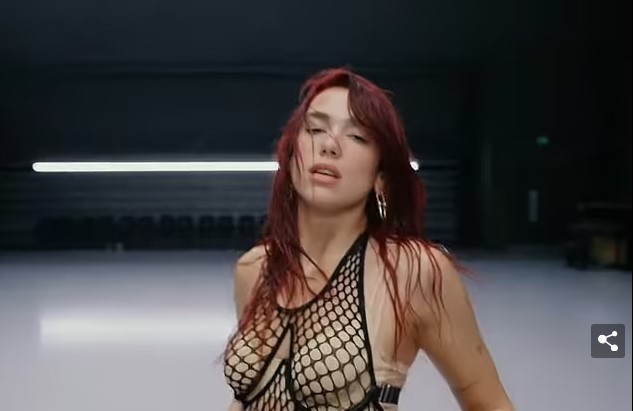 Dua Lipa's real name is Dua Lipa. Her birth name is Dua Lipa, pronounced [ˈdua ˈlipa] in Albanian. Her name means "love" in Albanian.
What's Dua Lipa up to?
Dua Lipa is currently on her Future Nostalgia Tour which began in April 2023 and is scheduled to end in September 2023. She is also working on new music and has said that she is working on a new album.
What did Dua Lipa get famous for?
Dua Lipa got her start in 2015 when she signed a record deal with Warner Bros. Records. She released her debut album, Dua Lipa, in 2017. The album was a commercial success and spawned the hit singles "New Rules", "Be the One", and "Blow Your Mind (Mwah)".
Dua Lipa has won numerous awards, including six Brit Awards, three Grammy Awards, two MTV Europe Music Awards, a MTV Video Music Award, two Billboard Music Awards, an American Music Award, and two Guinness World Records
What language does Dua Lipa speak?
Dua Lipa speaks English, Albanian, and Serbo-Croatian. She was born in London to Kosovar Albanian parents, and she moved to Kosovo with her family when she was 11 years old. She returned to London when she was 15 to pursue a career in music.
Dua Lipa net worth
Dua Lipa has an estimated net worth of $20 million. She has earned her wealth from her music career, which includes album sales, touring, and endorsement deals.
Dua Lipa boyfriends
Dua Lipa has been in a relationship with Anwar Hadid, the brother of Gigi and Bella Hadid, since 2019.
How old is Dua Lipa's daughter
Dua Lipa does not have a daughter. She is not married and has never had any children.
Dua Lipa real name
Dua Lipa's real name is Dua Lipa. She was born in London to Kosovar Albanian parents.
Dua Lipa age
Dua Lipa is 28 years old. She was born on August 22, 1995.
Dua Lipa - Levitating
"Levitating" is a song by British singer Dua Lipa from her second studio album, Future Nostalgia (2020). The song was written by Lipa, Clarence Coffee Jr., Stephen Kozmeniuk, and Stuart Price. It was released as the third single from the album on October 2, 2020.
The song is a disco-pop song with a funk and soul influence. It has been praised for its catchy melody and upbeat tempo. "Levitating" has been a commercial success, reaching number one in the United Kingdom, Australia, Canada, Ireland, New Zealand, and the United States. It has also been certified 12x platinum by the Recording Industry Association of America (RIAA).
Dua Lipa Instagram
Dua Lipa has over 89 million followers on Instagram. Her account is full of photos of her music career, her personal life, and her travels.
Here are some additional information about Dua Lipa:
She is a mezzo-soprano.
She is a UNICEF Goodwill Ambassador.
She is a co-founder of Service95, a global style, culture, and society editorial venture.